I'm not a tutorial blogger, I don't have the skills to teach anyone much about anything but I thought a few photos and a quick rundown of my experience with the Colorsport 30 Day Mascara might be useful to any scaredy-cats out there who are nervous about home tinting!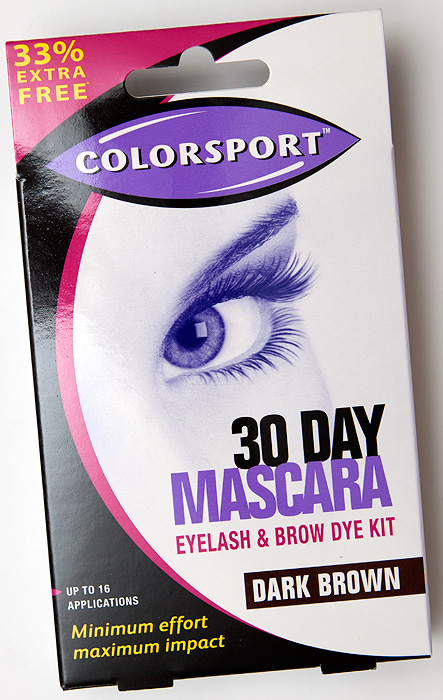 The kit contains enough product for 'upto' 16 applications but I found that I had lots left over when I used the amount suggested by the instructions.  Your mileage may vary!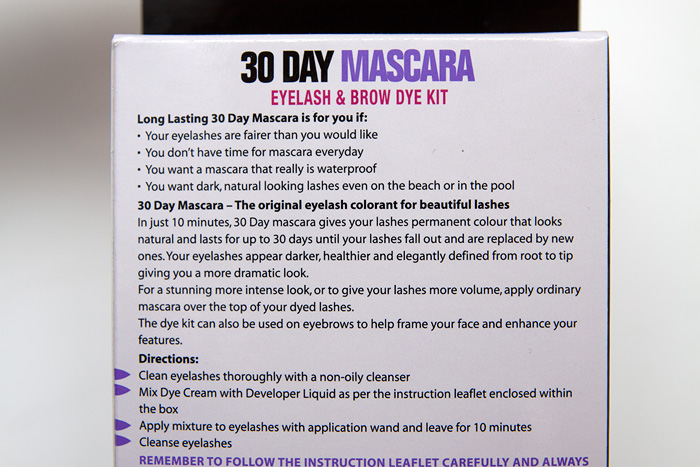 I think this would make a great Summer holiday purchase to darken those lashes before you hit the pool.  No running mascara worries, how cool would that be?!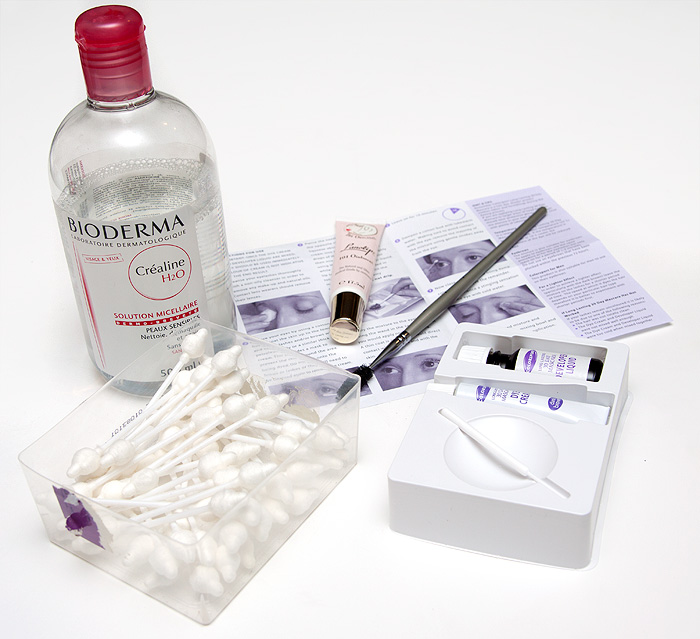 Here's a shot of the products I assembled before attempting to dye my eyebrows with the kit.  I was feeling a little apprehensive and wanted to have everything to hand incase I panicked and wanted to wipe everything off halfway through!
Cotton Buds for application on my eyebrows.
Lanolips to protect the skin around my eyebrows from being dyed too!  You could replace the Lanolips with something less expensive like Vaseline or a heavy moisturiser (I would next time but had neither of those to hand!)
Oil Free Makeup Remover, I used my Bioderma Crealine.
Mascara Spoolie or an old mascara wand to run through my brows midway through the tint process.
Now it's time to mix-up the solution…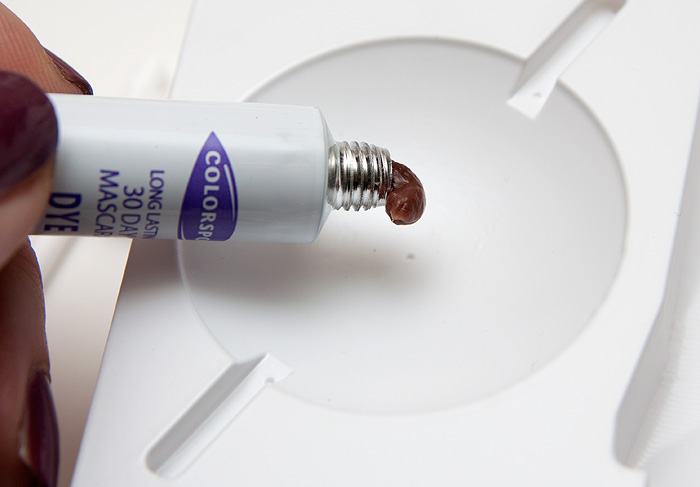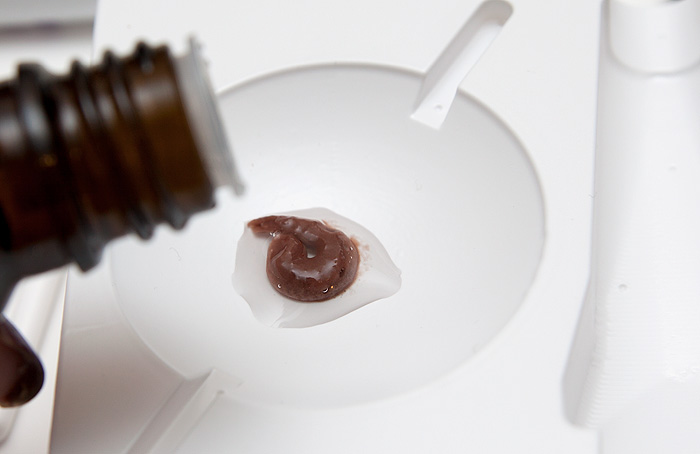 stop sniggering…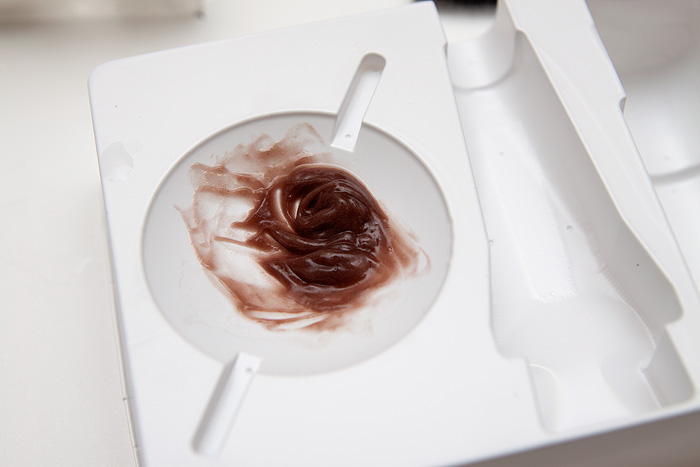 The final mix should look something like the above.  Creamy and non-drippy!
I wiped my brows over with a wash of the non-oily makeup remover, smeared the Lanolips over the surrounding area and then painted the dye over my brow with a cotton bud (q-tip).
2 minutes later and a quick wipe-off with a dampened cotton pad… here's a before and after shot.  Only the eyebrow on your right has been tinted.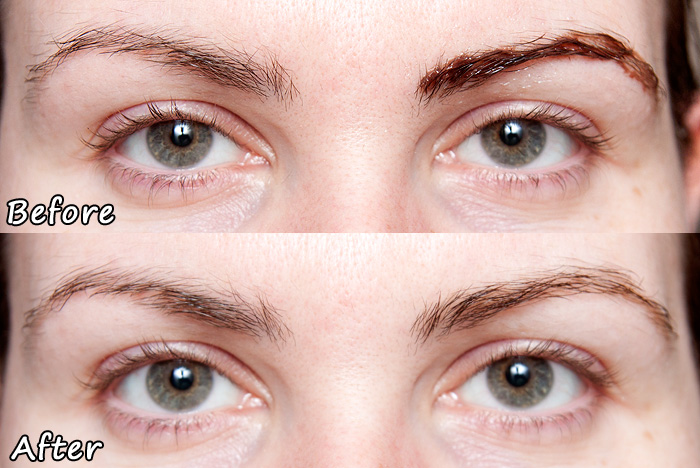 The Results…
Well, it's subtler than I expected… which I guess is a good thing really.  I'm not keen on the fact that it appears to have warmed up my naturally ashy brows.  The skin underneath the hair that has caught some of the dye and I expect will fade in a couple of days, it's not hugely noticeable but I will gently exfoliate the skin tomorrow to speed up the fade.
They also have a version in black which I was concerned might be too harsh for me but now I think it could work well with less developing time until I'm more confident in the results.
Other things to note…
The application/mixing wand provided with the kit isn't up to the job.  It's not unusable but you will probably end up reaching for something else to use instead.
I experienced no irritation or sensitivity with this product and was careful to conduct a skin sensitivity test 48hrs before use.
Overall…
I'm really enthused by how easy and quick the process was compared to how I imagined it.  Neither was it messy or particularly fiddly… it was quite good fun!
I think it would most benefit people with fair brows and lashes.  On me, the difference wasn't huge on either my lashes or my brows.  I would recommend the Colorsport 30 Day Mascara Eyelash & Brow Dye Kit but with a caveat about the dark brown being quite warming.
Colorsport 30 day Mascara Eyelash & Brow Dye Kit is available to purchase instore or online from Boots where it is 1/3 off at only £5.44 a pack.  (usual price £8.16)
.
Do you tint your eyebrows or lashes at home?
* this is a review of a PR sample