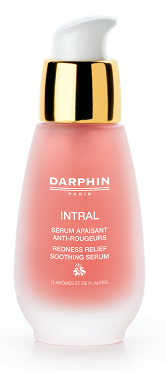 What is it?
This Serum, consisting of Resveratrol, Glycosaminoglycanes and Calm Complex™, soothes and softens the skin's  appearance.  It is a powerful, instantly-acting concentrate that reduces the appearance of redness. Darphin Calm Complex™ is an exclusive combination of 5 ingredients developed by Darphin. A combination of Chamomile, Polysaccharides, Hawthorn, Peony and Panthenol.
How much is it?
Darphin Intral Soothing Serum is priced at £47 for 30ml
How much of our money goes to supporting PINK projects?
Darphin will be donating £5 from each sale of their best-selling Darphin Intral Soothing Serum sold in the UK during
the month of October to the Breast Cancer Research Foundation's study at the UK Institute of Cancer Research.
How do I get it?
You can purchase Darphin Intral Soothing Serum online or instore at SpaceNK.