BareMinerals have launched some new "retouching" products to their lineup of mineral-based cosmetics.  One of their latest introductions to the range is their Stroke of Light Eye Brightener which, to put it simply, is supposed to work in the same way as something like the legendary YSL Touche Eclat – it's not a traditional concealer folks, it's a brightener.  And years of disappointment (Y U NO CONCEAL?!) has led me to understand the importance this subtle nuance makes.
The Stroke of Light Eye Brighteners are available in 4 shades ranging from the very lightest – which I have here, through to a level 4… described as "luminous dark", whether or not that's dark enough to cover the full spectrum of skin-tones, I don't know.  The packaging is a doe-foot style applicator in a simple tube – I always appreciate being able to see how much product I have left in the tube, so the unfussy design works for me.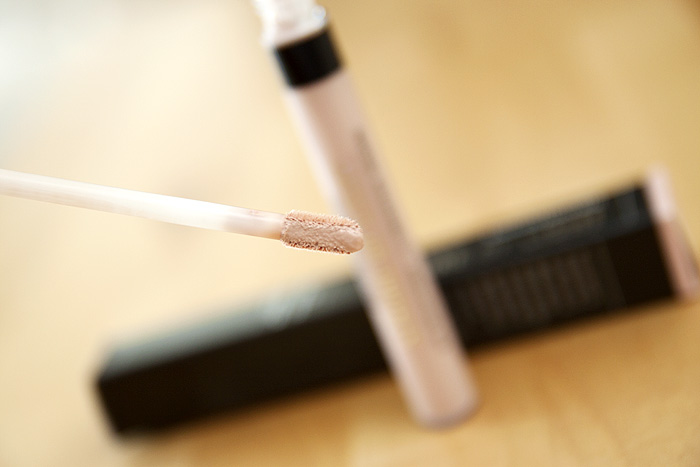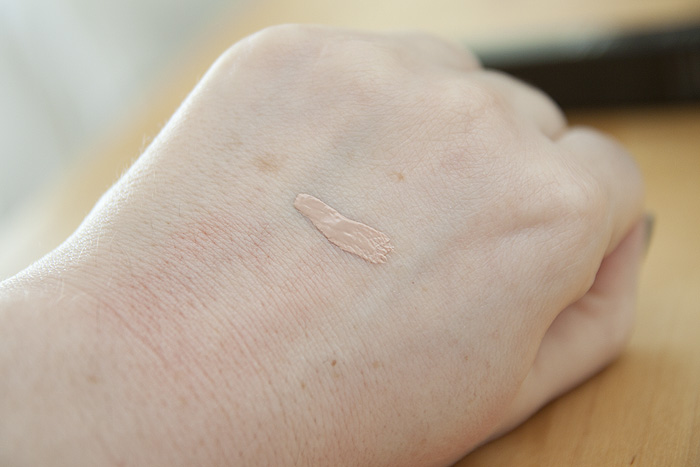 The shade is a lovely match for my skintone and the formula feels very light indeed, with a lot of slip and a sheer consistency.  Don't expect this thing to conceal darkness, blemishes, pigmentation or actually, anything at all.  You'll be disappointed.  This is simply supposed to work as a luminosity-giver, delivering light into the shaded areas of your face that could do with 'perking up'.  The main area, where most people use this type of brightener is under the eyes.  You apply directly from the doe-foot and then blend gently with your finger, ring-fingers are best – they apply less pressure and are less likely to blend the product into oblivion.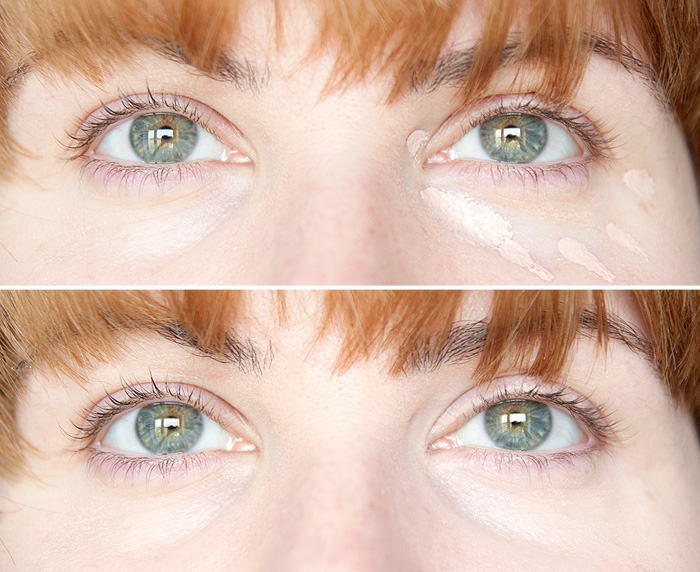 There's not a huge amount of difference is there?  Infact, I'm struggling to see any.  Perhaps it's because the photos were taken in such a well lit room (my dungeon was out of operation), perhaps it's because I'm perfect and need no additional eye-brightening (unlikely), or perhaps the product simply doesn't achieve anything.  The jury is out.  What I will say though is that for an under-eye product, it's beautifully textured.  It sat on my skin without creasing or seeping into my fine lines and I feel that it gave the area some additional hydration.  Whether it's supposed to actually do that, I'm not sure – but it felt almost skincare-y (totally a word) as opposed to makeup-y (also a word) when used in that delicate area.
BareMinerals Stroke of Light Eye Brightener is priced at £22 and available on counter and online from bareminerals.co.uk
What say you?  Eye Brighteners… do they work for you or are they simply a case of the Emperor's new pants?
* press sample
** I should point out that, in fairness, I don't see a hella lot of difference with any eye-brightening products.