Now, whilst I'm almost certain that the real name of this recipe isn't actually "Sheenie's Spicy Steamed Chicken", it shall henceforth be known by this name in this household… because without her, I'd have never discovered this ridiculously-easy-to-make taste sensation.
You can read a little bit more about how Sheenie herself finally got to the bottom of this recipe on a recent trip to Karachi by checking out her food blog.  I'm very grateful to her Aunt for divulging the family secrets!
Aside from the resulting dish, the best thing about this recipe is just how damn simple it is.  Infact, it's so simple and uses so few ingredients that I was genuinely surprised to discover it packed such a robust flavour.
The only thing I want to change about it (in my typical philistinic way) is to "bulk" it up a bit.  As much as I love chicken and sauce over rice, I need moar… a little more substance, some added veg… spinach and chickpeas perhaps?  I'm planning on making it again over the weekend and will edit the post at the bottom to report back on whether I manage to mangle a thoroughly decent recipe with my fiddling.
Anyway, on with the food!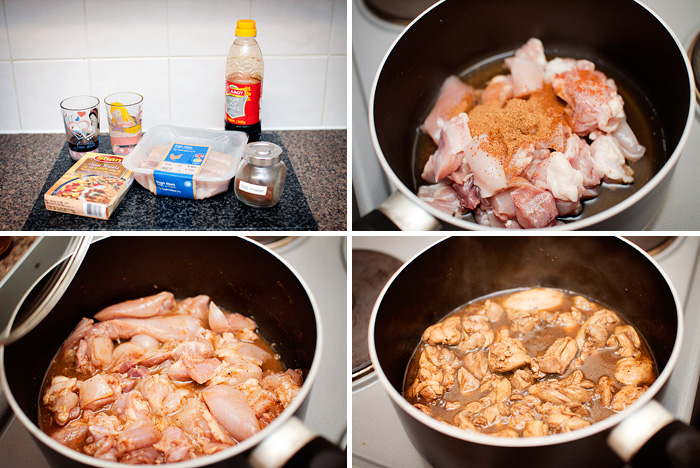 All you need to create a deliciously authentic savoury dish are a handful of ingredients.  I won't tell you the quantities because Sheenie has the details blogged, but all you need is some: chicken, vinegar, soy sauce, water, chili powder, and chaat masala.  The Chaat Masala will be the only thing you may have difficulty finding, I couldn't spot any in my local Asda so I ordered a small box online from eBay.  If you have an Asian supermarket nearby, I'm sure you'll discover it with no problem.
Chop your chicken into fairly generously-sized pieces.  I used skinless/boneless chicken thigh but you can really use any kind of chicken, on the bone or otherwise.  Using a lidded saucepan, add all the ingredients minus the soy sauce and allow to simmer for 15-20 minutes until the chicken is cooked through.  As a final step, remove the lid of the saucepan and add the soy sauce.  Give the sauce another 3-5 minutes and it should thicken ever-so-slightly.
As Sheenie says on her blog, there's a little guesswork to be done with this dish when it comes to estimating quantities, I'd say that my resulting sauce was just a little thin but my rice absolutely welcomed the added jus!  It just meant that I used a slotted spoon to serve Mr. L's portion alongside a naan bread.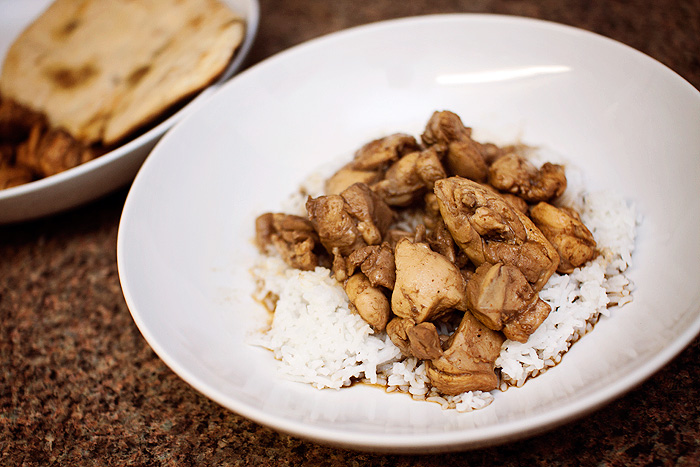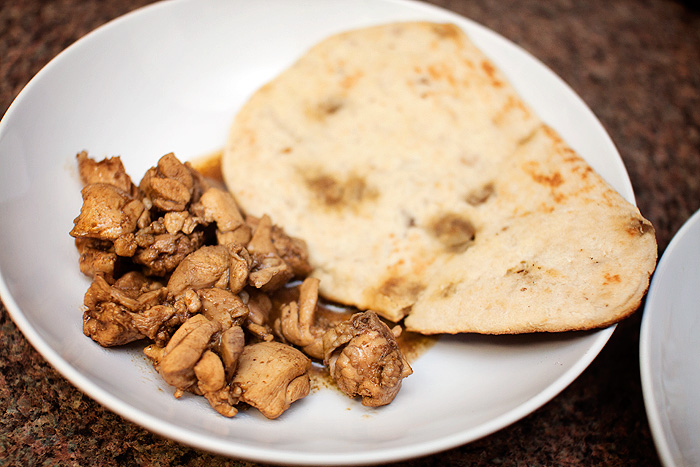 Sheenie's Spicy Steamed Chicken makes for an ideal weekday evening meal, the whole thing takes less than half an hour to rustle up from start to finish and once you've got the Chaat Masala in your hot little hands, uses only store-cupboard ingredients.  I'll hold my hands up and say that this isn't the best-looking dish in the world but please, please give it a try… it will surprise and delight you!
if you liked this post, please don't forget to check out my subscriber options, here