Has it really been a year since the Royal Wedding?  Amazing.  And to think that before then, no-one gave a shit about Pippa's bum.  Oh, you you still don't?  Me either.  As weddings go, it was quite a nice one… there weren't any post-nuptial punch-ups outside the palace and no-one sicked on the bride's train.
One of the wedding's most enduring legacies (other than the arse du jour) is the brand that Kate chose to scent herself with on the big day, Illuminum.  Launched by creator Michael Boadi in March 2011, and elevated to cult status by the Duchess of Cambridge merely a month later, there isn't a better welcome to the world than receiving an (unofficial) seal of approval by a real-life princess!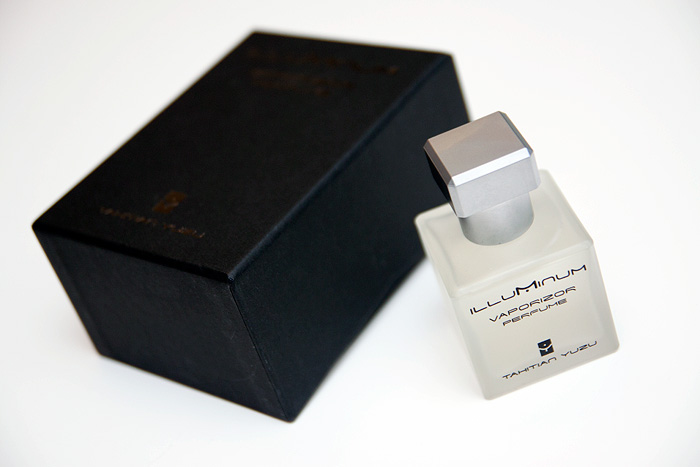 The Duchess of Cambridge chose White Gardenia Petals for her grand occasion, I chose Tahitian Yuzu simply because I had money burning a hole in my back pocket and I wanted. one. dammit. – you can see the similarities.
Tahitian Yuzu reminds me a little bit of L'Artisan's Mûre et Musc, which also kicks off with a forest-fruit vibe.  In the case of Mûre et Musc, it's blackberries… and in Tahitian Yuzu?  Blackcurrant.  But this is where the comparability ends.  Tahitian Yuzu blasts some major tropical notes with a sparkling cocktail of pineapple which gives real effervescence and youthfulness to the fragrance.  Mûre et Musc has a gentler, more home-grown berry feel.
Like an excitable hula-girl (yeah, they have those in Tahiti), the scent calms down as the night falls and the headier, more sensual notes of jasmine come to the surface.  Here lies the real heart of the perfume… I can still detect some lingering fruitiness but it becomes fully tempered by the softer night flowers which bring warmth and a little bit of sexiness to the fragrance.  The deeper, base notes of musk never fully surface on my skin, which is unusual because my chemistry normally carries them to the fore but I'm assuming that this is what grounds the accord and prevents it from projecting too light-heartedly.
Sillage is fairly weak which suits my interpretation of this as more of a skin-scent.  Step into a cloud of this as you step out of a shower and carry a little bit of the Southern Seas around with you for at least part of the day as alas, with my dry skin, I get low/medium longevity from this one, about 4 hours at the most.  Tahitian Yuzu is going to work beautifully on warm nights (if we get any) and I can't wait to expose a bit more skin to the sun and see just how capable it is at transporting me to a tropical paradise!
Illuminum Tahitian Yuzu is available to buy instore at the Illuminum's Perfume Lounge in Mayfair (I recommend a visit!), or directly from their website.  Priced at £70 for 50ml