I was sticky beaking along the bargain shelves in Boots (as you do… frequently) and spotted this rather pretty nail polish that had been reduced down to something ridiculous like 75p.  This probably means it's discontinued and you won't be able to find it but humour me anway.
Rimmel London 60 Seconds isn't a formula I've played with before.  I've previously tried and disliked the Lycra Pro range so have gently steered myself away from Rimmel polishes on that basis which makes me very glad that this bargain price sticker turned my head.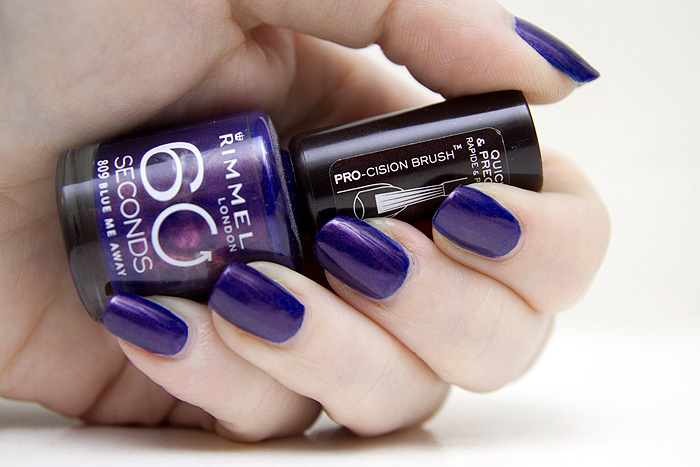 The polish is packed full of fine red sparkle, turning what was essentially a blue base into purple once worn on the nails. This makes the name Blue Me Away rather redundant when looking down at what is clearly a warm-toned purple polish.
Application wasn't too shady, fairly smooth but I did get a bit of drag around the edges of the nail bed and the polish doesn't apply kindly unless the brush is well loaded.  Other than that, I was done in two (fairly easy) coats.
I have to take issue with the whole "60 seconds" thing too, seeing as this was one of the slowest-drying polishes I've worn in months.  You're definitely going to need a quick dry top coat with this one.
Other than those niggles, for £3.469 (or less if you can find them on offer), I'm pleased to be reintroduced to a brand I'd avoided when it came to nails.
Rimmel London 60 Seconds polishes can be found instore and online at Boots et al.