We all have definite ideas about the scents we like to surround ourselves with — be it the washing powder we use to clean our undies; the candles we light when we step through the door after work; or the bath oils we pour under a hot running tap at the end of the night.  When was the last time you chose a new shampoo in the supermarket before flipping up the lid and inhaling a quick whiff to make sure you shared the product's olfactory persuasions?
But what about the people we share our lives with?  What control do we have over how they smell?!
It's taken a long time to gently steer my husband away from the Umbro Aftershave of his early twenties and onto scents which don't make me want to check behind his ears for dirt.  I sound like a fragrance nazi right?  I'm not… it's not that he resisted either, he just didn't have an opinion either way.  Over the past couple of years, he's developed a greater understanding and passion for fragrance — and thankfully, we do share quite similar tastes — something which comes in very handy for sharing the cost of those more extravagant fragrance purchases.
On this day, St. Valentine's Day — I thought I'd hand the reins over to my brilliant husband, who has picked out the fragrances from his collection that make us both swoon when he wears them.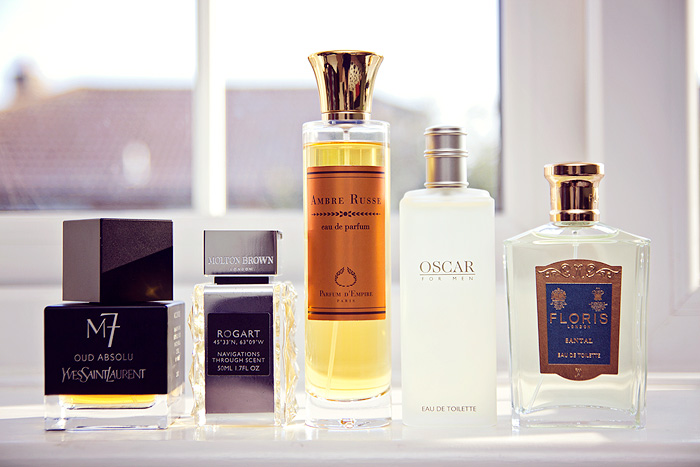 YSL – M7 Oud Absolu | Molton Brown NTS – Rogart | Parfum d'Empire – Ambre Russe | Oscar de la Renta – Oscar for Men | Floris – Santal
I'm still an awful fragrance reviewer, I just don't have enough words swirling around in my puny brain to conjure up enough ways to say "if this fragrance were a doughnut, you'd consume four of them in one sitting".  Although, I'll never get better if I don't try, so – in our own bumbled together manner… (at least I've got someone else to blame)
Yves Saint Laurent: M7 Oud Absolu (£58.00) *

As part of the reworked YSL Heritage Collection which celebrates half a century of expert perfume creation, the brand have released a reworked version of M7 which first came to the public nose in 2002 under the direction of one Mr. Tom Ford.  From such an agent provocateur, you'd expect to experience something special and you won't be disappointed with this fragrance, which despite the reformulation is described as the climax of male sexuality1.  M7 is a deeply smoky scent with notes of myrrh, french labdanum, patchouli and a resonating woody, almost leathery oud accord.  There's a medicinal hint that lingers through the dry-down which we both find comforting.  It's not sharp but resinous and syrupy, like a cough drop.  M7 is a fragrance for the night, of the night.  If Serge Gainsbourg were to walk in behind me right now, this is the smell I'd catch (and hold onto) as he passed.  An intensely sexy, dark scent.
 Molton Brown Navigations Through Scent: Rogart (£60.00)
If you prefer to scent your senses with a touch of the gourmand, you may be interested in Rogart's unusual but profoundly delicious note more usually found on your pancakes than in your perfume: maple syrup.  The tasty fragrance from Jennifer Jambon opens with a bracing blend of juniper berries and fir balsam which gives it that 'great outdoors' feel and indeed it should, as it draws its inspiration from the Cobequid Mountains of Canada.  All this freshness contrasts wonderfully as it warms on the skin and develops a hint of campfire, resinous wood and that sweet, mouthwatering maple.  Jointly, we've purchased nearly all of the releases in the Navigations Through Scent collection but Rogart firmly remains my husband's favourite.
Parfum d'Empire: Ambre Russe (£84.50)
Not sure we'll ever fall out of love with the majestic, imperial notes contained within Parfum d'Empire's exquisite nod to Tsarist Russia.  It's all here: vodka, champagne, tea, leather, amber and incense.  It's like the party you know will conclude with most of its guests going home in a meat wagon before sunrise.  It's raucously obnoxious and it knows it.  It wants you to know it too and you can't help but admire Ambre Russe for it's audacity to even exist.  It manages to be simultaneously effervescent (that'll be the champagne hic!) and creamy, with the boozy amber trumping all else.  If you like dark, oriental fragrances, consider this a contender for the big daddy – shy, delicate noses need not apply.
Oscar de la Renta: Oscar for Men (£45.00)
We fought a little over the inclusion of this… I wanted to place Bvlgari Black above this one but Mr. L triumphed by making me a cup of tea and pointing out that, for once, he was entitled to call first dibs.  Oscar de la Renta's Oscar for Men can be picked up online for as little as £17.00, which admittedly, ups the desirability stakes.  It's a far sharper, more summery scent than the ones we've so far included – the top notes of bergamot, mandarin, and black pepper ensure that it prickles a little with a zestiness that makes you stand up and pay attention.  It has a floral heart that tempers the spiciness a little but if you're a fan of the peppery notes of something like Marc Jacob's Bang, you should enjoy this equally.  Oscar for Men trails with a suggestion of leather and vanilla which further smoothes the pepper without ever fully quietening it.  A spicy serenade that wears well in warmer months thanks to it's sparkling opening.
Floris London: Santal (£69.00) *
As is my prerogative, I'm a woman of many contradictions.  Sometimes, I will eschew the feral, growling sensibilities of something like M7 (though never Serge) and want the man in my life to appeal as much to others as he does to me.  Floris Santal is the perfect scent to meet that need with its clean but never soapy existence.  Creamy sandalwood (and good sandalwood at that) gives Santal the most distinguished of edges in the overpopulated woody oriental category.  A hint of spiciness and musk keeps things warm and sensual whilst the crisp bergamot and trickles of lavender promote the balance beautifully and prevent this classic scent from ever feeling generic or old-fashioned.  Longevity is unparalled, displaying the kind of quality one would expect from a traditional British fragrance house like Floris.  I may have started with Serge Gainsbourg, but please… let me end with a young, freshly-shaven Paul Newman.  Rawr.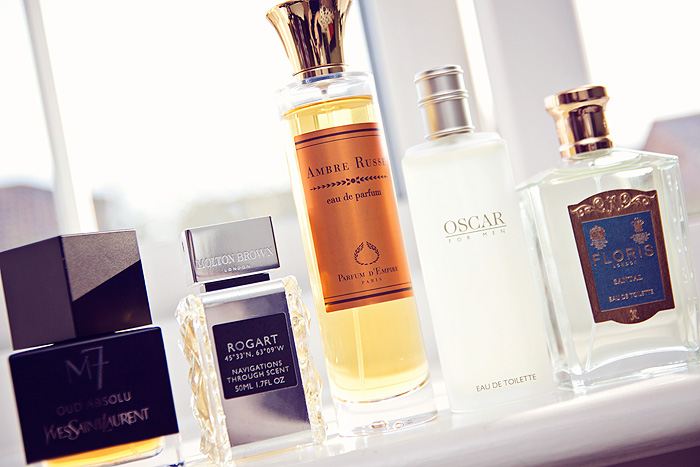 I'm feeling a tad hot under the collar now!  Happy Valentine's Day you lovely lot.
Do you lust over leather or go crazy for classic cleanliness?  Do those animalic undertones bring out your wild side or perhaps you simply prefer a good old splash of Brut! 
Tell me, how do you like the men in your life to smell? (note: "of money" isn't a valid answer!)
* press sample