…and not a pastel among them!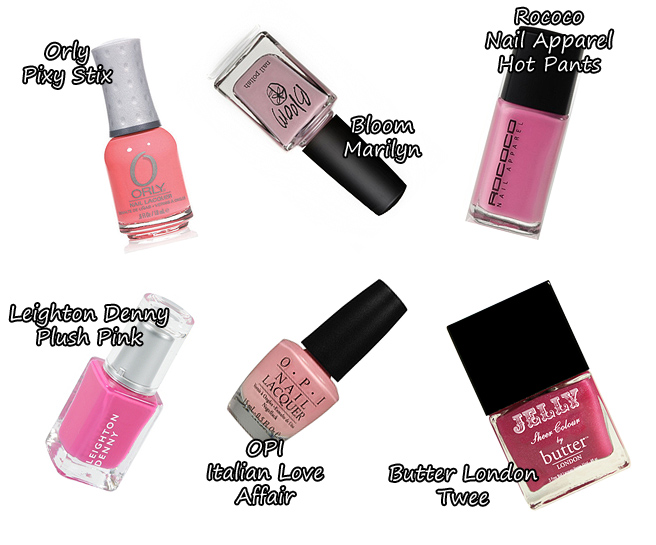 Orly – Pixy Stix (£8.75) – a gorgeous guava pink creme from the limited edition Orly Sweet collection – I need to make this mine, it's got that coral flair going on without edging too much towards orange.  I adore guava-y shades.
Bloom – Marilyn (£8) – Australian brand Bloom present us with an alternative to the typical girly pink.  Described as a cloud pink that is pure whimsy, I'm loving the more muted tones.  Available at Superdrug.
Rococo Nail Apparel – Hot Pants (£11.50) – A medium pink creme with enough depth to make a statement, always a spring/summer staple.
Leighton Denny – Plush Pink (£10) – A lovely looking pink that keeps a definite feminine edge without being too bright or sugary!
OPI – Italian Love Affair (£9.95) – A princess pink with pearl, as romantic as it's name and an OPI classic.
Butter London – Twee (£10) – From the new limited edition Jelly collection, a sheer buildable pink jelly described as lipgloss for your nails!
Are you a fan of any of these?  I don't think pinks get enough love… a good pink is a classic shade that will never let you down!