Yes, really.  Since coming off the Cambridge Diet last October, I've put a bit back on… or a lot back on, depending on how kind I'm feeling about myself when I think about it.  In total, I lost just over 4st (but didn't reach goal before quitting) and have since put 1.5st back on and it's still creeping.  I don't want it to creep, it would be so easy to let myself slide back up the scales.  The fact is, I love food.  I love food and I don't care too much for exercise.  True, I have a hormone imbalance which means that I'm slightly more susceptible to piling on the pounds just by looking at an unrefined carb BUT, that's not to take away from the fact that essentially, I'm a greedy guts.
In the past month, I've yo-yoed from famine to feast – knowing that this isn't how I *should* be losing weight and it's been (as I'm sure you can imagine) a rollercoaster of highs and lows as a result.  It also means that whenever I treat myself to a couple of days off the famine, I've piled about 7lbs back on in 48hrs as my body retains both water and energy stores in an attempt to get me through the ensuing 'famine'.
This week, I'm making a few changes.
I love my meal replacements, though I know that many will frown – and I will be replacing my breakfast and lunch with protein-based shakes.  Because of my hormone imbalance, my sugar levels soar with porridge and cereals, and through personal choice (i.e. I can't stop at one slice), bread is out.  This leaves things like fruit and yoghurt and well, I don't know about you – but I'd need to eat a LOT of fruit and yoghurt to sustain my appetite throughout the morning.
As most meal replacement programs suggest, I will be limiting my evening meal to 600kcal – but I want to make those calories work as hard as possible.  This week, I've been creating my evening meals based around a particular vegetable.  It forces me to get imaginative and will hopefully expand upon the range of veggies that I eat in the future.  Now, lectures about how to eat healthily aside (please), I thought I'd share with you the evening meals that I've been enjoying this week and the veggies that have taken pride of place each day!
Day 1: Broccoli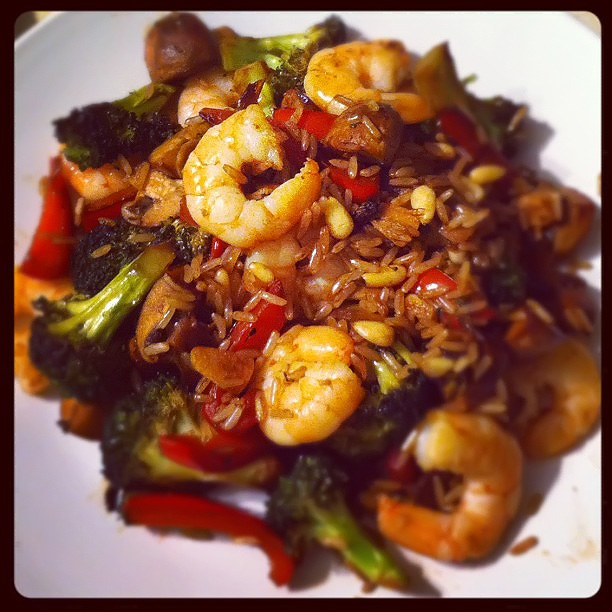 Broccoli and King Prawn Stir Fry – 400kcal
100g Ready-To-Eat Jumbo King Prawns
200g Broccoli Florets
100g Mushrooms
1/2 Red Pepper
1 clove sliced Garlic
15ml (1tbsp) Amoy Light Soy Sauce
1/4 tsp Red Cayenne Pepper
15ml (1tbsp) Balsamic Vinegar
25g Easy Cook Brown Rice (uncooked weight, cooked in microwave)
10g Pine Nuts
The quantities and kcal listed above are for a single portion.  I used that 1cal oil spray stuff for cooking… generally seem to end up with about 30 sprays of the stuff though (all factored in to my kcal counting though *polishes halo*)
Spray a non-stick pan with oil and stir-fry the broccoli and red pepper over a medium heat until the broccoli begins to soften a little (about 7 minutes).  If you feel that your pan is getting too dry, add a little water, about a tbsp at a time.  Meanwhile, cook the brown rice – I always cook mine in the microwave, remember that brown rice will take longer to cook than basmati!  Add the soy sauce, balsamic vinegar and cayenne pepper – giving the pan a swirl to coat the vegetables.  Let cook for a further 5 minutes.  Throw in the mushrooms and garlic and continue to cook until everything has softened to a firmness you like.  Add the prawns, rice and pine nuts and loosely cover the frying pan with a lid to contain the heat for a maximum of two minutes.  Serve!
Day 2: Cauliflower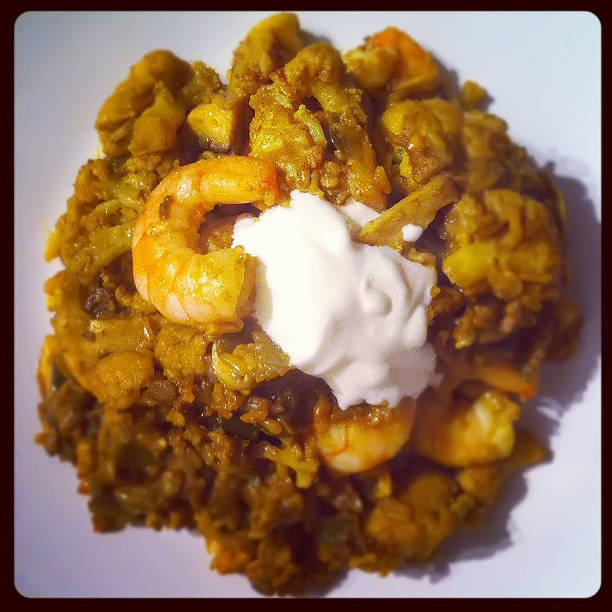 Cauliflower and King Prawn Curry – 510kcal
100g Ready-To-Eat Jumbo King Prawns
200g Cauliflower Florets (cut the large florets in half to allow them to cook through)
1 diced Green Pepper
2 Large Mushrooms
3 cloves of Garlic minced (don't judge me)
25g Easy Cook Brown Rice
1tbsp Cooking Oil
Water
1/2tsp Ground Cumin
1/2tsp Ground Ginger (fresh if you have it!)
1/2tsp Ground Coriander
1tsp Ground Turmeric
1tsp Garam Masala
10g Chilli Paste (I used a sachet)
1tsp Peanut Butter
10g Shelled Sunflower Seeds
1tbsp Plain Yoghurt or Soured Cream to serve
Not the most colourful dish in the world, but the fantastic flavour makes up for its mono-shade.  Add the oil, cumin, ginger, garlic, chilli paste and coriander to the pan before throwing in the cauliflower.  Add about 1/4 cup of water and allow it to cook gently for 5 minutes.  Pour on a little more water before adding the uncooked rice, green pepper and turmeric.  Gently simmer while the rice absorbs the water and the cauliflower begins to soften.  You'll need to keep adding water during this process as the pan dries out, just test the rice every so often and prod the cauliflower to judge readiness.  While the rice is still a little toothsome, add the mushrooms, peanut butter, garam masala and sunflower seeds.  Cook for a further 5 minutes until the mushrooms are soft and the rice is cooked.  Add the prawns and cover with a large pan lid for 2 minutes to ensure everything is piping hot.  Serve with a spoonful of plain yoghurt or soured cream.
Wish me luck – it's Brussel Sprout night tonight, not even kidding.  What are your favourite and most inventive ways to cook broccoli and cauliflower?