I don't mind admitting that it's been a while since I hauled anything more interesting than standard repurchases and top-ups of my routine staples.  I used to be a complete brand flirt, hopping from product to product and whilst I'm not beyond those days… not at all, I do garner more comfort from sticking to the tried and tested than ever I would have in the past.
I'm either becoming less adventurous in my old age or perhaps just a bit more sensible now that I have more "grown-up person" type bills to meet each month.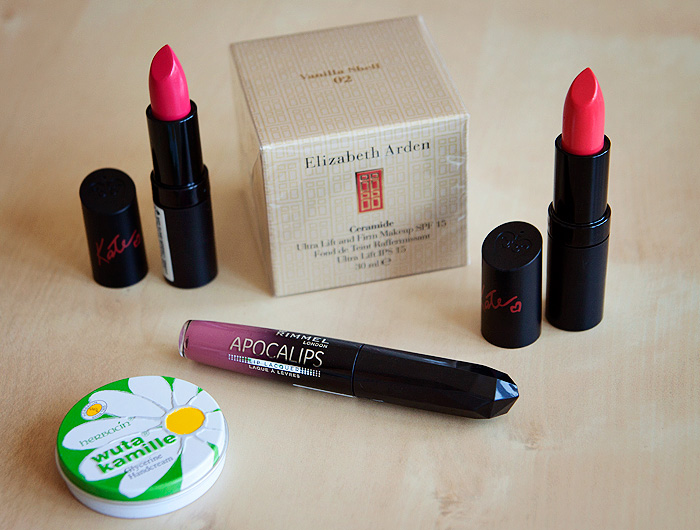 Websites like Cheap Smells and Fragrance Direct always make a good job of parting me from my pennies.  You know when you just want one thing but then you look at the postage and think… "well, I might aswell make it worth it" before adding another 593494390 products to your basket?  Yeah, that.
Well, I was after a new foundation… not because I needed one… heck, I could paint the Eiffel Tower a pleasant shade of "vanilla" with the amount of unfinished foundations in my stash.  No, it was simply because one of you lovely lot suggested that I might like Elizabeth Arden's Ceramide Ultra Lift & Firm Makeup.  You bloody big enablers, pack it in… that's supposed to be my job.  Anyway, I spied it on Fragrance Direct at a ridiculous price of £8.99 (RRP £31) and I couldn't resist it.
Then the whole internal postage conversation kicked in and I added a couple of bright Rimmel Kate lipsticks in #6 and #13 to my order to ensure that my makeup-receiving-grin would be even wider when I met the postman at the door.
(while I'm on the subject of FD, you should probably know that they're selling some great OPI shades from circa Spring 2012 for £3.99 a-piece at the moment, you're welcome)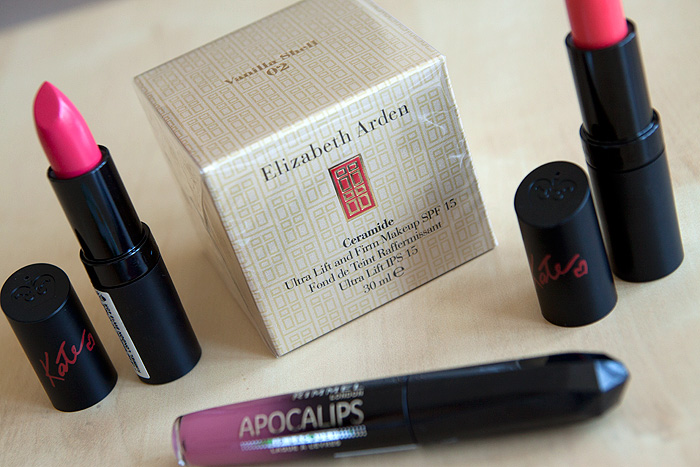 Last weekend, I decided that I needed a muted lipstick, and I was so thoroughly sick of reading all that hype about the Rimmel Apocalips that I caved.  I bought Celestial, but I don't like it – what a bloody waste of anticipation!  I'll properly review it later if you can even be arsed to suffer another post about them.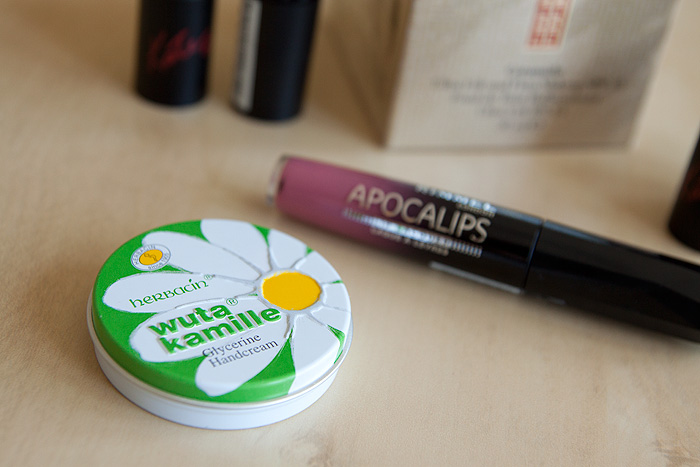 My final purchase of the weekend came in the form of this lovely little tin of Herbacin Wuta Kamille Glycerine Handcream.  I bought the tin because it was cuter but John Lewis (where I picked this up) also sell a 100ml tube which is infinitely more practical.  I wouldn't call it deeply nourishing but it's easily absorbed and smells beautiful.
What have you been buying this week?