Superdrug is a must visit for high-street huntresses, however, unless you have a particularly strong constitution I suggest avoiding visiting during school holidays or Saturday afternoons as you may struggle to get near the stands amid a wash of pre-teen girls and a fog of impulse body spray.
N.Y.C is not a brand I'm familliar with (yet!) – a little like Barry M and 2true, I'm slightly intimidated by the colours and the plethora of plastics, shrinkwraps and security tags attached the products in a vain attempt to stop the afore-mentioned pre-teens from nicking the goodies.
I was looking for some cheap polish for a mid afternoon pick-me-up and this colour caught my eye, it's a shimmery metallic blue/green which totally reminds me of a bluebottle fly (you know, the pretty shimmery bit!).  Anyway, application is easy with a surprisingly good brush which makes for a full nail application in a couple of simple strokes.  It's pretty sheer, and needed 3 coats to achieve the colour payoff as shown on my natty nails – something which I'd usually moan about, but application was so smooth that I didn't struggle at all with 3 thin coats and didn't grow any new grey hairs in the time it took to dry.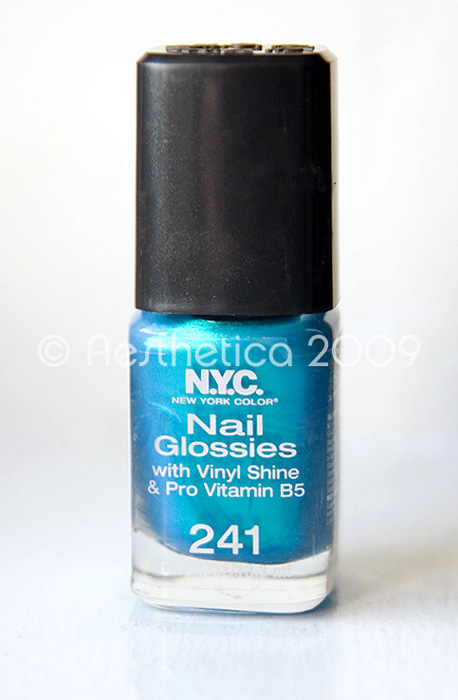 Price was a very reasonable £2.93, but Superdrug are currently offering 2 N.Y.C Nail Glossies for £2.99 (bargain!) so if you want to try some new colours now is a good time to have a look!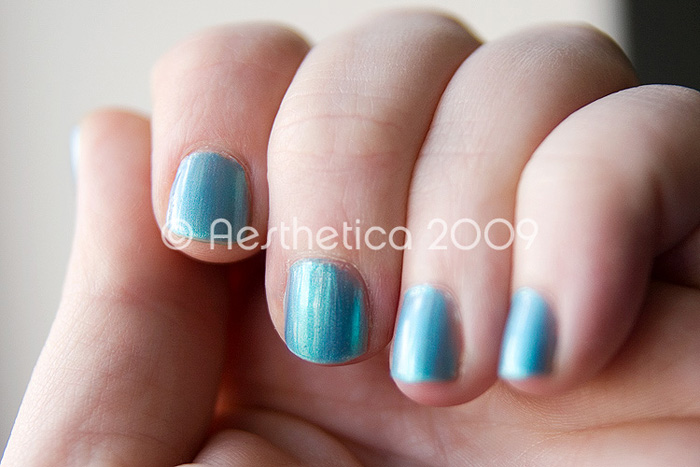 3 days after application – lasting well with no chipping yet!
[starreview]