I received a curious invitation a few weeks ago inviting me to take part in a 3 part Aussie event, the first involving a "Secret Silos Treasure Hunt".  I was left feeling slightly confused by the invitation – but as a nerdy geocacher, there was simply no way I was going to be able to resist a 'treasure hunt'.
Roll forward a couple of weeks and I received a strange purple envelope in the mail… upon opening it, I saw this:
There was also a solitary silver key rattling about in the bottom of the envelope… hmm, curiouser and curiouser!
Come Saturday morning, there was I, eager eyed and bushy tailed.  I dragged my husband and daughter down to the train station to come along with me for the day.  She'd never been to the "big smoke" before.
Here she is, looking like a little troll waiting for the train: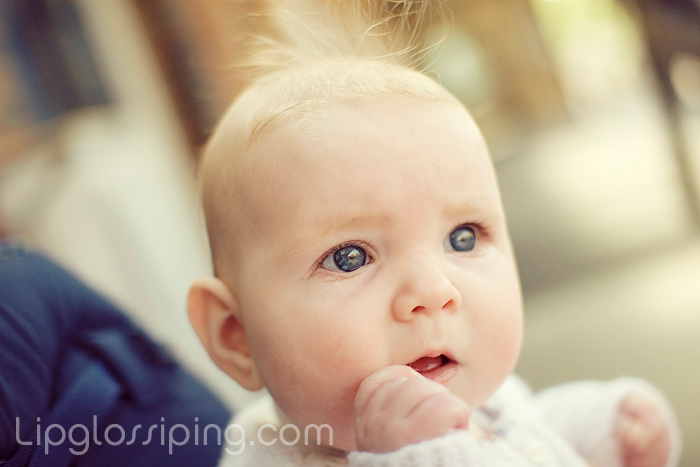 Upon arrival, I knew exactly where I was headed to find the Secret Silo.  A couple of years ago I'd had to make my way to The Strand to get a last minute visa for a trip to Sydney… so when we got off the train at Victoria, we marched straight to Australia House!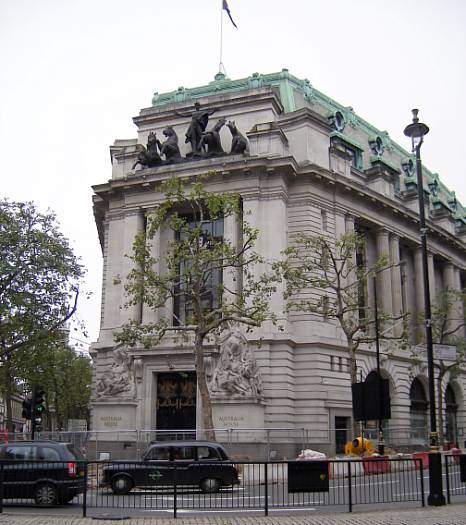 Here's one for the fact fans, Australia House was the setting for Gringotts Bank in Harry Potter and the Philosopher's Stone – ooh! Didn't know that did you?
As we rounded the corner, I saw a couple of silver trunks and a solitary figure suspiciously hanging about under the "Australia House" sign that you can see in the above pic.  I approached him cautiously incase I had got the location completely wrong, but when I saw the Aussie Roo logo on one of the trunks I gave him a big smile and waved my key about under his nose!
The suspicious man turned out to be a rather nice fellow called Tim, who chatted to me about the event whilst Leila tried to work her charms on him.
Using my mysterious silver key to open up the trunk, he pulled out this rather lovely (and big!) box which he said was full of some lovely goodies – woo hoo!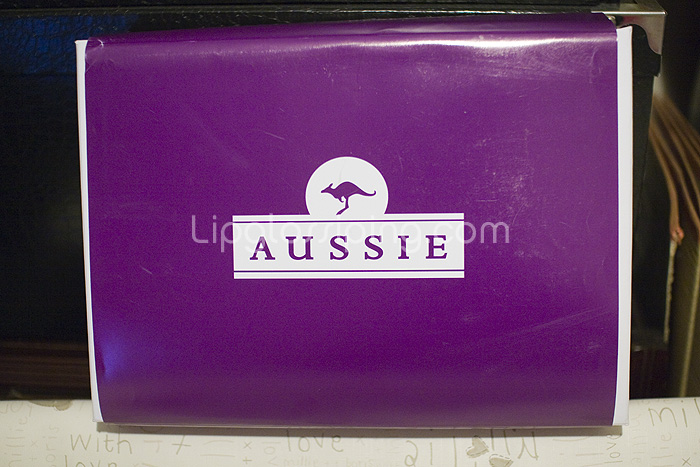 Before leaving, he took a piccie of me holding my 'goodie box' under the "Australia House" sign (I looked a complete state!)  Paul and Leila ran away when the camera was produced – scaredy cats!
After all that excitement and adventure we scooted off to Soho to get a coffee and do some window shopping before a very weary trio headed back home to Southampton on the train.
Once home, I was barely through the door before I was pulling off the cover and opening my Aussie goody box!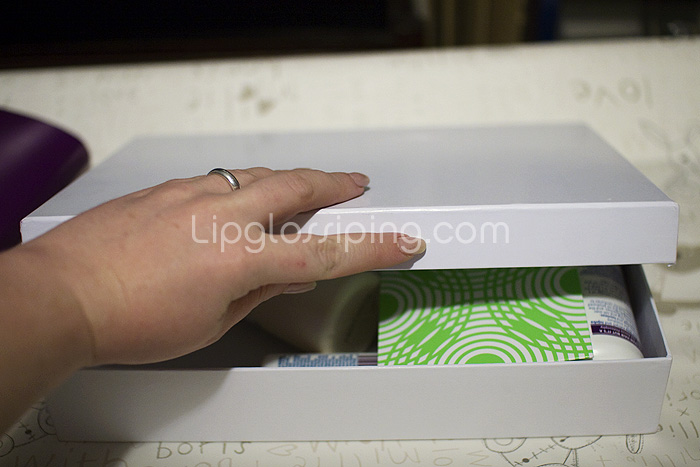 Ooh…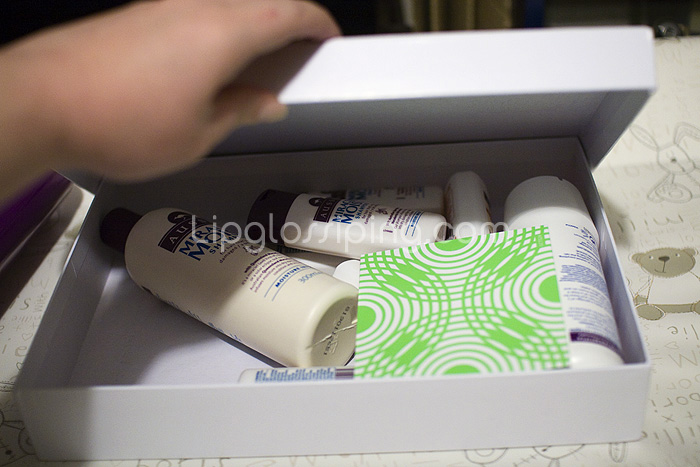 Aah… look!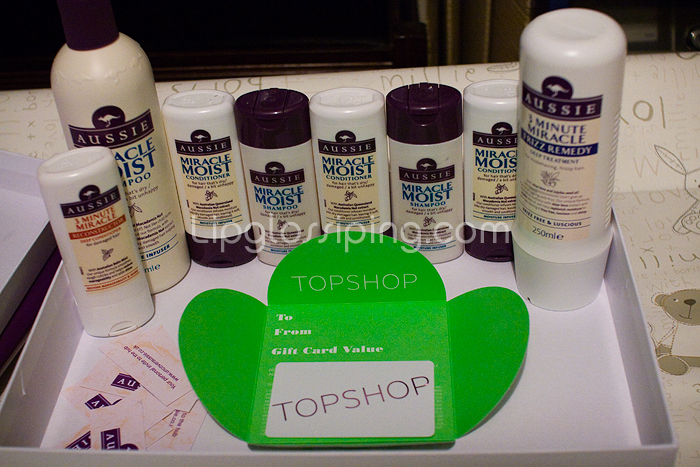 Lovely things!
Lots of Miracle Moist (I already have a bottle of the shampoo, so know I lurve this stuff!), A mini bottle of the 3 Minute Miracle – I know this is cult, but I am ashamed to admit that I've never tried it – can't wait to give it a go and you can expect a review soon! I also got a huge bottle of 3 Minute Miracle Frizz Remedy (will it tame my flyaways I wonder?)
Now, as if that weren't enough.  There was also a £25 Topshop gift card lurking in the bottom of the box! Wowee!  I've already planned my shopping spree – thanks Aussie!  I believe some ladies were also lucky enough to get a £50 spa voucher!  But my box didn't have one of those (boo!) so I'm not sure if they were prizes for being 'first finders!' I should have got my brood up earlier!
Last but not least, there were some little cards for me to hand out… so here we go, a virtual handing out!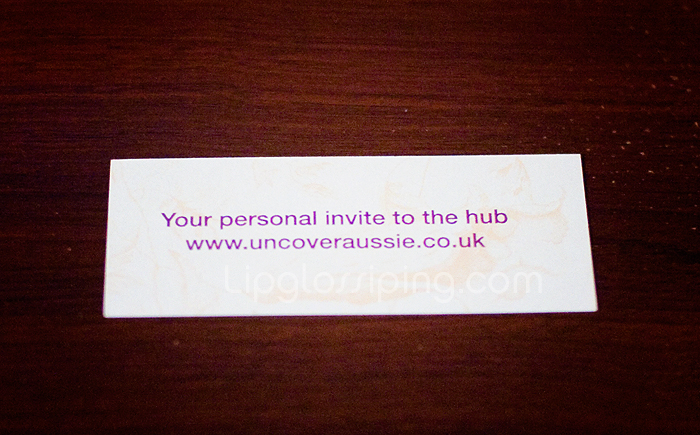 YES, that means YOU! Go check it out!
Thanks for a super and VERY original afternoon Aussie!