I talked yesterday about the new bronzing cream from Manasi Makeup which works to inject both colour and luminosity onto the complexion.  Today I want to take things a step closer to Summer and introduce you to a different kind of bronzing formula.  Never in my 18-years of wearing makeup have I ever found a powder bronzer that looks entirely natural against my skin-tone.  For many years, I thought that I was looking at the wrong brands and so I graduated from the BarryM's of the world to the lofty heights of Guerlain bronzers, which I still believe offer some of the best shades for pale skin.
But now I'm ditching the powders.
Sure, I'll still use them for contour… they offer great precision and I'm hopelessly attached to my Illamasqua Rumour and my NYX Taupe (which, ironically, are both marketed as blushers rather than bronzers) but for that all-over hint of colour that gives the impression of sun-kissed skin?  Nope, there's a better option out there for us.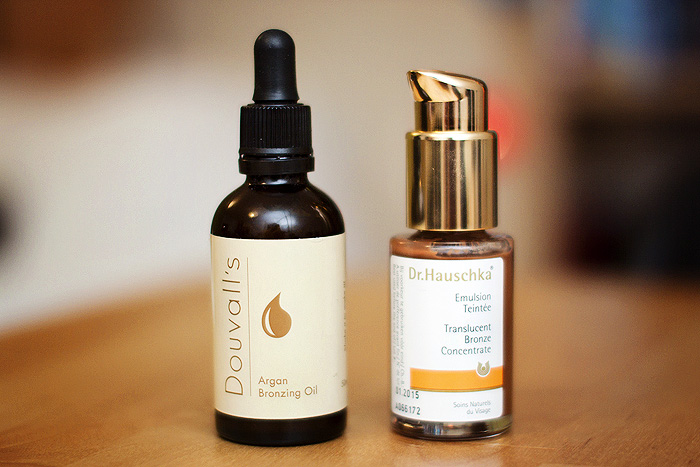 Looking frighteningly dark in the bottle, you might find it hard to believe that these two products offer the solution we're looking for… but take the time to look a little more closely at a pair of products that have been somewhat of a revelation for my sun-shy skin.
Dr. Hauschka's Translucent Bronze Concentrate* (drhauschka.co.uk, £27.45) offers a blend-able and realistic tanning pigment in a lightweight formula.  Once worked into the skin, the translucency allows your natural colouring to give the impression that the tone has self-adapted to suit your undertones.  It's buildable from the lightest of applications, providing anything from a sheer glow right up to an intense depth of colour.
Being a liquid, you can use it to custom-fit any foundations that may be proving a little pale for your summer skin or you could even add it to your daily moisturiser for a lazy boost of colour without the full-on tan effect.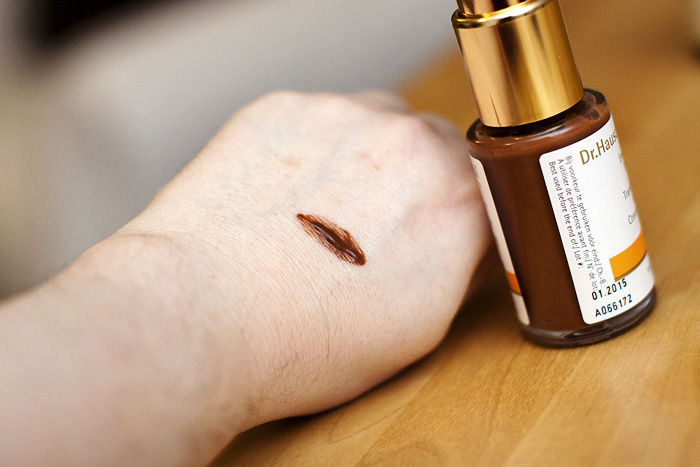 I prefer to use this on my face, delivering a shimmer-free hint of colour in a non-oily formula that lasts well through the day.  The image below shows the product lightly blended over bare skin… you can blend it more sheerly by mixing with your moisturiser or foundation.  Completely adjustable colour.
Dr. Hauschka Translucent Bronze Concentrate – Ingredients:
Water/Aqua, Olea Europaea (Olive) Fruit Oil, Alcohol, Anthyllis Vulneraria Extract, Hamamelis Virginiana (Witch Hazel) Extract, Lysolecithin, Beeswax/Cera Flava, Fragrance/Parfum, Citral, Linalool, Farnesol, Benzyl Benzoate, Limonene, Citronellol, Geraniol, Benzyl Salicylate, Coumarin, Eugenol, Benzyl Alcohol, Cetearyl Alcohol, Algin, Arachis Hypogaea (Peanut) Oil, Chlorophyllin-Copper Complex/CI 75810, Iron Oxide/CI 77491, Iron Oxide/CI 77492, Iron Oxide/CI 77499.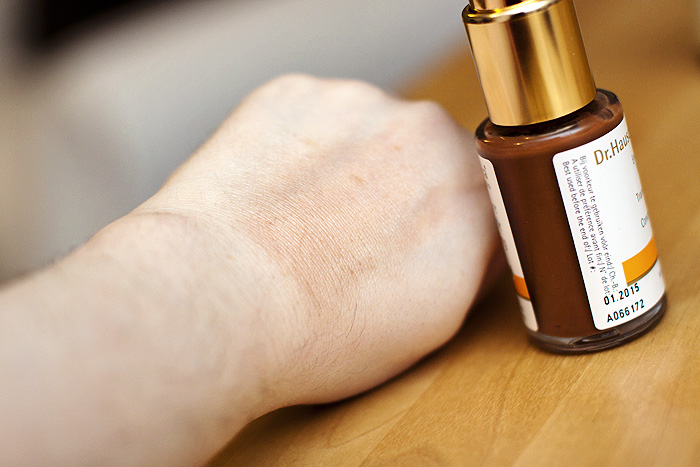 Douvall's Argan Bronzing Oil* (urbanretreat.co.uk, £32.00) works along the same principles as Dr. Hauschka's Translucent Bronze Concentrate but there are some subtle differences that makes this one more suitable for use on the body (in my opinion).  As the name might suggest, the formula is alltogether more oily, making it an exceptionally blendable, streak-free option which can be used as a standalone moisturising product thanks to some beautifully nourishing ingredients.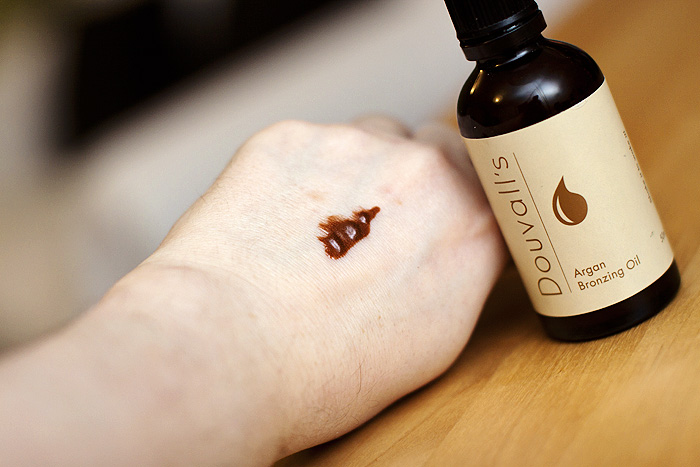 It contains a subtle shimmer which looks beautiful worn across the decolletage, arms, and shins but would perhaps prove a little too glowy for the face.  The dewy finish peps up tired skin and imparts a naturally healthy glow – according to the bottle – you can even apply it to your hair, something I'll admit I haven't tried yet.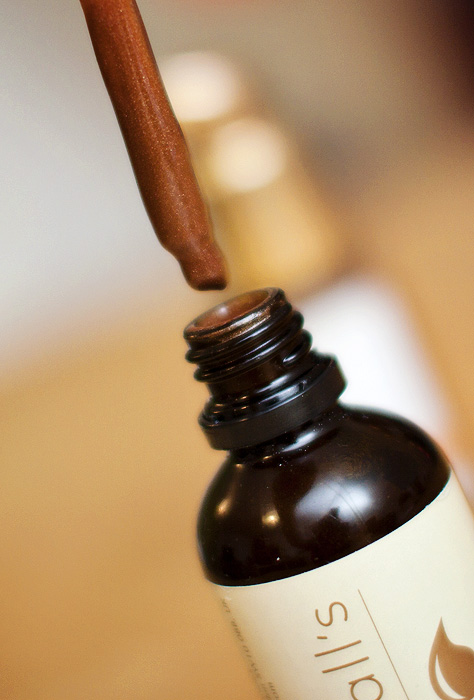 Unfortunately, the packaging is far from perfect… I manage to make a mess each time I put the the pipette back in the bottle and have to wipe clean the bottle-neck before I can screw the lid back on… a pump-dispenser like the Dr. Hauschka Translucent Bronze Concentrate would have been a better choice.
You can see the subtle shimmer in the above photo, it's really very pretty and understated, just enough to catch the sun and create a 3D effect on the skin.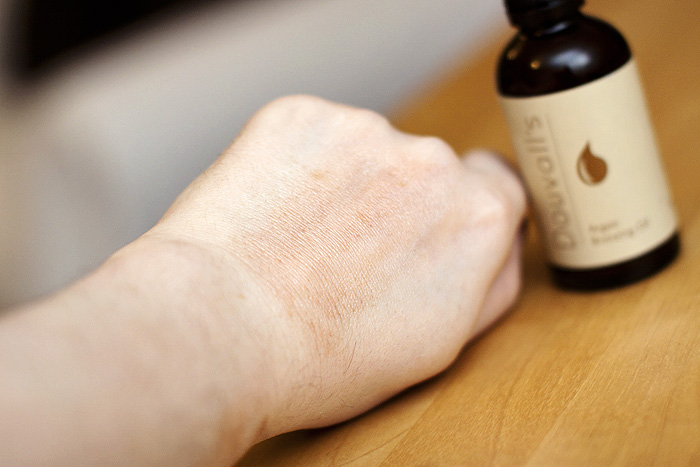 Douvall's Argan Bronzing Oil – Ingredients:
Argania Spinosa Kernel Oil*, Squalane**, Silica**, Citrus Aurantium Dulcis (Orange) Oil, Mica, Limonene, Linalool, Citral ,CI 77491, CI 77499CI 77492
Do you use bronzing products?
* press sample