I was recently sent two products from Sleek Makeup's range, focusing on a couple of shades that are suited to this year's Spring trend.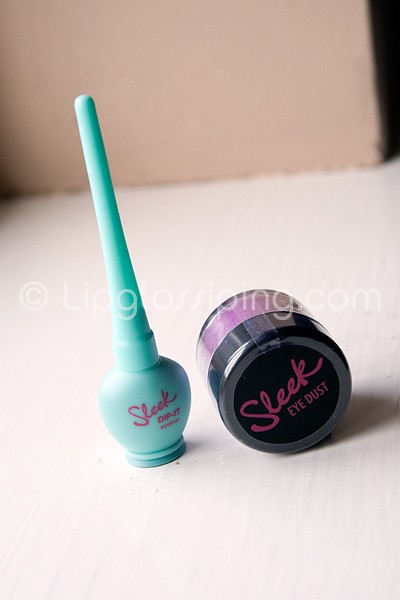 On the left we have the Dip It in Pastel Green and on the right, an Eye Dust in Livid Lilac.
I'm a beauty addict with eclectic tastes and try not to discriminate based on price or accessibility of products.  So, I approach this review with a fully open mind.  Even when I held the Dip It pot in my fingers, twirling it…. marvelling at how incredibly cheap Sleek had managed to make it look.
The eye dust packaging doesn't fare much better.  I mean, they're both obviously plastic, but they're SO lightweight I'm surprised that they're not defying the rules of gravity.
Having said that, I ultimately only really care about how it looks if I'm gonna be seen in public with it (shallow soul that I am), how about the actual contents?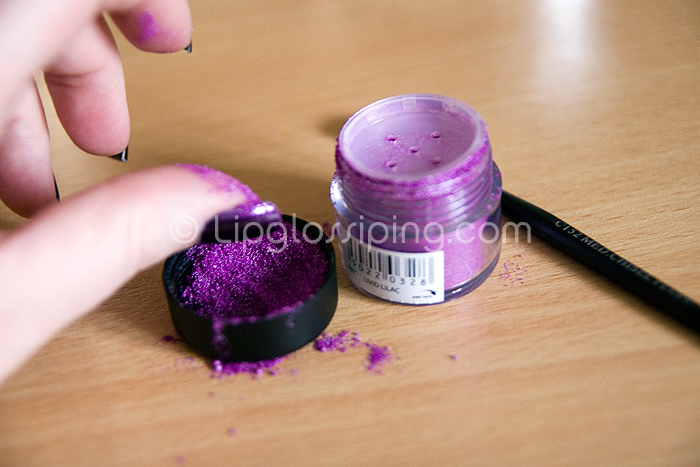 How ABOUT those contents…
Well, there they are.  In all their 'spilled across my new desk cos the sifter fell out when I tapped the bottom of the pot' glory.  You can only imagine how much I was loving that purple Eye Dust at this point.
When I grumbled about my little dust-spilling incident on Twitter, it turned out that I wasn't the only one who had nearly ended up with a lapful of Livid Lilac.  Something for Sleek Makeup to investigate perhaps?
Anyway, the colour is pretty… it's more vivid in the pot than it is swatched, a good thing seeing as it's called 'Livid Lilac' afterall and looks thoroughly 'Royal Purple' in the container.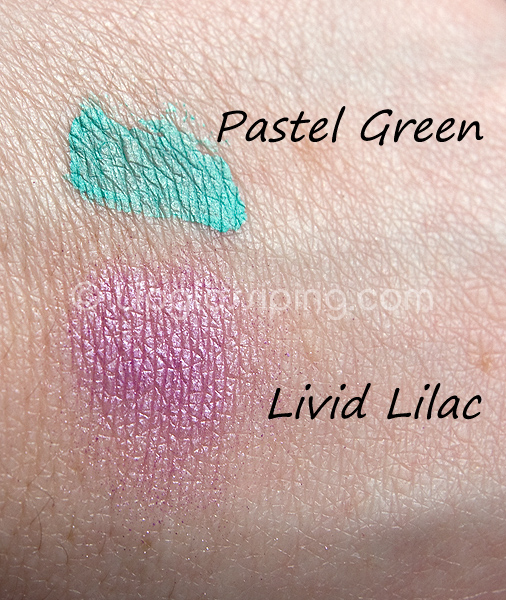 The top swatch shows the Dip It liner in Pastel Green.  It's an opaque mint, and really does look like a fabulous shade for Spring.  Livid Lilac is far softer once swatched (dry) and slightly metallic.  I was really impressed with the choices for this season's shades.
Application of the Dip It was a bit tricky.  The wand and narrow tip allowed for a precise sweep across the eye lid, but as I was drawing the line, I found that the applicator dragged at the pigmentation leaving the line of colour less pigmented in the centre than at the edges.  To be fair, nothing that a second coat didn't remedy.  The liner dried almost instantly without transferring to the hooded part of my eyelids.
I had no issues applying the Eye Dust, it blended smoothly and the colour depth was nicely buildable.
Here's a FOTD, don't laugh… the shades are a bit bright for me, but I enjoyed playing!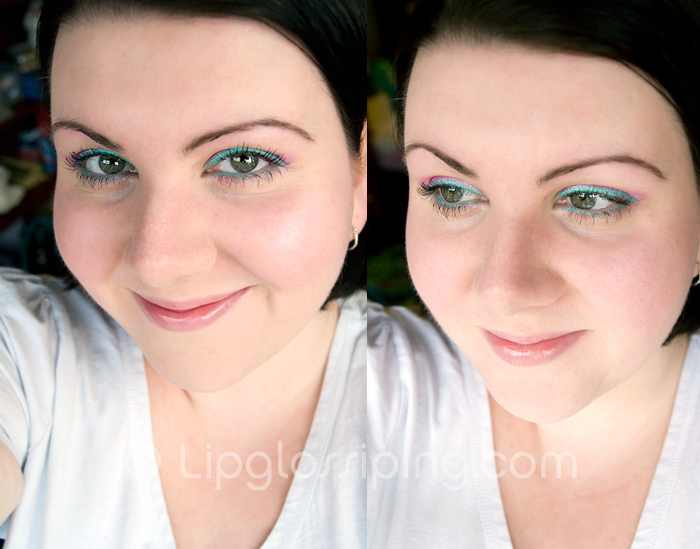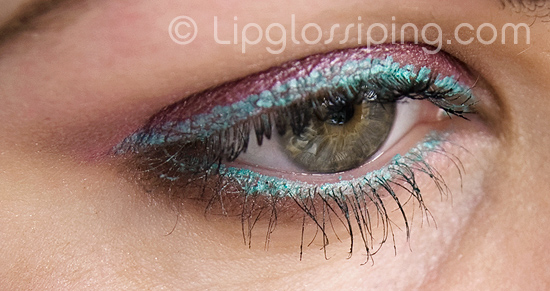 Unfortunately, that's where the fun ended, 20 minutes later, I looked in the mirror and saw that the eyeliner had begun to flake…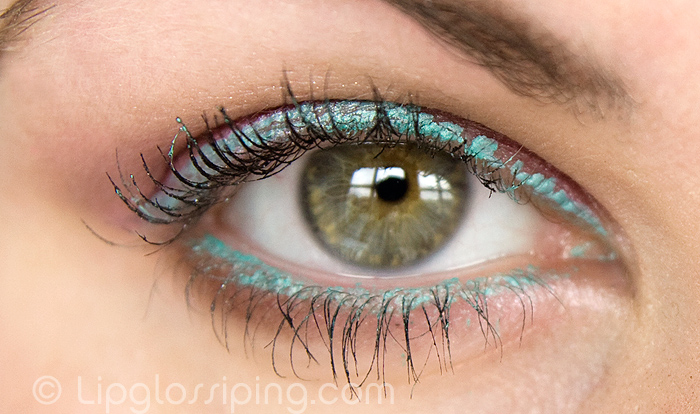 Bits of Dip It kept getting caught in my eyelashes, so I ended up using an eyeshadow brush to work back and forward until I'd dislodged all the flakes.  I wasn't left with much.
Fast forward to bed-time and my cleansing routine.  I cleansed with my ever faithful cleansing oil and a blob of Cetaphil to finish, towelled my face dry and then shrieked at the mirror when I saw a matching pair of pink-dyed eyelids looking back at me.  I would have photographed them for the comedy value, but it was kinda late and I'm kinda lazy so you'll just have to use your imagination instead.
On the plus side, it showed that my sense of symmetry has improved.  Those dyed patches were perfect.
Overall, I was disappointed at the quality of the 2 products I was sent by Sleek Makeup which is a shame, because in the past I've been mostly impressed (how 'bout them 12 pan palettes eh?).
Sleek Makeup products are available from selected Superdrug stores, the Eye Dusts and Dip Its both retail for £2.99 each.