For someone who can't be bothered to find the time to moisturise… I'm doing an awful lot of moisturising recently.
My skin is DRY DRY DRY… and nothing is making it better.  Not even tried and tested solutions that have kept my skin in good condition over the years.  Infact, not even my trusty body oils are providing long-term relief.
I re-discovered this Lula Bloom Body Butter in the parcel that housed the GOSH smoky eyes palette I was sent by Superdrug PR.  I was in two minds about it, remember?  I hope this fares better.  I have a bit of a backlog I need to work through…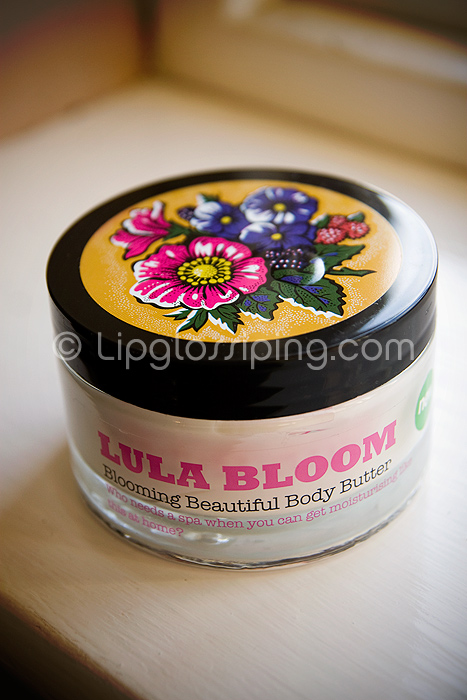 I wasn't gonna crack it open, 'cos it looks like one of those all style-no substance products doesn't it?  Plus I wasn't sure if it was aimed at teenage skin… it just has that look…  I was gonna give it to a younger family member, except I forgot.
After having a quick look at the ingredients and noticing that one of my favourite moisturising bases (Cocoa Butter) is right up there near the top of the list, I decided that I'd give it a go.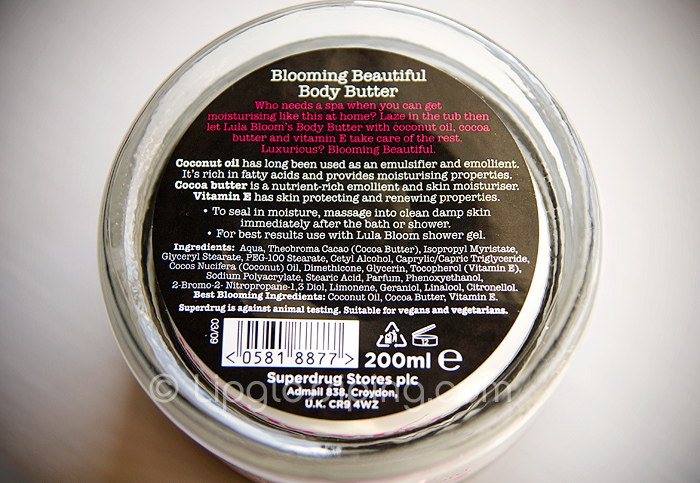 Lula Bloom Body Butter (stupid name) is housed in a satisfyingly heavy glass jar.  This won't appeal to half of you, but I'm not wanting to carry it about anywhere other than to and from my bathroom shelf so I'm not bothered.  I like it.  I've already mentioned that the artwork on the packaging gives me the impression that this is aimed at a younger audience, but the price tag doesn't really match those impressions.
£6.99 for 250ml.  That's quite pricey.  I know as a teenager I wouldn't have been able to afford something like this.  I had more important things like 20 Lambert & Butler and 3 litres of White Lightning to spend my pocket money on.
Ignoring my misspent youth for a moment, I was truly surprised by how creamy and smooth the texture proved to be.  The consistency is very thick and a small amount spreads a long way.  I can see a pot of this easily lasting me at least a month of daily use.  Yet, despite being thick, it feels quite light once it's on the skin.  A winning combination.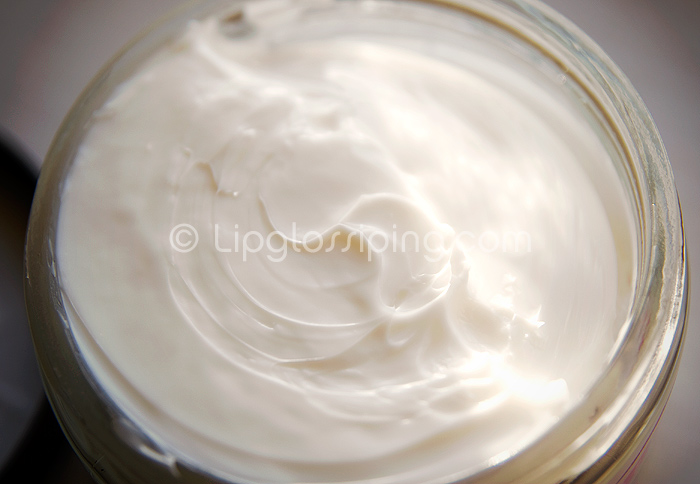 The scent is overpowering… it's nice, but it's too "in your face" for me.  Again, it makes me think that the product is aimed at a younger audience.  It's fruity, tropical… everything that a 14yr old girl would want to saturate herself with.  It reminds me of my younger self stood at The BodyShop's perfume oil carousel display.  God, I'd come out of that store with a dewberry/fuzzy peach induced headache.
Overall, I really like the product… but it suffers from some kind of Body Butter schizophrenia.  It's a top quality moisturisier, leaving my skin soft and conditioned for many hours… but it's as if some prat in the development team (probably a bloke) has come along and ruined the delicate balance by chucking half a ton of tropical pot pourri in the mixing vat.  What gives Lula Bloom?
It needs to either ditch the overpowering smell and horrible artwork…. or shave about £3 off the price.  Have you tried this?  Am I too harsh?
I'll tell you what though… if you happen to know a 12-17yr old you fancy treating… *points at the body butter* you wouldn't go wrong with this.
Superdrug has a whole Lula Bloom range going (the body scrub is decent too! Lurid pink packaging though…).  Check out the range on the website here