…your Boots till spits I mean!
If you're not a UK lady, let me quickly explain…
Boots have a rather fabulous promotional period every couple of months that goes something like this…
If you spend over £5 you get a voucher.  The voucher entitles the holder to £5 off Boots No7 or Ruby & Millie (a British cosmetic brand).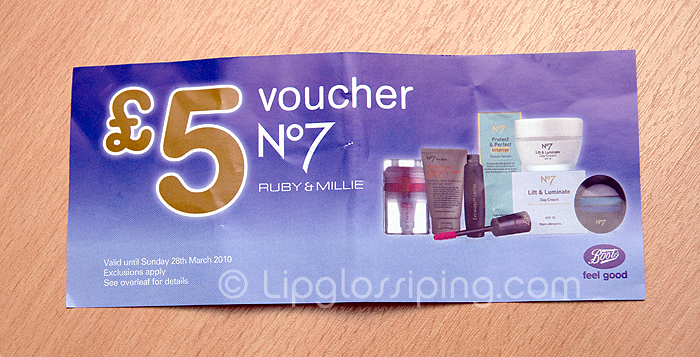 That's it… no catches, nothing.  How lucky are we?
The current promotion runs out on the 28th March, which means that I have 4 days left to spend the 3 vouchers I've rescued from the bottom of my handbag.  Which brings me to my original question…
How do you spend yours?
As there's nothing specific I want from either of the permitted ranges, I'm thinking of plumping for some of the following items – note, prices shown are after voucher redemption:

Boots No7 Eyeshadow Blend and Contour.
I have a few of these (ok, about 6) that I grab from my brush pot when I'm too lazy to go and wash my 'good' blending brushes but obviously don't want to muddy my eye look.  They're not the softest nor the most well constructed, but for £1.50, they're pretty darn decent backups!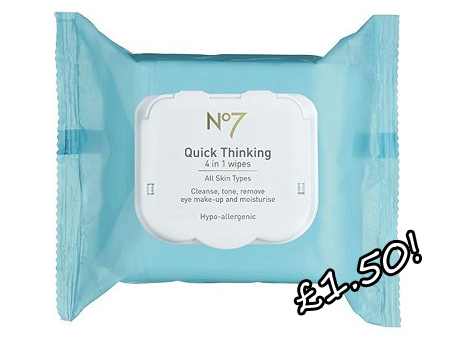 Boots No7 Quick Thinking 4 in 1 Wipes.
Love these wipes, they really do a stand up job at removing makeup.  I mostly use them to clean off swatched hands or if I'm playing with my makeup.  I prefer a proper face wash before bed!  These are great for travel too, but I wouldn't pay the full price.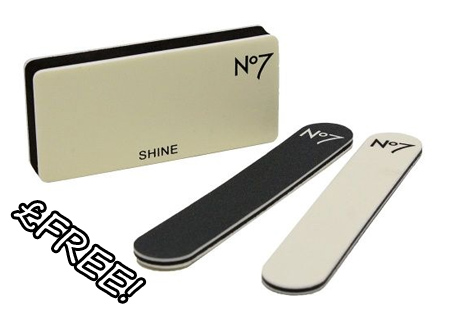 Boots No7 Ultimate File and Buffer.
You can't get a better bargain than free!  I have one of these in the glove box incase of an emergency broken nail.  Don't laugh at me, you're not even a proper GIRL unless you have an emergency nail file set.  Go redeem yourself down at Boots immediately!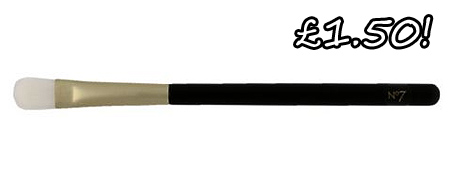 I haven't tried this one, but I used to pick up ones from the No7 range which looked simillar (except they had black bristles) and I swear by them for depositing a healthy amount of colour on my lids.  Unfortunately, they've been discontinued and I'm wondering if these are the replacement?  Anyone know the old ones I mean?  They used to come in little black cardboard boxes (usually found on the bottom shelf of the No7 stand), I think they were £5.75 each (before voucher redemption) so they worked out at 75p each after, total bargain!  Anyone tried these white bristled ones?

I haven't been hugely impressed with much from the Ruby & Millie range and some of the brushes are (imho) pretty awful.  This one however, I like.  It's great for pushing gel and cream liners right into the lashline slightly under the lashes.  Don't try and line above the top lashes with it though… well, not unless you're incredibly nifty with an eyeliner brush.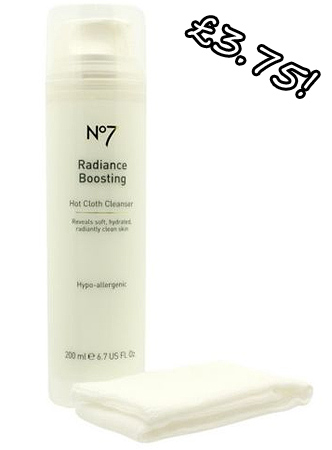 Boots No7 Radiance Boosting Hot Cloth Cleanser.
£3.75 for a Hot Cloth Cleanser and muslin cloth is a total bargain I reckon!  I'm currently trialling the original Liz Earle version (review coming soon) and I'll be picking one of these up in the next few days for a bargainous comparison.  It's worth noting too that this No7 version has clocked up no less than twenty 5 star reviews on the Boots website.  Having said that, if it's anything like the Boots Time Delay Cleansing Balm (Eve Lom 'replica') then it'll leave me in tears.  Literally.
.
So, that's my 'picks' for your £5 "till spit".  What do you rush to stock up on everytime the offer rolls around?  Don't keep your bargains to yourselves, did your Mama never tell you it's good to share?