…Or just 'divine' according to the packaging.  And yano what?  I think they might be right…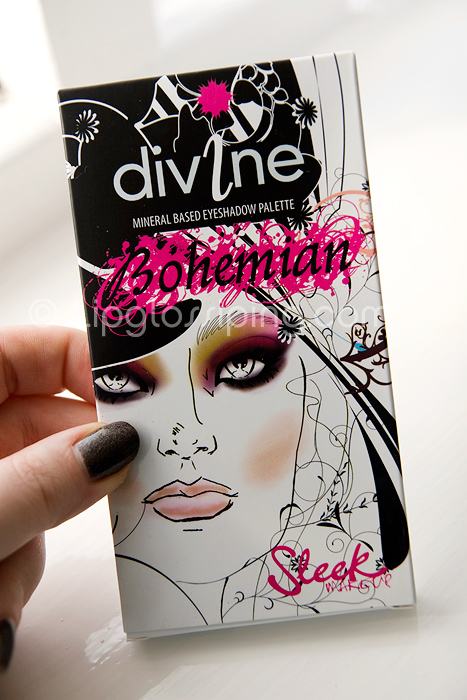 Sleek MakeUP have truly outdone themselves on the design front.  Reminiscent of MAC's soon to be released (in the UK) Give me Liberty of London collection with it's whimsical scrolls and monochromatic base design.  Someone in the Sleek MakeUP Art dept. has their fingers very much on the pulse.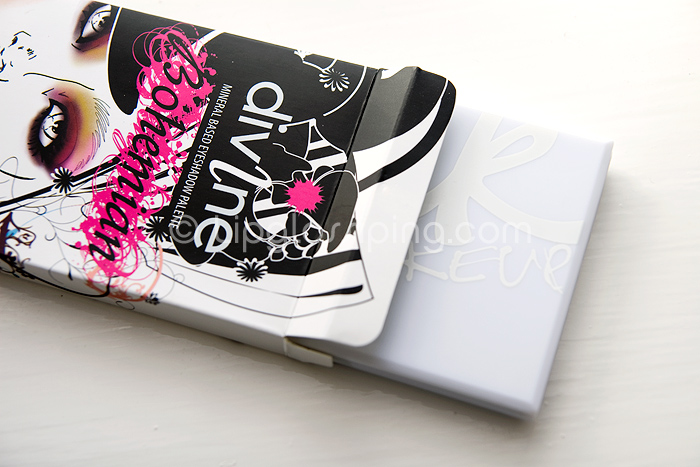 When the palette arrived unnanounced from Sleek HQ, I was momentarily thrown by all this new styling!  Ordinarily enclosed in a clear plastic carton, the Sleek MakeUP Bohemian palette finds itself housed in cardboard.  I don't know if this is a permanent shift in packaging, but it's one I prefer.  It's easier to open at the counter to make sure you haven't managed to pick up the one palette that's been smashed to smithereens by an over-zealous 9 year old.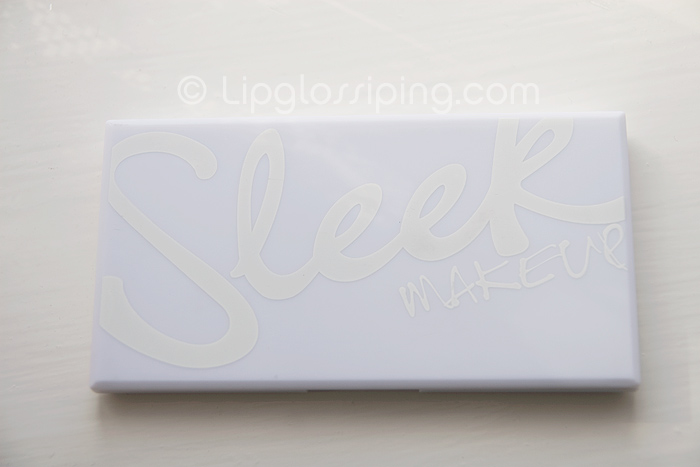 The actual palette itself has undergone a bit of a transformation too, no longer a sleek black box I'm undecided on the new look.  It looks a bit cheap, the stark white seems to emphasise it's overall plastic-ness.  I think if Sleek MakeUP had continued the graphics (or even just the black swirls) from the outer sleeve onto the palette itself, it would have been a knockout.
In fairness though, do we care?  Probably not…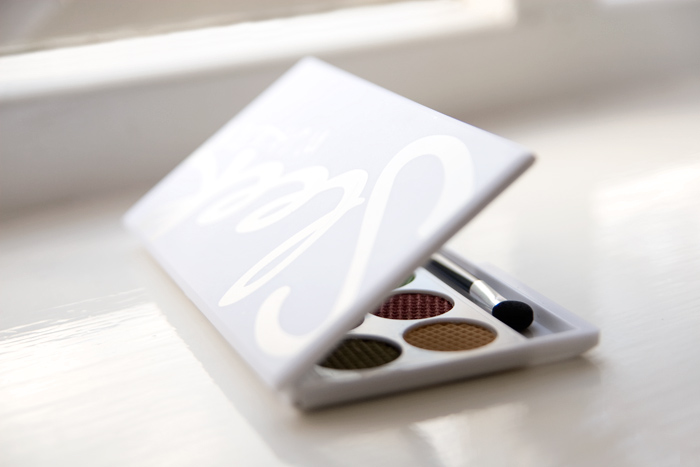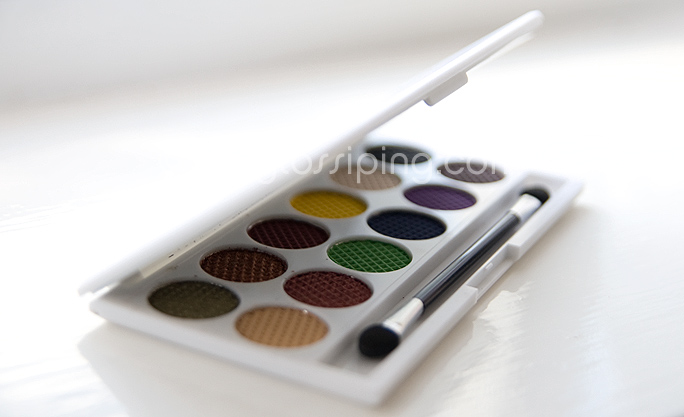 With 12 generously sized eye shadows contained under the lid, the Sleek MakeUP palettes retain their excellent value for money credentials.  Let's take a closer look at those eye shadows.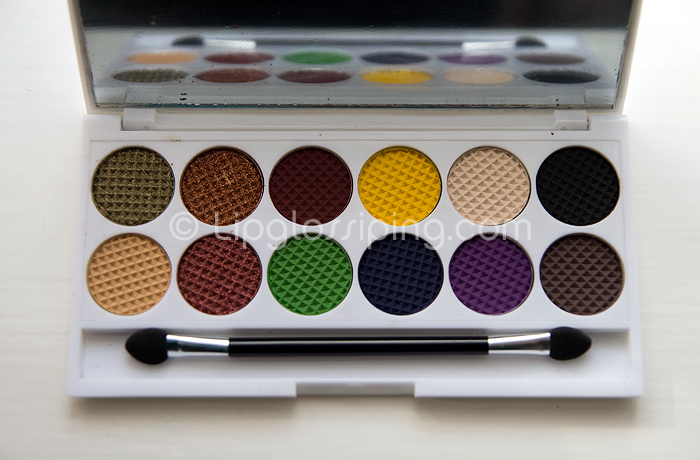 Sleek MakeUP Bohemian Palette is billed as being inspired by "antique trinkets, vintage finds" and um… "Sienna Miller".  Despite this obvious drawback *removes tongue from cheek*, they've managed to pull off a fabulous array of strong shades that are sure to pack a punch.  Will I use all of them?  Probably not… but I don't think I've ever used every shade in a Sleek MakeUP i-Divine palette and that hasn't stopped me buying them thus far.
The Bohemian palette is comprised of 3 shimmers and 9 mattes.  Woah there!  As a shimmer girl, I have to admit to being a little disappointed to see so many mattes…. I mean, go buy the Chaos palette if you want mattes!  Still, I'm nothing if not adventurous (honest!) and do realise that I'm not the only makeup-loving chick in the world… let's have a closer look…
Oh, but before we do… For the love of God, will someone at Sleek MakeUP please consider naming the i-Divine shadows?  No?  Fine… I hereby christen these shades with some twatty names on your behalf…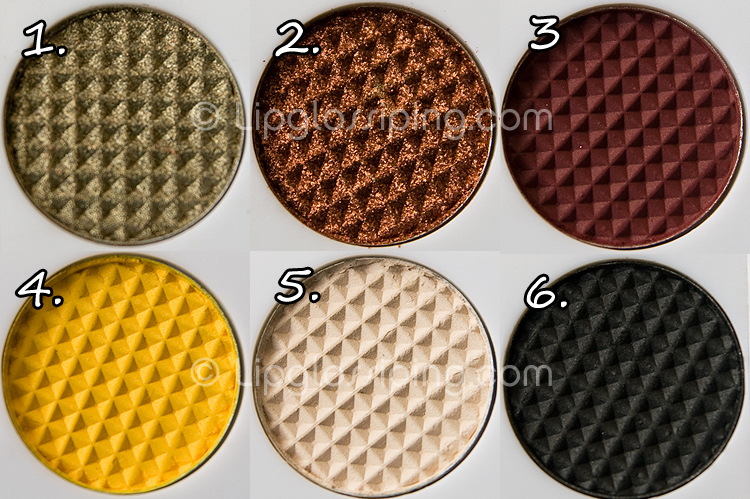 Top Row from Left to Right… (S) = Shimmer, (M) = Matte
1. Gilt – Golden Olive (S)
2. Russet – Rust (S)
3. Marron – Maroony Chestnut (M)
4. Calendula (shutup, they're MY names) – Banana Custard (M)
5. Anaemia (come on MAC, employ me already) – Off-White (M)
6. Neutron – Black (M)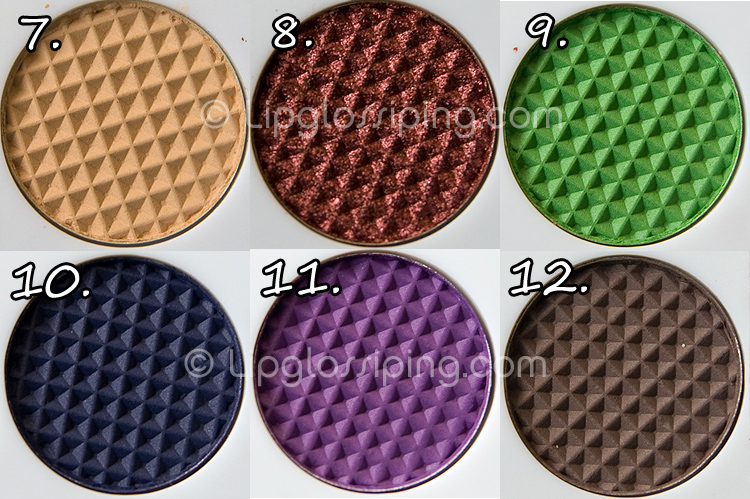 7. Wafer (It SO is, right?) – Pale Tan (M)
8. Sanguine – Raspberry meets Cranberry (S)
9. Clover – Bright Grassy Green (M)
10. Overdyed – Indigo Denim (M)
11. Emperor – Purple (M)
12. Moto-X (yeah, I'm bored of shade naming now) – Dirt Brown (M)
And the swatches…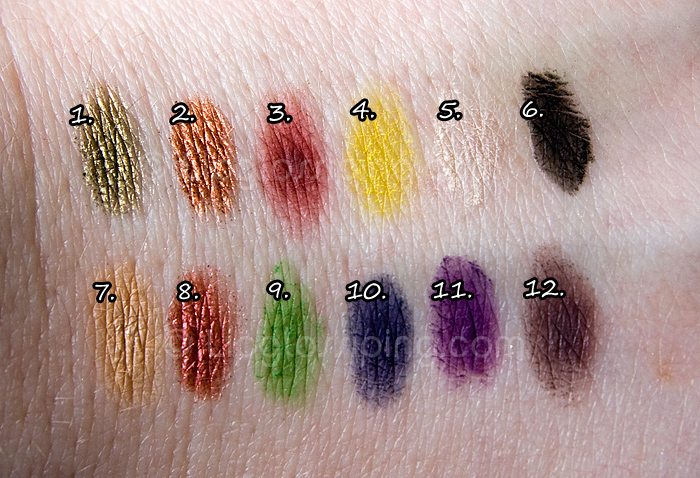 Bar Clover and Calendula… I think I'm happy to wear the rest of the shades, which is more than I thought when I first looked at the palette.  My only other 'not sure' was Wafer which actually works fabulously in the crease to blend out a more vibrant shade.
The pigmentation of the mattes is (as expected) not as strong as the shimmers, but they're easily buildable without looking chalky and the above swatches show no more than 3 swipes (2 in most cases).
I've given Sleek a hard time recently on Lipglossiping.com…. from Eye Dusts that spill to liquid liners that flake, I've been disappointed with the quality of some of the brand's recent offerings.  So it's just as well they've come along and hit this one out of the ballpark.
Sleek MakeUP i-Divine Bohemian Palette is Limited Edition and will be available from Wednesday 17th March at some Superdrug stores (not my local – boo!) and online at Sleek MakeUP priced at £4.99.
International ladies, please note that Sleek MakeUP now accept online orders and offer international postage.