Um… yay!
"Talk about it Tuesday" is a complete excuse for me to ramble.  It's actually 3.30am and I'm supposed to have gone to bed about 2 hours ago *whistling*… but I got sidetracked by some blogs, Amazon, JamieOliver.com (have I ever told you how much I love Jamie?) and then thought I'd better at least *attempt* to reply to some emails.
All that stopped abruptly when I caught sight of my hair on my way to the bathroom.  How can hair be both frizzy and flat at the same time?
I hinted last week at finding an amazing deep conditioner… and I've held off posting about it 'cos I'm hesitating that perhaps that initial WOW has since morphed into more of a WUH sound.  I need to give it a bit longer… but anyway, I digress (it is 3.33am afterall)…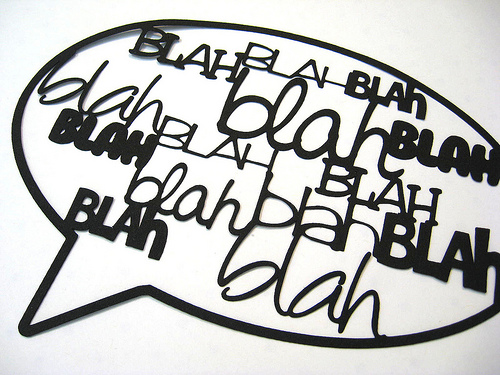 Hair…
My hair seems to benefit from a salon blow dry.  No, I mean REALLY benefit.  The hair shaft lays flat and smooth, I get volume at the roots and some beautiful separation and swishiness to the ends.
Which leads me to my Talk About It Tuesday question…
I own a hairdryer, I even own a brush…
WHY THE HELL CAN'T I RECREATE A SALON BLOW DRY AT HOME?
What is wrong with my spasmodic hands that stops me from being able to co-ordinate holding a brush and a hairdryer at the same time.  I may aswell have flippers instead of fingers.
I managed a 2:1 in Media & Cultural Studies (ok, admittedly… not *quite* rocket science), I totes bagged myself a freaking GENERAL anaesthetic during child birth and I can't even remember the last time I washed up dishes by hand.
What I'm saying is… I'm a resourceful kinda girl.  So why is this simple act so completely out of my reach?
Can you achieve a salon finish at home?  Do you bother trying? Someone teach me the magic!