Nothing screams Summer like a warm bronzed complexion with copper accents.  Bronze scares me in so many ways!  I love metallics and I adore golds… but bronze?  It's a touch red… that little bit bolder no?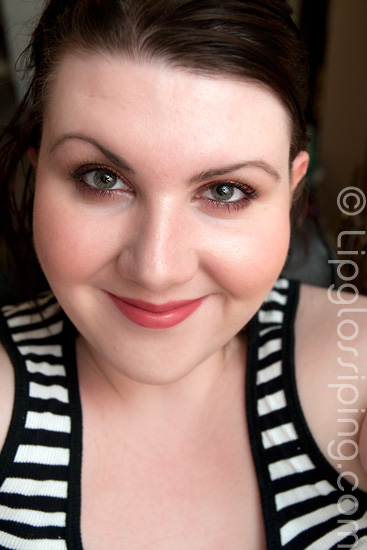 Bronze and copper totally brings out the greens lurking in your iris though.
Did I tell you that I finally found a bronzer that I can apply with my eyes shut?  Guerlain Terracotta Light Bronzer in 01 Blondes.  If you're as pale and cool toned as me and think bronzer isn't for you?  Shut Up.  Just go and try it.  I wish I'd found it years ago.
I'll do a proper review on it soon…
Anyway, the eyes…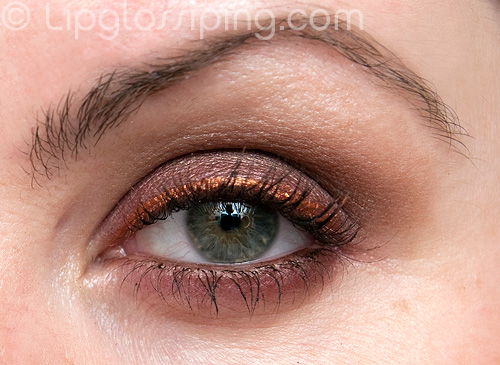 I swished my Laura Geller Eye Rimz in Bewitching Bronze all over…. yeah, 1 colour.  Bite me.  I'm a lazy bitch most days, I've got approx 549589430 eyeshadows and 50% of the time (unless I'm showing off) I just grab one shade and go.
But check out the eyeliner! I don't even know if it goes with the shadow… I don't really care 'cos it's HOT!
Guerlain Divinora Liquid Eyeliner, I think they're discontinued now.  The colour is immense, the packaging beautiful… the formula a little gloopy and slow-drying… but whatever, the colour. is. great.  I'll have to start stalking eBay.
Are you stalking eBay for anything discontinued?  Do you do that?