I'm having a bizarre relationship with this nail polish from the Urban Decay Summer of Love nail set… When I first saw Hashbury, I was a little bit in awe.  In the bottle, it looks ah-mazing.  Cadbury purple with masses of micro-shimmer…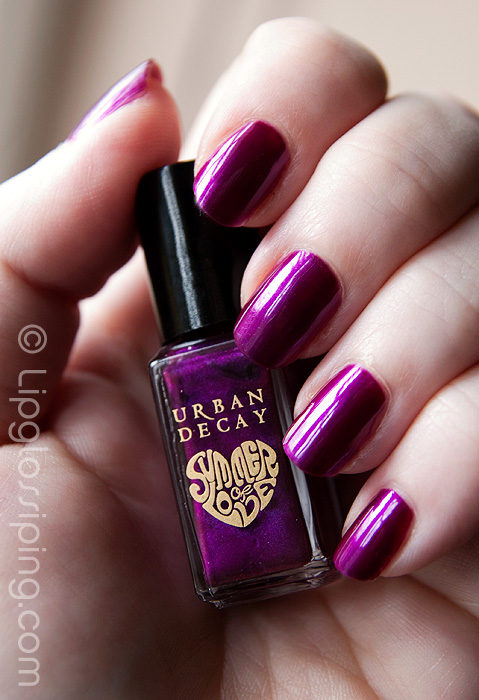 Then I swatched it on one nail and couldn't have been more disappointed.  It was watery, sheer and jelly-like.  It still is two of those things.  After 3 coats, I can get a pretty opaque finish, though it still looks more jelly than cream.  Nothing wrong with a jelly, but if you're anticipating a nice opaque purple shimmer…. the effect is lessened with a jelly-ish finish.  I like it more than I did, but still not as much as that initial WOW factor.
Final verdict – Could have, should have been great but isn't.
I know I'm being a tad harsh, it's still a rather lovely purple… and although the formula is terribly thin, 3 coats isn't bad and it has the most beautiful high gloss finish.
Anyway, I'm all up in the air about this shade… I can't decide.  What do you ladies think?
Check out my other swatches from the collection:
Aquarius
Woodstock
The Whole Kit
Psychedelic Sister
Magic Bus