Due to be launched on QVC on the 10th July (that's just a few days away!), Matte is the latest foundation to be released by mineral foundation pioneers Bare Escentuals.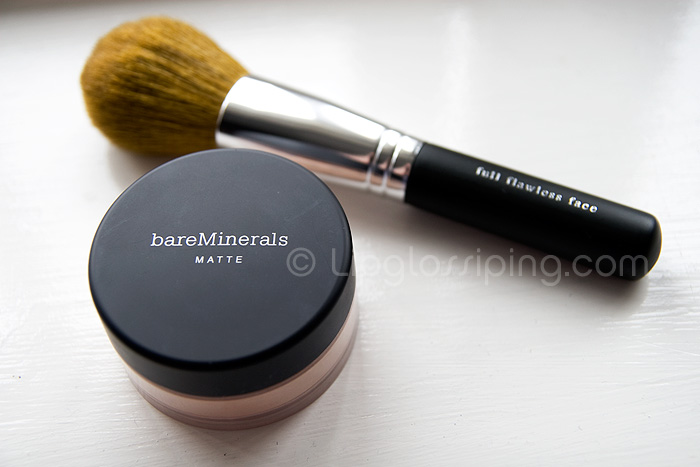 Available in 15 shades to suit every skintone, I purchased my pot of Bare Escentuals Matte SPF15 (shade: Fair) in a blog sale a little while ago and have been putting it to good use in the warm weather we've recently been enjoying.
Just as finely milled as the original version, the foundation feels silky and light to the touch.  I'm starting to realise there's a bit of a love/hate vibe around mineral foundation.  I will happily swear by the coverage it gives and I rarely get a cakey finish when wearing it.  Infact, I've often (ok, twice) been asked what foundation I'm wearing when shopping on beauty counters and both times when I've replied with the answer 'mineral' – the look of shock from the SA's has been in "kodak moment" territory.
As with the original Bare Escentuals SPF15 foundation, I'd call this medium coverage.  You *can* build, but that's when you begin to run the risk of it looking more obvious, especially on dryer skin.  You can purchase fuller and more sheer mineral foundations, it all depends on the ratio of the minerals, but Bare Escentuals in my opinion, offers straight down the line medium coverage.
An irritation with mineral anything, is packaging and portability.  In the past, Bare Escentuals foundations have been fine sitting on your dressing table… but take it anywhere without sellotaping up the holes in the sifter?  BIG MESS!  The new Bare Escentuals Matte foundation offers a very simple solution that quite frankly, should have been implemented years ago…

A little rotating lid like you'd find on your pepper pots covers the holes in the sifter and stops excess product leaking during transportation.  I told you it was simple!
Application is the same for the new Bare Escentuals Matte foundation as it is for the original.  Swirl, Tap, Buff!
Mineral still affords me the quickest and most forgiving of foundation applications.  I have a few great brushes for application: My Body Shop kabuki, my MAC Flat Top 180 or my Bare Escentuals Full Flawless Face Brush.  They all work equally well to provide an even finish, though flat top brushes tend to give a fuller coverage.
I've talked about application, packaging and my experiences with mineral foundation in general… let me tell you how I find the new Matte version in comparison to the Bare Escentuals original formula.
On initial application, it is indeed a completely matte finish (thanks to additional oil-absorbing minerals)… it wipes out all traces of shine and oil from my skin, leaving a wonderfully even surface.  The original leaves me with a touch of…. not sparkle, that's comletely the wrong word.  Natural luminosity?  I would say that if you have more mature skin, you may prefer the more forgiving finish of the original formula.  If your skin is younger and more prone to oil… the Matte formula is something you should definitely try.  Alternatively, something I've had success with is wearing my original formula lightly all over before buffing a little Matte into my T-Zone.
I'll share a little tip that SJ (Bare Escentuals National MUA) told me when I was introduced to the new foundation.  If, in the middle of the day… you think you need a little foundation touch up, grab a brush and simply buff your face with it (no product).  It re-distributes the minerals that are already on your face from the initial application and simply recharges your foundation.  It totally works and is something that I've always done with minerals anyway… but it seemed funny to hear a proper MUA confirm something that I do without any thought as to why or how it works.  Silly anecdote, but a tip is a tip!
Here's a before/after application with the new Matte foundation (no concealer):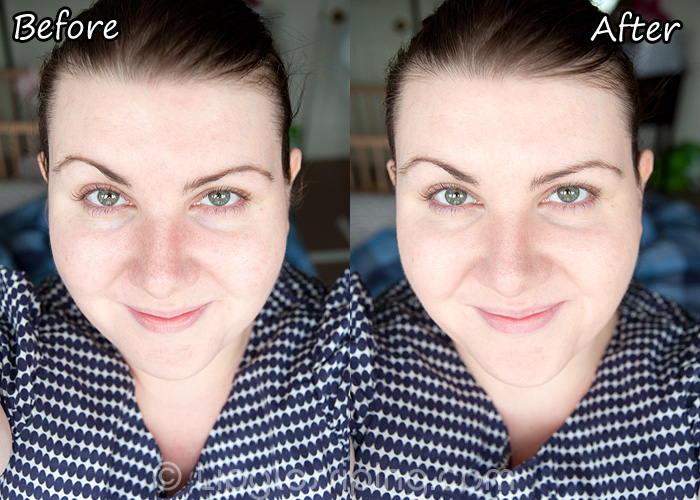 Longevity?  Well… that's my other bugbear with mineral foundations.  It's a shame that I have to take a brush and buff my face in the middle of the day… but I do.  Bare Escentuals Matte foundation is no different and generally lasts about 5 hours on me before I need a pitstop to the Ladies with my brush in hand to 'redistribute' the powder.  Then, I probably get another 3/4 hours out of that before I wanna apply more product.
The nature of the product however, means that it doesn't matter if I apply a bit more over the top of the rest of my makeup.  It has no ill-effect at all and now that Bare Escentuals has made it portable… well, it's just not much of an issue for me anymore.  Worth mentioning though.
Overall, it's not an improvement on the Bare Escentuals Original foundation (bar the new sifter)… but it does sit very nicely alongside, offering an additional choice which may or may not be for you depending on your skin type.
Bare Escentuals Matte SPF15 Foundation will launch on 10th July exclusively on QVC priced at £19.50.
Are you a mineral foundation lover?