I'm delighted to introduce my latest guest reviewer Rachel from the delightful QueenofTurquoise.  As a more suitable candidate age-wise than me, she's been trialling the Liz Earle Young Skin Try-Me Kit, and this is what she thought of it….
.
I received this kit from Charlotte at the end of May and I'm far more impressed by it than I expected to be!  I was kind of thinking it would just show me that I wasn't missing out on anything with my cheapy products.. Wrong 😉
I've been using it for three weeks now and I've noticed considerable changes…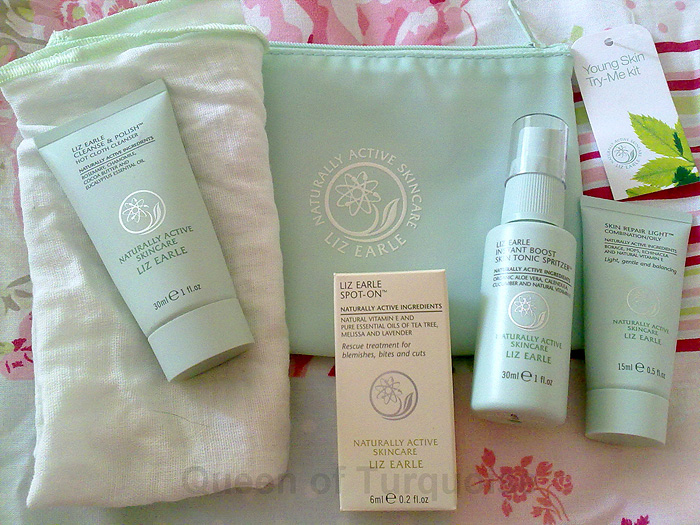 Before I started using this I had quite a few little spots/bumps on my forehead, noticeable pores around my nose and the little creases around my nose were quite dry and red.  Primer was a necessity as my skin suffered from random flaky patches of skin that weren't visible until foundation was applied.  I also had some stubborn blackheads on and around my nose and chin… Although I wouldn't describe my skin as particularly oily it has it's moments and breakouts are relatively common!
The difference in three weeks is quite dramatic, the pores around my nose appear smaller, noticeably more radiant skin (if I do say so myself!) less blackheads, spots disappear faster, and my odd flaky bits of skin have vanished making primer optional rather than essential!
The hot cloth cleanser is amazing, and boasts ingredients of Rosemary, Chamomile, Cocoa butter and Eucalyptus essentiol oil.
At first I was a little unsure of the consistency as I'd never really used anything like it before, but it soon grew on me as I watched my skin become smoother and softer.  The muslin cloth part of this really makes all the difference, particularly to the radiance factor! The cloth provided in the kit is lovely, really good quality and a great size.  The only down point for me is that I'm not keen on the scent of the cleanser, which is a shame as using it feels lovely and luxurious, and not liking the scent is a little frustrating!  I'd love this so much more if it had the same scent as the toner… Something I'd definitely consider buying full size for myself (which is saying a lot, I'm normally a £5 cleanser girl!)
Next in my new routine was the Skin Tonic Spritzer.  It smells absolutely gorgeous, I'd really like a perfume of it!  The scent really makes this product for me.  The naturally active ingredients are listed as Organic Aloe Vera, Calendula, Cucumber and Vitamin E.  There's really nothing that this little wonder can't do, used after cleansing my face felt smoother and softer, used during the day to refresh and cool through this weird British summer it did it's job perfectly, and it sets make up amazingly!  Wonderful wonderful stuff, incredibly reasonably priced, I can see myself buying this forever more!
The third step is moisturiser, and for this the kit provided me with Skin Repair Light for Combination/Oily skin.  It's described as "light, gentle and balancing" which I can only agree with.
I tend to have huge issues with moisturiser, I'm really fussy and I want it to do everything, be rich enough to moisturise well, yet still be light enough for it to be absorbed quickly enough to use before applying make up in the morning and more!  This ticks all the boxes, despite not claiming any mattifying qualities it doesn't leave me shiny, it's beautifully light yet creamy and it moisturises perfectly, plus I can put primer and make up over the top after just a couple of minutes without it "rolling" off in little bits everywhere!  Again, another top product and an essential one if you struggle with combination/oily skin, or even if you just like a lighter moisturiser in the morning.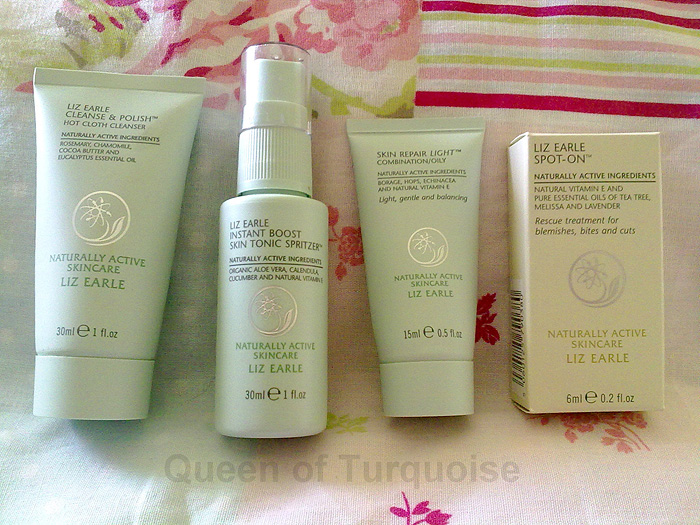 The last product in the kit is the "Spot on" which is described as a "rescue treatment for blemishes, bites and cuts".  I really didn't like this on my face for spots, sticky and just yuck, for me it doesn't fit with the luxurious experience the other products provide and that was disappointing.  It smells like any other spot treatment with tea tree and made very little noticeable difference to spots for me.  As you can tell, I was totally unimpressed with this until I got totally attacked with bites that kept me awake most of the night and nothing that I put on made any difference until I tried this, instantly cooling and soothing and it did a really great job considering the nasty allergic reaction I had to the bites!
Overall, an amazing kit to try, would really recommend it to anyone looking for a new routine with gorgeous products!
.
Thanks Rachel, a great indepth review!
The Liz Earle Young Skin Try-Me kit is priced at £23 and available online from Liz Earle.