The gothic whimsy of the upcoming Alice in Wonderland movie is inspiring both audiences and brands alike.
It has now been confirmed that Urban Decay's Alice in Wonderland palette will be released on the 22nd of February online in the UK at Debenhams.com, followed by an instore release on the 28th February.  It has also been confirmed that the UK price of the palette will be £28.
Interesting news hot from The States is that after much speculation, Urban Decay have thankfully released a name check for the renamed Alice-inspired shades.  So keep reading to see how many colours may be duplicates in your collection.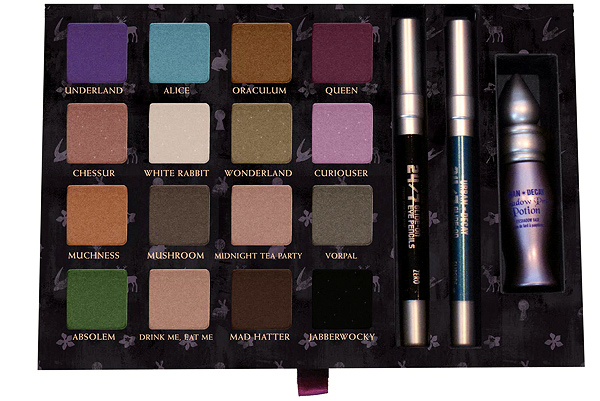 The Shades…
Underland – Flash
Alice – Painkiller
Oraculum – Baked
Queen – Last Call
Chessur – Chopper
White Rabbit – Polyester Bride
Wonderland – Maui Wowie
Curiouser – Grifter
Muchness – X
Mushroom – Mushroom
Midnight Tea Party – Midnight Cowboy Rides Again (dear god..)
Vorpal – S&M
Absolem – Homegrown
Drink Me. Eat Me – Sin
Mad Hatter – Twice Baked
Jabberwocky – Oil Slick
Because I'm such a geek dedicated to the cause, I've been googling Urban Decay's back catalogue and can tell you what you would duplicate if you already own…
Ammo – Oil Slick, Last Call, Chopper, Maui Wowie, Polyester Bride, Grifter, Sin (7 dupes)
Sustainable – Grifter, Twice Baked, MCRA, Flash, Oil Slick (5 dupes)
Book of Shadows Vol II – Mushroom, Twice Baked, MCRA, Homegrown (4 dupes)
Skull – MCRA, Grifter, Chopper, Twice Baked (4 dupes)
Book of Shadows Vol I – Last Call, Grifter, Baked (3 dupes)
Get Baked – Twice Baked, Baked (2 dupes)
Show Pony – Flash, Painkiller (2 dupes)
Wallpaper – Last Call, Chopper (2 dupes)
Arsenal – MCRA (1 dupe)
Face Case – Polyester Bride (1 dupe)
Foreshadow – Oil Slick (1 dupe)
Deluxe Shadow Box – No Dupes (0 dupes)
Have I missed any out? Probably…
Hopefully this is useful to you lovely lot, it means that this palette promises me 7 brand new shades to add to my collection.
I'm not too disappointed with that and that adorable packaging is cute enough that I would have probably talked myself into owning this purely as a "collector's piece" anyway (or at least until Mr. L snatched the debit card out of my hand).
What say you?
How many of those shades do you already own?