My name is Charlotte and I'm a mascara-a-holic.  And a khol-a-holic… and an eyeshadow-a-holic.  You get the picture right?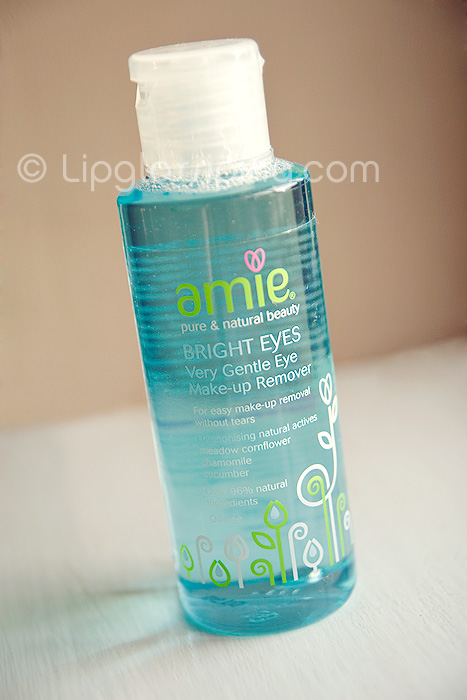 The day I leave the house without mascara as a bare minimum, is the day I leave the house in 6×2 box.
Again, I'm painting it vividly for ya.
This means that come bedtime… I need my cleansing oils and I need them to work.  They generally work well, but I still keep a bottle of eye makeup remover in my arsenal to swipe over any leftovers.
Since my Bioderma Sensibio ran out, I've been using the Boots Botanics dual phase one that is generally adored and worshipped across the blogosphere.  It's good… I'll give it that, but it leaves a residue… a film.  The last thing I want post-cleansing is a film of oil on my eyelids.
I was sent the Amie Bright Eyes Gentle Eye Make-up Remover a little while ago and it's well and truly taken up residence as my go-to remover ever since.
It has a water-like texture, similar to my beloved Sensibio.  Unlike the Bioderma, this is scented… and will sting if you get it in your eyes.
Unlike the Bioderma, it's easily accessible in the UK.
I dispense a good few shakes onto a cotton pad, giving it a liberal soaking and then simply hold against my closed eyelid for around 30 seconds.  I apply a bit of pressure with my fingertips to ensure that the product is making contact with the makeup.  Once I get bored (which, let's face it… is probably far less than 30 seconds) I give a few gentle downward swipes and stare in amazement at it's effectiveness.
I should, at this point… tell you that I don't wear waterproof mascara.  Waterproof cream eyeshadows?  Yes.  Mascara… no.  This may make a huge difference to it's effectiveness for you.  For me?  I'm happy to recommend it.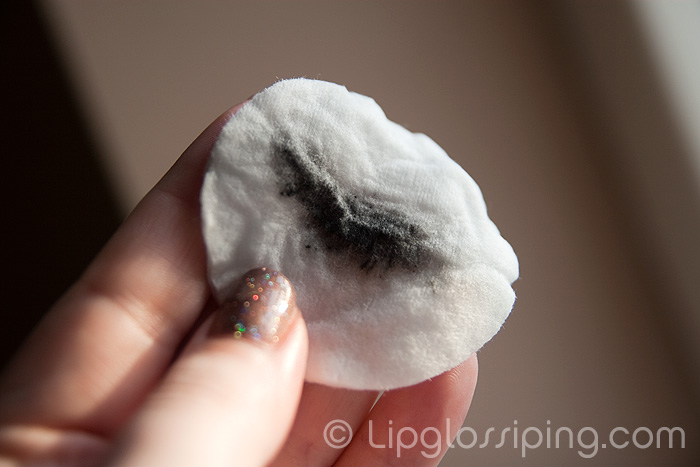 The above shows removal of khol eyeliner and a good dose of mascara.  Notice that there aren't any 'swipe' tracks because the product had already dissolved everything before I'd gotten that far!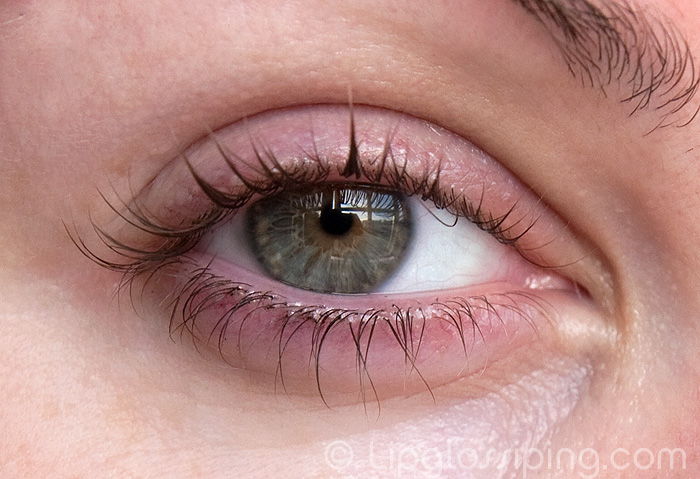 I feel that after such a glowing review, I want to redress the balance a touch and simply reiterate 2 things.
1. This does sting if you get it in your eyes.  If you have very sensitive eyes, this may not be for you, I really recommend getting your hands on some Bioderma Sensibio if sensitivity is your major concern.
2. I don't own a waterproof mascara to trial this on.  I don't have watery eyes and I hate swimming pools and sad films.
I'll be picking up another bottle when this one runs out.  Until I can beg, steal or borrow some more Sensibio that is 😉
Amie Bright Eyes Very Gentle Eye Makeup Remover (£4.75) is available from John Lewis, Waitrose and online at Amie Skincare