Among an ever-increasing tide of Mother's Day press releases, I spotted one subject line milliseconds after deleting (itchy trigger finger) that had me scrambling through the email bin to retrieve it.
Child-friendly nail polish brand Little BU will be holding an Easter sale extravaganza and all nail polishes will be reduced to a ridiculous £5 each.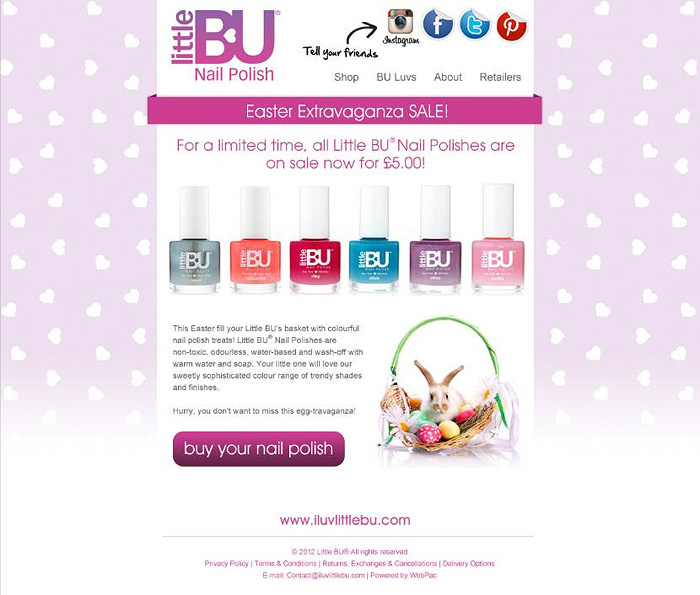 Horrendous news for my wallet, with Leila's 4th birthday coming up and four recently released shades to put a twinkle in her eye.  I can see myself having to sacrifice one of my Helmer drawers for her stash in the future, though I was hoping we'd hit teenage years first.
Incase you're unfamilliar with the brand, Little BU offer non-toxic, water-based, and odourless nail polish formulas that wash away with a bit of soap and water.  For increased longevity, you can apply their special top-coat to seal the colour for extra wear.
Here's Leila showing just how prepared she is to follow in her Mum's footsteps.  Heaven help her.
If you have birthday gifts to buy throughout the year or stockings to fill at Christmas, I suggest you make a head-start and hide them away.  There's nothing like a little prepared-ness in the face of a good sale.
The Little BU Easter Sale begins online at www.iluvlittlebu.com on the 18th March (date for the diary) and will run right through until Easter Sunday.  All polishes will be reduced from the regular price of £9.95 to £5.00 each.