French brand, Kure Bazaar claim to offer the next generation of nail lacquer with a range of shades that offer fashion-forward colour alongside the ethics of a natural formula.  The "4 free" range (no formaldehyde, no dibutyl phthalate, no synthetic camphor, and no toluene) indeed offers a full spectrum of shades from its library of 37 colours.
I've got three here to show you, and from this small selection* I have nothing but praise.  The trio of shades featured below gave me fuss-free application, rich pigment and high shine.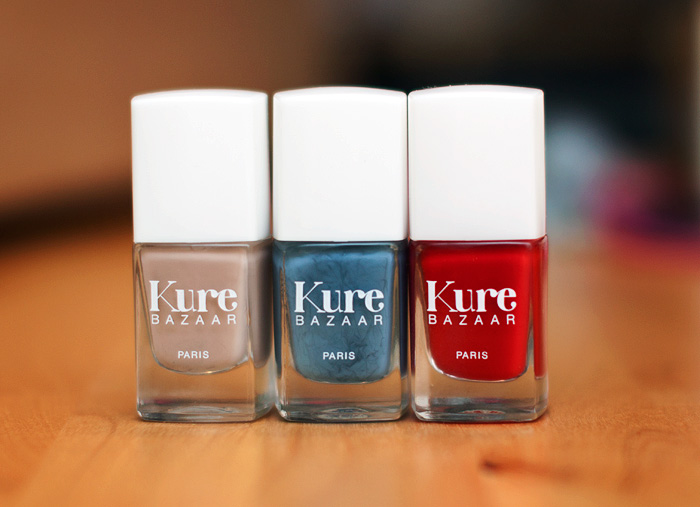 From left to right: Cappuccino (also featured by LondonMakeupGirl here), Hipster, and Rouge Flore.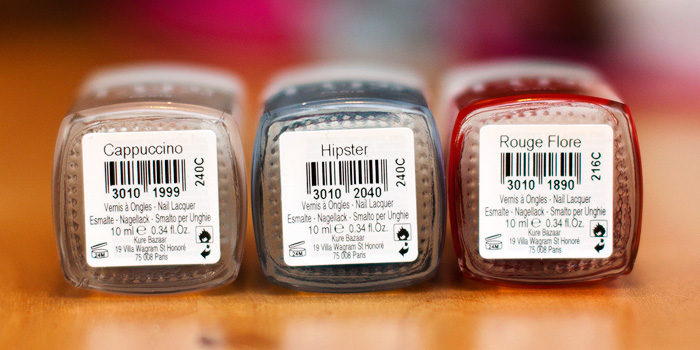 Each bottle contains 10ml of product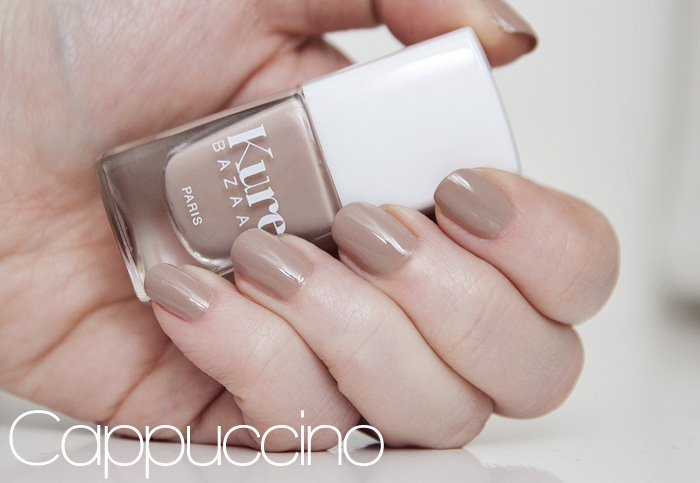 The above swatch shows three coats, Cappuccino is a fairly neutral-toned nude shade which should suit many skintones and certainly doesn't appear too orange-toned against my cool, pink skintone.  The formula is thin on this one but offers good coverage.  If you don't mind a little VNL, you could be done in two coats but I prefer a fully opaque look, for which, you'll need three.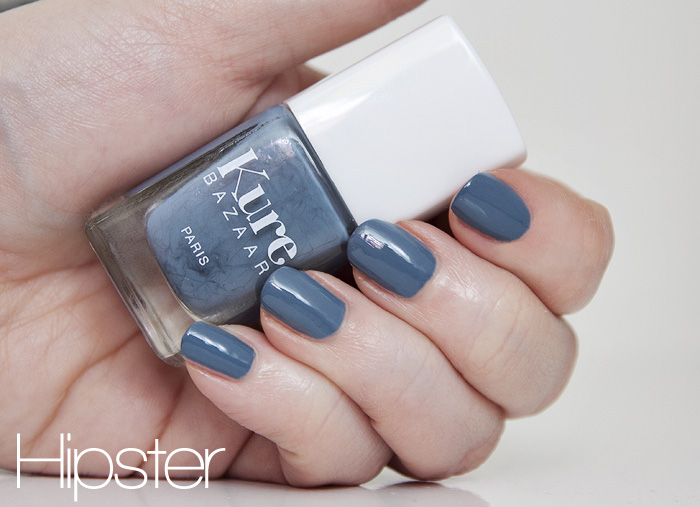 Hipster is one of four shades in Kure Bazaar's Jeans collection, it's a dusty blue… darker than cornflower but with the same soft leanings.  It's certainly not a primary type shade but makes a great year-round blue for those who prefer toned-down brights to pastels and neons.  Again, three coats are shown but two would probably be sufficient if you weren't needing to swatch them for photos!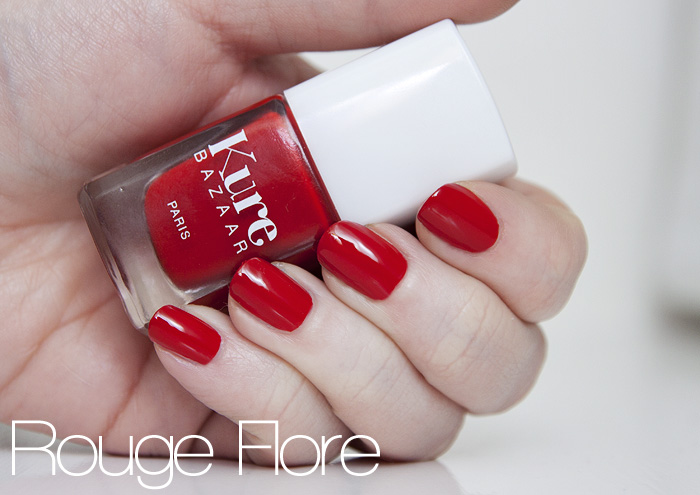 I have a huge fondness for clean reds, and Rouge Flore is indeed a beautiful red with a great very-nearly-one-coat formula.  The above swatch shows two coats.  Rouge Flore is a warm red with enough orange to deliver retro leanings but not enough to make it an obviously orange-toned red (this makes more sense in my head than it does once typed out!)
Each shade applied beautifully and was dry enough between coats within the 10 minute mark.  Each image shows a top coat applied for extra shine.  I don't comment on longevity because most polishes stick to my nails like glue anyway, sorry I can't offer advice on that score.  I feel the brush is a little on the small side (think old style Essie brushes), and that these are quite expensive at £14.95 a-piece (considering you only get 10ml of product) but I can't fault the formula, pigment, or application on the ones I've tried.
Kure Bazaar polishes are available to buy instore and online at selfridges.com, also online at beingcontent.com.
* press sample