There's not actually too much to report at the moment.  I'm about a week away from my 4th facial laser hair removal session courtesy of SK:N Clinic and things have generally been progressing well.
Remember how I told you guys about the 'regrowth' I was told I might experience around this kinda time?
Well, I'm experiencing it…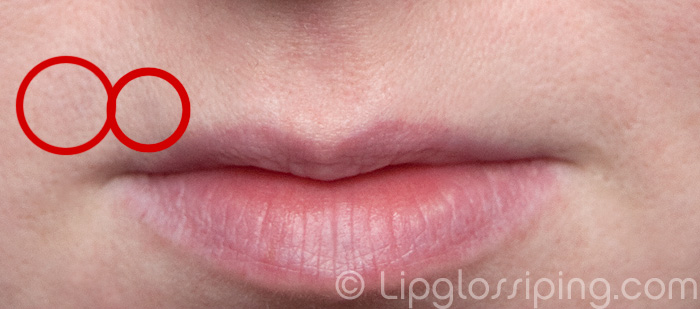 But let's be honest, that's kinda wimpy right?
I'm noticing a slight shadow under the surface of the skin.  Hell, that's nothing I guess… I used to have a permanent and much, much darker shadow in the circled areas.
However, it's definitely worth mentioning because it's (once again) brought home to me how emotional this whole thing actually is.
Let me explain…
When I was warned about the possibility that after my 3rd/4th session, I may notice the hair appears to grow stronger, thicker and faster again… I took this on board.  I even mentioned it to you guys.  I was mentally prepared for the blip in the progress.
But really? Despite this awareness?  It still panics me.
"What if the hair's just gonna return when the sessions finish?!"
"What if the laser can't remove it more than this?!"
I'll be completely candid.  I take my hair-free face for total granted now.  I would be devastated if either of the above scenarios occured.  Completely devastated if I had to begin shaving daily again.  Heartbroken if I saw a 5 o'clock lip shadow each time I looked in the mirror.
This is a big deal.
I'm looking forward to my 4th session next Monday, please let it put me back on the right path.  I've come to depend on these (so far) wonderful results.
While I'm here, I thought I'd link you to something I've just spotted on their home page.  It looks like they're currently offering us the chance to get a skin assessment for the princely sum of £1.  I don't have any specific details on this other than what this link tells you…. consider it a little heads up.