I went to one of those Christmas in July press days yesterday.  Plenty of well-dressed ladies, canapes and nonchalant expressions.
Being neither well-dressed nor seemingly able to contain my excitement when surrounded by makeup THAT'S NOT EVEN OUT YET!  I felt a little out of place.  I wasn't even carrying a designer handbag.
I may also have let out a little uncontrolled squeal when I saw the OPI Holiday 2010 Burlesque Collection due out at the end of November.
'Ave a look!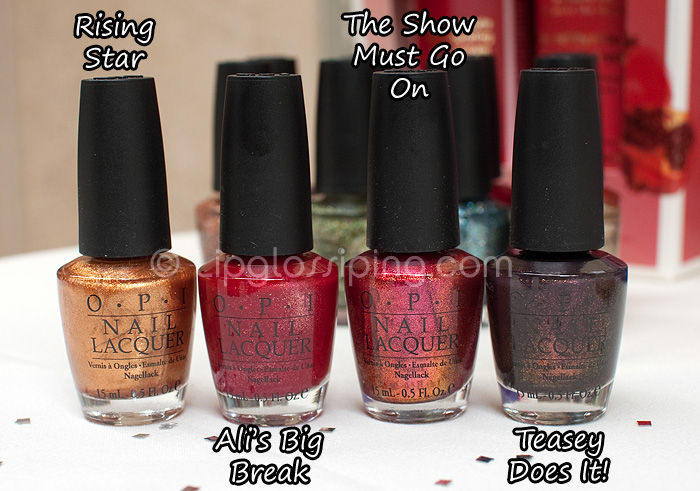 Rising Star – Lustrous glimmering gold.
Ali's Big Break – Glowing Red Shimmer
The Show Must Go On – Deep Pink Shimmer
Teasey Does It! – Burgundy Shimmer
Drool! Check out the duochrome shimmery goodness of Teasey Does It! and The Show Must Go On.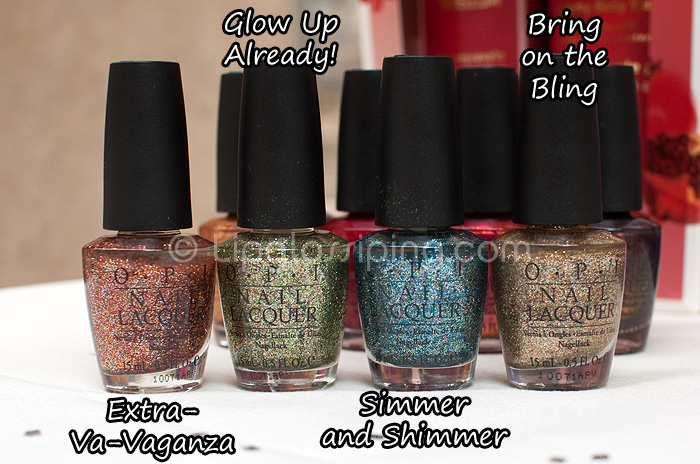 Extra-Va-Vaganza – Orange Glitter
Glow Up Already! – Green Glitter
Simmer and Shimmer – Blue Glitter
Bring on the Bling – Golden Glitter
Glitter-ama!  These bear more than just a passing resemblance to the Alice in Wonderland glitters… I'm thinking OPI know a good thing when they see one.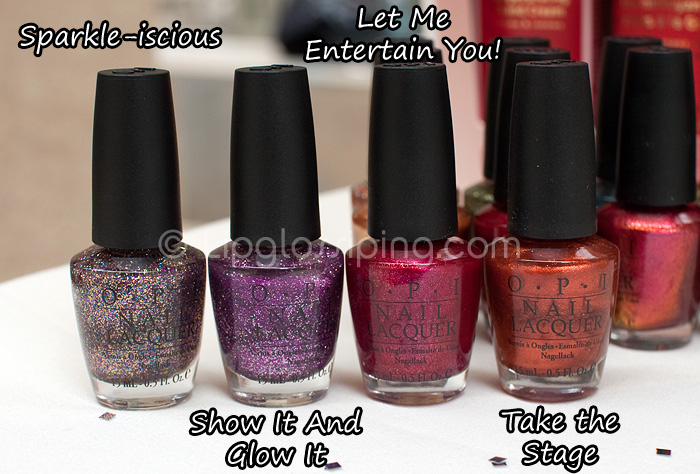 Sparkle-iscious – Multi Coloured Glitter
Show it and Glow It – Purple/Fuchsia Glitter
Let Me Entertain You! – Fuchsia Glimmer
Take The Stage – Warm Orange Shimmer
How perfect are these for Christmas?
I KNOW it's only August, and you're a bit over the Xmas posts already.  But how could I not show you these?
I only wish I'd had the balls to swatch them all.  But I think that perhaps sitting cross-legged on the floor painting each nail a different spangly colour would have been a step too far.  Don't think I wasn't tempted though.
You'll be able to purchase the collection from LookFantastic.com – I've already earmarked a couple!
Any of them calling your name?