As a simple lady (in more ways than one), I'm just not interested in painting my eyes with a rainbow of colours anymore.  It makes me feel conspicuous, something that I don't enjoy being at the best of times.  Whilst I may be getting past the whole idea of using makeup as a way to be creative, I don't think I'll ever get over its abilities to make me look more refreshed, and leave me feeling more confident in my own appearance.
Truth be told, nowadays… I rarely stray from wearing anything other than a highlighting shade across my eyelids.  I need something that puts luminosity into a part of my face that is often the first to express just how little sleep I've gotten in recent weeks.  I know that many of you will be the same as me, "boring" though it is…
I thought I'd share my favourite luminosity-delivering eye shadows for a quick morning post… these are the ones that I use in constant rotation… whichever is closest to hand, I'm happy to use that morning.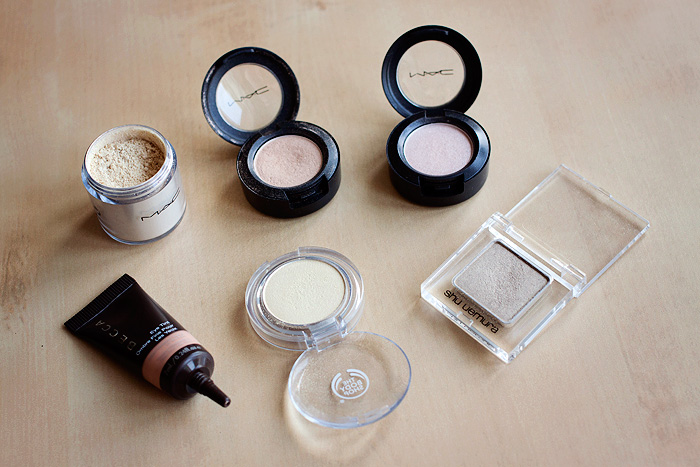 Top row, left to right: MAC Vanilla Pigment, MAC Femme Fi, MAC Phloof!
Bottom row, left to right: Becca Vicuna, The Body Shop Colour Crush 101, Shu Uemura IR Beige 800
I rarely feel makeup guilts about purchasing a highlighting shade, which is silly… because six, used in rotation, is more than enough for anyone.  However, I know that as part of my daily staple, I'll get through them… eventually.  In a pinch, most of them can also be used as a skin highlighter across the cheekbones, I do this particularly with The Body Shop Colour Crush 101 eyeshadow when I can't find my NARS Albatross.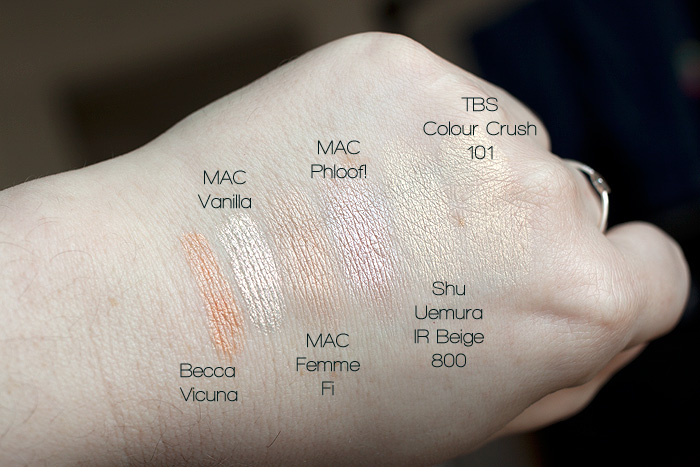 Of the six, MAC's Vanilla Pigment delivers the most intense light-reflection, it's wonderful for the inner corner but my skin is a little too mature to wear this as an under-the-browbone highlighter, it makes me feel like I'm in drag to be honest… not really a good thing, when err… you're not actually in drag.  I do love this one as an allover lid colour, I just make sure to blend it well and combine with some black liquid liner for a simple-but-polished look.
If you were to push me, I'd probably call out MAC's discontinued Femme-Fi as my ultimate favourite.  It just has such a lovely quality that never looks chalky or stark across the lids, sometimes the cooler-toned, more frosty Phloof! can look a little too highlightery across the lids.  Whenever I spot Femme-Fi in someone's blog sale, I always succumb to the purchase.
Becca's Vicuna is also a beautiful one-shade option, I probably reach for it the least out of the six just because it's in a cream format… but when I get my head around working outside the box, I'm always pleased with the result.
Finally, the discontinued Shu Uemura IR Beige 800 and The Body Shop Colour Crush 101* are really similar to each other in tone.  The Shu Uemura is a little more refined in texture, but once both are blended, you'd be hard-pushed to notice a difference between them.  These are both perfect for the inner corner but when worn across the lid, I try to combine them with a more golden-toned crease colour as opposed to my usual taupe.
What are your favourite luminosity-delivering eye shadows?
* press sample
if you liked this post, please don't forget to check out my subscriber options, here