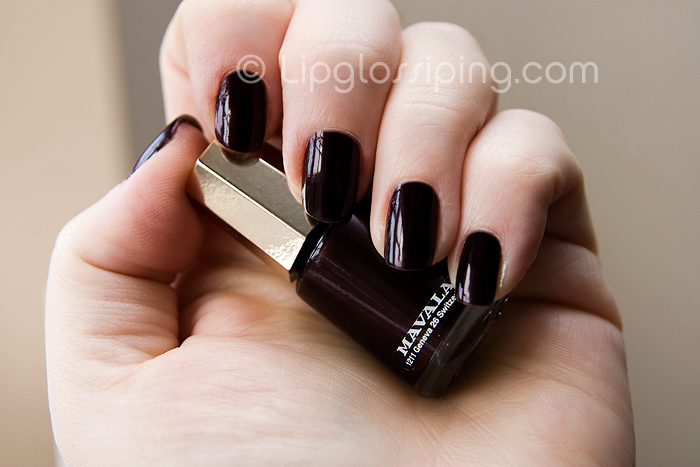 Mavala Black Cherry is one of the shades I was sent from the upcoming Mystic Collection (available from January).
It's a rich black shimmer infused with a cherry sparkle that isn't quite red and isn't quite purple.  The sparkle is very subtle and you have to be upclose with the polish to truly appreciate how much it lifts the polish from the realms of 'just another black'.
Mavala Black Cherry is a solid 2-coater with a great formula that glides on without flooding the cuticles or suffering from drag.
Every dark Mavala shade I've tried looks positively amazing once the top coat is added.  Love it.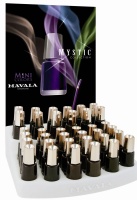 Apologies for the teeny tiny image, I'm gonna see if I can get hold of a bigger one once the holidays are over, but for now, I wanted to show you the Mystic Collection as a whole.  You can see that they're all black based with varying degrees of coloured shimmer.
I also have Black Velvet (purple infused) and Mosaic Blue (blue infused) to swatch for you.  I'm ridiculously excited about Black Velvet which, in the bottle looks divine.
You can purchase Mavala polishes online from FeelUnique and GreenHands, they generally retail for around £3.75 for a 5ml bottle.
Do you like or are you getting tired of the dark shades? I must admit that I'm looking forward to Spring, although I don't know why as I'm not sold on the pastelly shades that inevitably feature heavily in Spring collections.
I'm on eBay hunting down some of the Mavala Diamond collection from AW 09/10… I'm not ashamed to admit that I've gone a little glitter crazy!