I'll be honest, Spring looks usually do very little to inspire me… the pastels… oh the pukey pastels.  Great if you have that 14yr old fresh faced androgynous model look.  Not so great on a somewhat hefty big boned 29 year old who left her teen years behind with the closing credits of Heartbreak High.
However…
I've surprised myself because I'm actually really enjoying the overall look from the Erdem Show, LFW S/S 2011!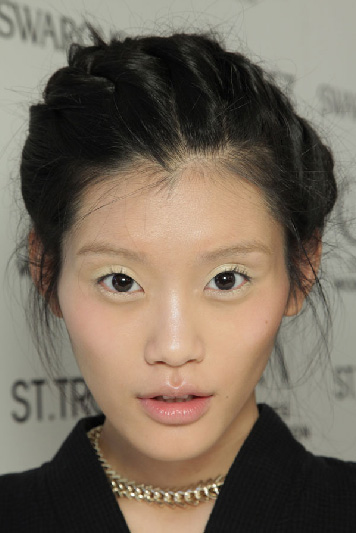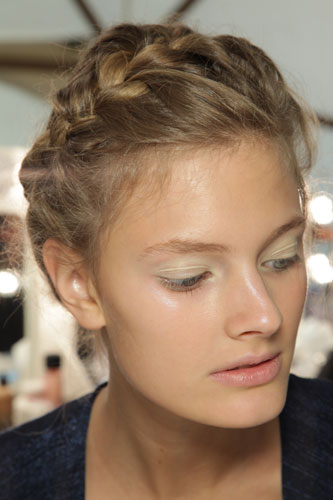 All images property of St. Tropez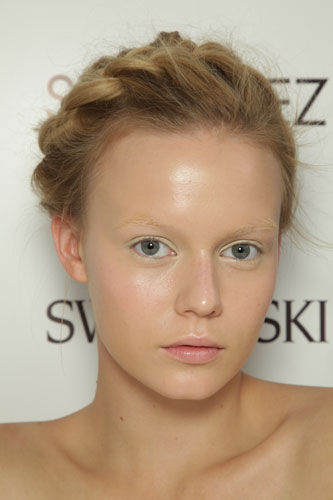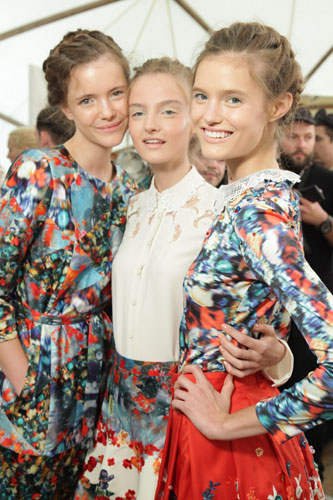 All images property of St. Tropez
St. Tropez skin-finishing expert Nichola Joss explains the skin…
[stextbox id="custom" bcolor="b0c4de" bgcolor="e6e6fa"]"The inspiration for the skin comes from Cate Blanchett in The Lord of the Rings, when she has a hint of rose in her cheeks, It is as though the girls are outside running about in the woods. We are first spraying the models very lightly with the new Dark Mist; and then applying the mix of gold and pink illuminator over the skin. I love the combination – gold represents the golden light, which comes through the trees in the forest; and the pink is the pink blossom that grows within."[/stextbox]
And the makeup?
[stextbox id="custom" bcolor="b0c4de" bgcolor="e6e6fa"]Make-up artist Andrew Gallimore matched the face to the body with a very lightweight foundation that is almost a tinted moisturiser. "Then for the eyes,' he said, beckoning the girl he has just demonstrated make-up to his team on, 'there is a sort of day-glow plastic yellow colour. The face was super simple with a nude lip and no mascara. He then finished with a touch of St. Tropez Illuminator on the cheeks, down the bridge of the nose and in the cupid's bow of the lips: 'the whole feel is spring-like and Easter-y, in colour."[/stextbox]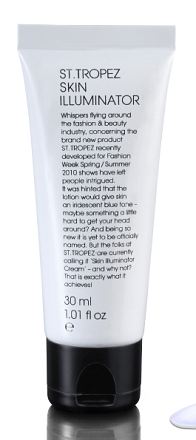 You can keep your day-glo yellow (though in fairness, it doesn't look THAT day-glo to me)… but I AM loving the iridescent illuminator combined with those *just* pink cheeks.
For me, it's all about that skin… I mean, no mascara? really? PAH.
There are so many illuminators and highlighters on the market and they are indeed one of my 'downfall' products.  And by 'downfall'… I simply mean, I have way TOO FREAKING MANY of them.
The major problem that I encounter with these kinda products (and the reason I keep buying more) is thus:
a). They ensure that my pores can be used as ground markers for low flying aircraft
b). They tend look more metallic than naturally glowy
and
c). They often try to impart a heavy colour with the sheen.
If those photos are anything to go by… St. Tropez's Skin Illuminator looks like it may be a pretty natural solution.
Oh and the hair's kinda cute too!
St. Tropez Skin Illuminator is priced at £15 for a 30ml handbag sized tube and can be bought online from St. Tropez, HQ Hair and ASOS