Marrow was the shade that I had been looking forward to… the one that caught my attention back in February when it debuted on the catwalks at Vena Cava during New York Fashion Week.
It was finally released alongside the A/W collection and was one I didn't pick up because swatch shots from the US girls hadn't impressed me anywhere near as much as I hoped they would.
The Butter London Marrow that had been haunting my dreams (melodramatic, moi?) was this durgy purple and swatches had proven the release version to be a truer, safer shade.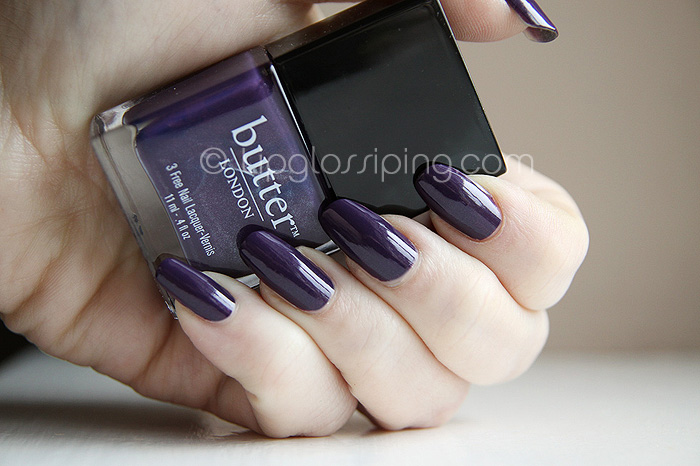 And it just goes to show the value that great swatches has on my buying choices because they were right!  It's not that Marrow is an unnattractive colour… far from it, it's quite a striking blue hued purple… regal and perfect for winter.  It's just different to what I had wanted it to be.
Marrow has a lovely subtle silver shimmer that was far too tricky for me to pick up in the above swatch… it's touches like this that really set the brand apart from their rivals.  I am a big fan of Butter London and I get hugely excited at the rumblings of new releases to see if I can spot any emerging trends for future seasons.
Not the easiest brand to get hold of in the UK but you can pick them up online from Powder Rooms priced at £9.75 each.