A survey by The Perfume Shop has revealed that four out of ten men buy gifts for their wives or partners at Christmas – just so they can use it themselves.  Gits.
But on the plus side, 15 per cent of these men have ended up having a row with their disappointed spouse, with one in ten even getting dumped because of it!  Dumped.  Not that we're shallow or anything… but seriously, don't screw it up.
By my calculations Mr. L, you have 10 days left to buy me something nice.  Not Call of Duty: Black Ops nice… proper nice.  Jewellery is a good option as long as it's not from that dodgy looking stall on the market.  Or Argos.
Don't bother attempting to buy me clothes… and if you buy me lingerie?  I'll buy you a new pillow for the sofa.
Makeup?  Yeah… I could live with that but don't buy me green eyeshadow or coral lipstick.  Or bronzer fit for David Dickinson.  I don't mean to pile the pressure on… I know it's not easy for you but living off Heinz Baked Beans for the next 6 months won't be easy either.
Here's my thoughts on some of the last-minute fragrance buys available to your lovely selves, including my thoughts of some fragrance samples that I've received recently.  Here's hoping for a sweet-smelling, easy-living Christmas.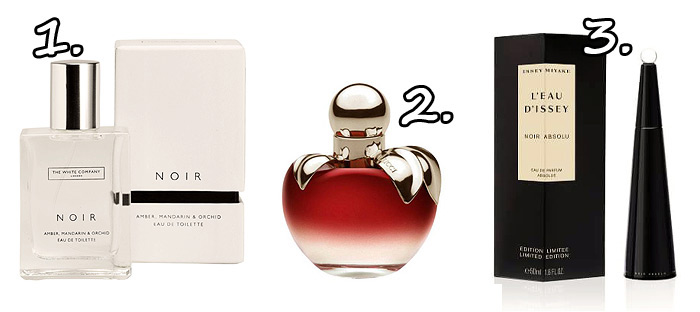 1. Noir EDT – The White Company (£35)
Is there a woman in existence that doesn't swoon over The White Company's brochure?  It's the epitome of the "my house would look like that if I didn't have a real life to live" dream.  Noir is a fresh, fruity fragrance with a heavy dose of amber and a hit of orange that keeps it light.  Not the longest-lasting scent around, I find that I need to reapply after a couple of hours.  On the plus side – if she likes it, next year you can buy her the matching candle, bath soak, body creme and scent diffuser.  I've just sorted out your present-buying woes for the next 5 years!
2. Nina L'Elixir – Nina Ricci (fr. £29.50)
I'm a huge fan of the original Nina fragrance and this reincarnation has taken everything I love about the original and celebrated it.  It's sugary and girly and packs one hell of a fruity punch.  Berries… big juicy cherries and blackcurrants.  I can't go past a bottle without spritzing it and I've not long finished my original Nina…. oh Mr. L, won't you make a girl's Christmas? [probably not – Mr. L]
3. L'Eau D'Issey Noir Absolu- Issey Miyake (£59)
If your better half is an original L'Eau d'Issey lover… Noir Absolu should be an obvious choice.  L'Eau D'Issey Noir Absolu is a limited edition offering that takes the original's floral empire and builds on it with notes that are less clean and more suited to the current time of year.  The ubiquitous amber is there, as is a dash of vanilla to warm it up.  I have to say though, that bottle… it's stunning in black no?  My favourite of all Issey incarnations I've smelt so far and considering how many there have been… that's saying something!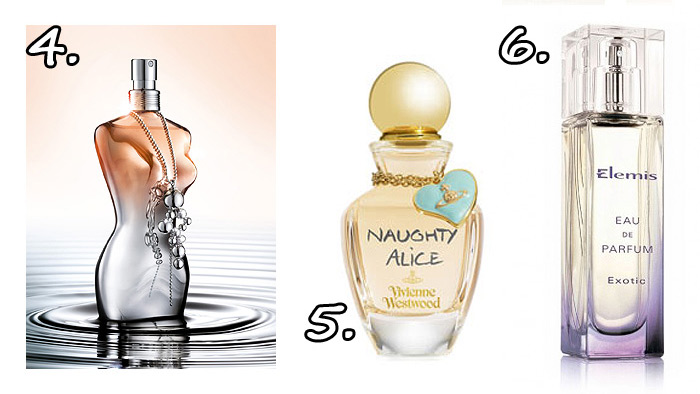 4. Jean Paul Gaultier Classique EDT – Jean Paul Gaultier (£66.50)
Another limited edition bottle masterpiece.  Don't worry, the missus won't think you've bought her this solely for the err… feminine bottle shape [tsk].  The beautiful charm that hangs around the bottle neck can be re-used as a handbag charm, whilst the classic fragrance itself has stood the test of time over the past 17 years.  Powdery, floral, soft and ultimately ridiculously feminine… there's a reason why JPG can get away with retaining the same juice despite all the collectible flacon designs he releases.  It works for many, many women.
5. Naughty Alice – Vivienne Westwood (fr. £34.50)
Another lust-have for me is Naughty Alice by Vivienne Westwood… I think it may be slowly becoming apparent that I have a 'thing' for beautifully packaged perfumes.  There's something to be said for a glamourous-looking dressing table!  Naughty Alice is actually Sweet Alice… it's another flirty, light and rather girly scent that would have to work hard to offend.  I also think it would make a perfect Spring fragrance… and that lovely whimsical bottle and charm?  *sigh*
6. Elemis Eau de Parfum – Exotic (£35)
Out of all the perfumes included, Exotic is my tip for title of 'most sensuous' and with that comes the sub-title 'most mature'.  I am an unashamed lover of flirty, girly scents but a lady always needs a heavier, headier fragrance in her arsenal aswell.  If Exotic is indeed exotic, then I'd say it comes from Marrakech thanks to the incense and warmth that lingers once the spice notes subside.  Infact, I wish they lingered a touch longer – for an EDP it's a little short-lived.  But beautiful while it lasts!
.
So, there we have it… my rambly thoughts on potential purchases for the lovely ladies in your lives.
If you're still in doubt… raid her dressing table for a selection of the perfumes that she currently wears and take them to someone who can advise you further.  It'll save you hassle in the long run… The Perfume Shop's survey also revealed that one in five women said they were so annoyed with their partner's choice of present, they made their bloke buy them another gift to make up for it!
You have been warned.  Don't screw it up. [that goes for you too Mr. L].