I've been dying my hair since the age of 14… first pillar box reds and harsh blacks – anything to be different which was ironic really, considering I used to simultaneously do anything I could to fade into the background.
At the age of 17, I discovered my first grey hair… and since then, they've been coming in thick and fast.  I now dye my hair (roots) every 8 weeks or so to keep on top of it.
I attended a masterclass at the Schwarzkopf Academy back in October.  It was focused on their Palette range of home hair colourants and aimed to demonstrate the very best way to achieve great results at home.
Let me show you a video from the afternoon (if you spot me, please ignore the horrendously unflattering camera angle… it's not my seven chins, it's the bloody angle alright?)
I've found the Schwarzkopf Palette dye gives a beautifully natural and glossy result.  It's not particularly different to anything else I've tried in terms of application although I found that it was a tough cookie in terms of staining… definitely a little harder to remove than my normal product.  It was also a lot less ammonia-stinky than my normal Superdrug hair dye… a welcome discovery!
My favourite thing about the Schwarzkopf Palette formula though is that I don't get the "Lego Hair" thing that I usually notice with home hair dyes.  Are we all familiar with "Lego Hair"?  That horribly obvious single block of colour that screams "I've just given myself a cheap home hair-dye job!".  The Schwarzkopf Palette range appears to melt into my own natural highlights and lowlights instead of overwriting the lot.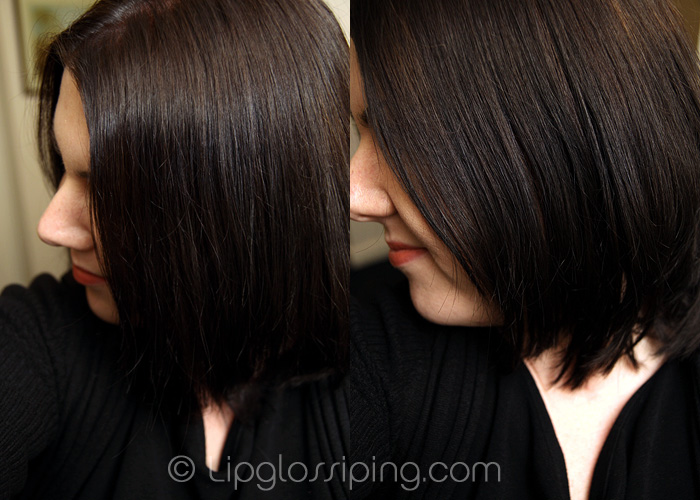 Freshly coloured hair, what a lovely feeling!
Some tips I learned from the day:
– Wash your hair if it's greasy or full of oil-based product (hairspray/mousse is ok)
– Apply your hair dye to the point of saturation (one of the biggest mistakes people make is not using enough product)
– Custom mix your colours – it's far easier than I imagined to create a personalised shade!
– You can't lighten pre-coloured dark hair
– Grey hair needs extra processing time
– Use moisturiser to protect the skin or vaseline, but don't get any vaseline on your hair or the colour won't take.
– There's no need to shampoo after dying unless you want to.
– To protect your clothes, use a bin liner with a hole cut in it for your head!
– Section off your roots and concentrate the colour there.  You can smoosh the ends in to ensure they get even coverage later.
Schwarzkopf Palette comes in a range of 12 shades from a light natural blonde right through to black.  It's available instore at Boots, Superdrug and some supermarkets priced at around £3.49 – bargain!