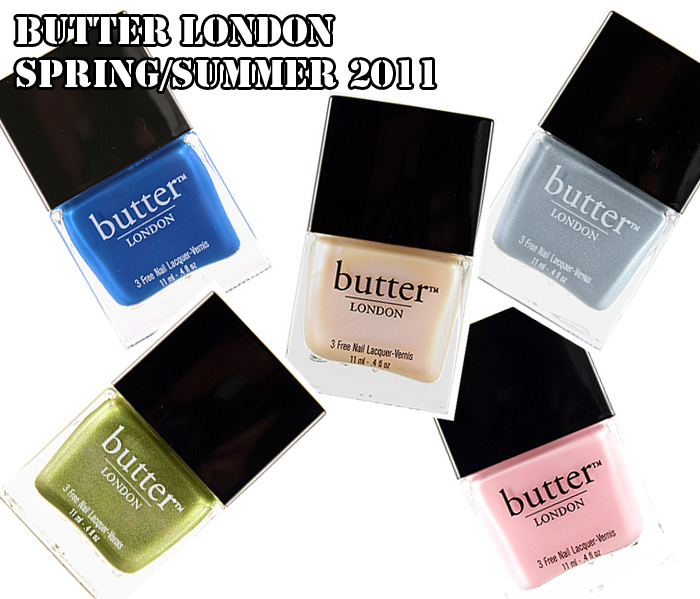 Butter London say: Straight from the Fashion Week runways, the butter LONDON Spring/Summer 2011 Collection was inspired by the many colourful "impressionist" style prints that graced catwalks from New York to Paris. Designed by Founding Creative Director Nonie Creme, the new collection is reminiscent of Monet's palettes, with the inclusion of an opal overcoat that lends ethereal beauty to any shade.
BLAGGER
Colour: Striking cobalt blue.
Definition: A person with a silver tongue; a charlatan.
HEN PARTY
Colour: Sheer opal lacquer that is neutral and stunning alone and on-trend as an edgy overcoat on top of any shade.
Definition: British term for a bachelorette party.
LADY MUCK
Colour: Powdery periwinkle blue, slightly on the grey side and infused with pearl pigment for a soft, sexy sheen.
Definition: A term for an arrogant, conceited woman; a snob.
DOSH
Colour: A molten apple green shot through with metallic gold.
Definition: British slang for money or cash. "Can have a bit of dosh, love?"
TEDDY GIRL
Colour: A pale retro bubblegum pink, featured on the catwalk of a top Brit designer for S/S 2011.
Definition: "Teddy Boys & Girls" was a youth culture movement in Britain typified by teens fighting, drinking, shagging, and fighting some more.
The collection launches around the 1st March and will be available to purchase online from ThePowderRooms and instore at Harvey Nichols.