Also known as the "ultimate skincare survival kit" by Premier Model Management's founder Carole White.
It's been launched to coincide with a new TV series called "The Model Agency", an inside look at the realities of this so-called glamourous lifestyle!  The series starts tonight at 10pm on Channel 4.
The Premier Model Skin kit consists of seven 30ml products (each described as model essentials!) housed in a transparent zip-up pouch, making it perfect for travel.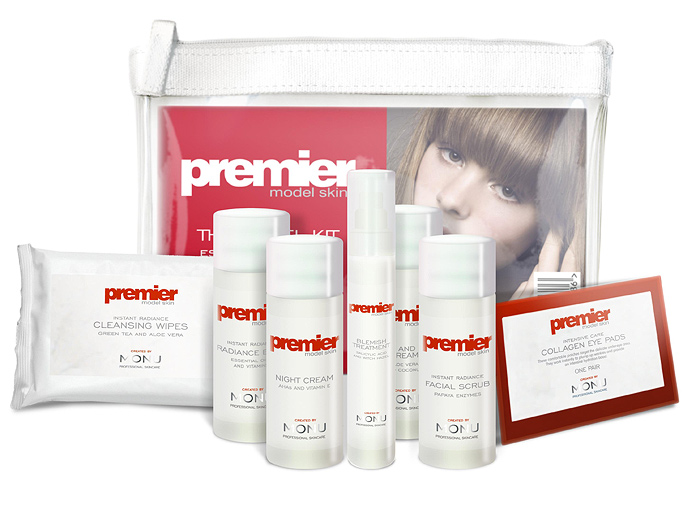 Products included: Hand & Nail Cream, Facial Scrub, Radiance Balm, Night Cream, Blemish Treatment, Cleansing Wipes and Collagen Eye Pads.
[stextbox id="custom" caption="Carole White says…" ccolor="ffffff" bcolor="b0c4de" bgcolor="e6e6fa" cbgcolor="b0c4de"]
A model's life is spent almost constantly on the move, whether in an airplane or on a location shoot. This hectic, stressful lifestyle plays havoc with the skin. During the course of my many years as a model agent, I have tested literally hundreds of beauty products in search of a pure and simple, yet effective skincare solution, but have never found what I was looking for.
So I decided to create a line of beauty staples which were not only the best quality, but could easily travel and would be affordable for the younger models. I discovered Monu a few years ago, and approached them as a potential partner for a Premier skincare range.
[/stextbox]
The Model Kit from Premier Model Skin will be available for £45.00 on line from March 1st at www.monushop.co.uk
Will you be tuning in to The Model Agency tonight?