My poor, poor face.  I'm in the middle of a snot fest and I'm now understanding why I was brought up on a diet of haliborange.  Throughout the year I'm not a terribly sickly person (I was as a kid) which is just aswell because I'm the biggest wimp you could meet (probably).  I even have a 'cold' voice – you know that weak-sounding, more-than-slightly whiney tone that resonates through the nose more than the throat?  My poor family.  Anyway, this week's cold has been particularly frustrating because of how beautiful it's been outside!  The whole family have had it and thus we've been mostly quarantined indoors through the weekend.  I decided to make a break for it yesterday and thus needed a face of makeup to disguise my ravaged skin.  It's so dry and dull, combined with the snot-induced nose flakes and hormonal jaw-line mega zits?  Not pretty.
I massaged my freshly-washed skin with a combination of Liz Earle SuperSkin Concentrate* and Alpha H All For Eve Age Delay Facial Oil* in an attempt to revive some life.  Kinda like a cardiac massage for the face before giving my driest spots (flakey bits) at light cover of Lucas Paw Paw Ointment (this stuff is great for disguising nose flakes).  I went with the spring-like weather and injected some colour onto my face with a bright streak of blue under my lower lashline.  This is my favourite way to wear the shade and I do it quite a lot in the Summer.  Anyway, enough talk.  Here's my Springtime in the Sahara FOTD: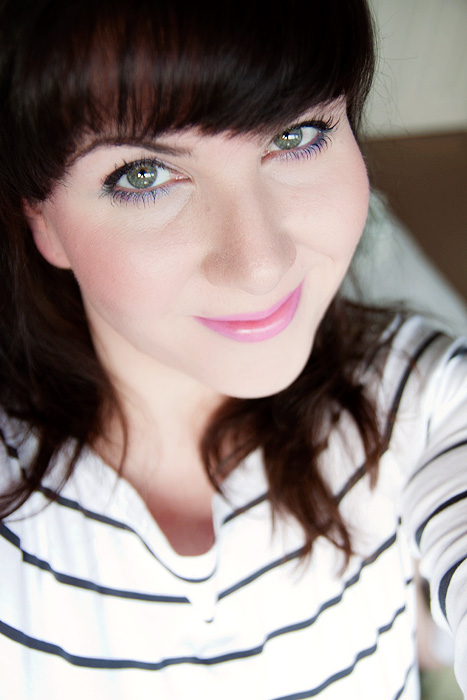 I think I could have done with a touch of highlighter but I'm otherwise looking fairly perky considering I felt like DEATH.  Like my Tammy Faye Baker eyelashes?  Tough – I do!  I never put that much on my lower lashes normally but now I'm gonna (until I get bored of it).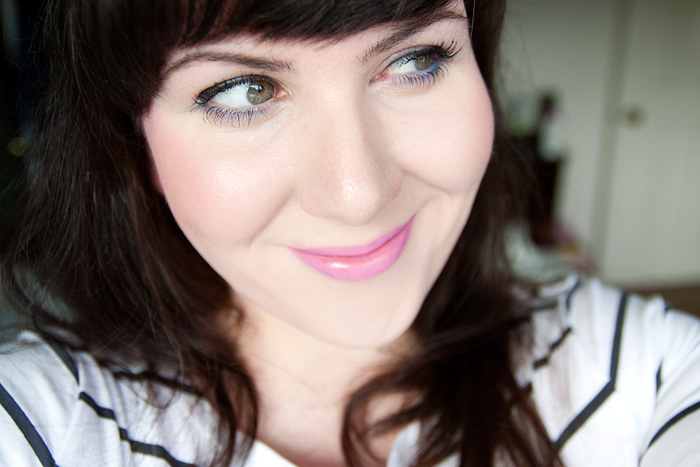 I'm wearing:
Skinfood Gingko Green BB Cream
Priori Perfecting Mineral Foundation (lightly buffed where I needed more coverage)*
Maybelline Pure Cover Mineral Concealer
KIKO Automatic Waterproof Eyeliner
Laura Mercier Luster Eye Colour in Marina under the lower lashline
Benefit They're Real Mascara*
Illamasqua Eye Brow Cake in Gaze (I found it, I found it!)
Benefit Hervana Blush* (I did promise you a FOTD with this beauty)
Boots No7 Vital Brights Lipstick in Blooming Pink*
.
What do you think?  Bit too early in the year to pull out these shades?  Hope you're well and less snotty than me!  At least the pancakes (bacon and maple syrup!) cheered me up!
* press samples