This here post be ALL about the pictures…
The Packaging…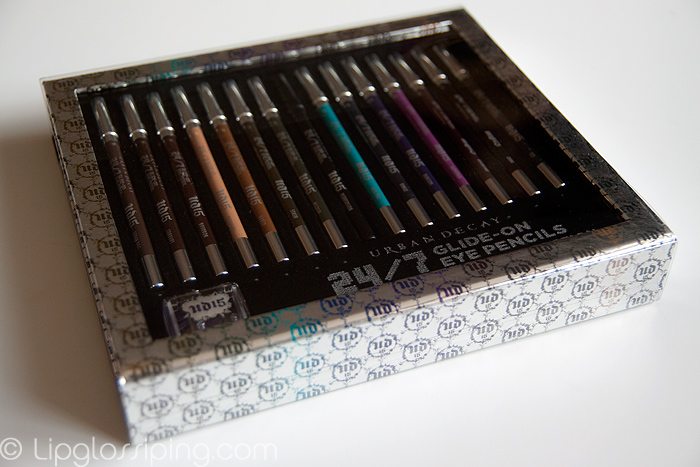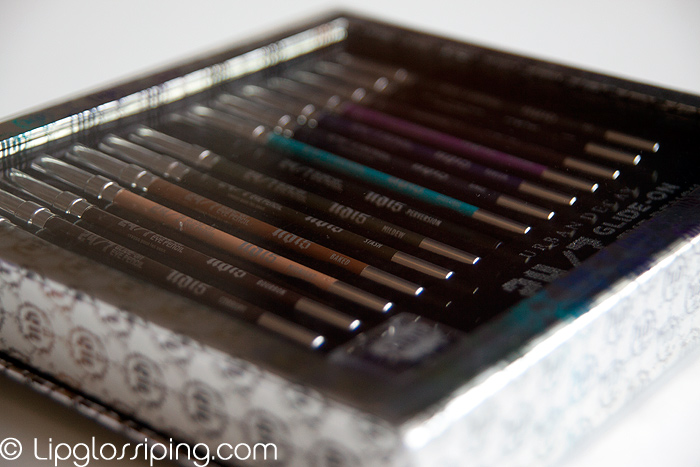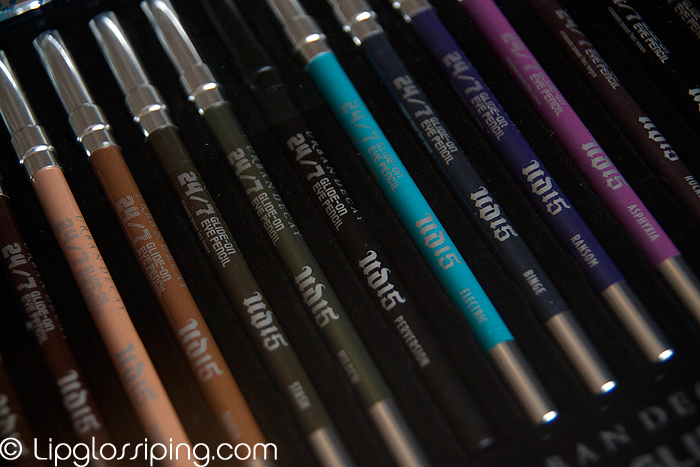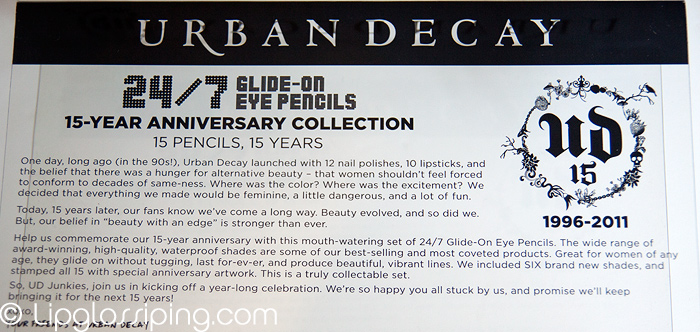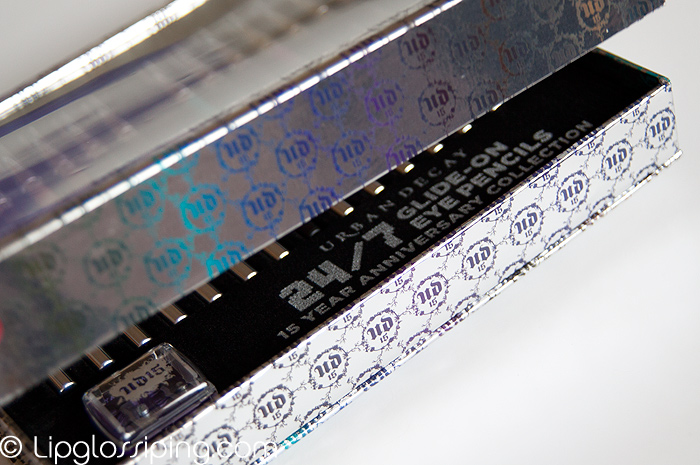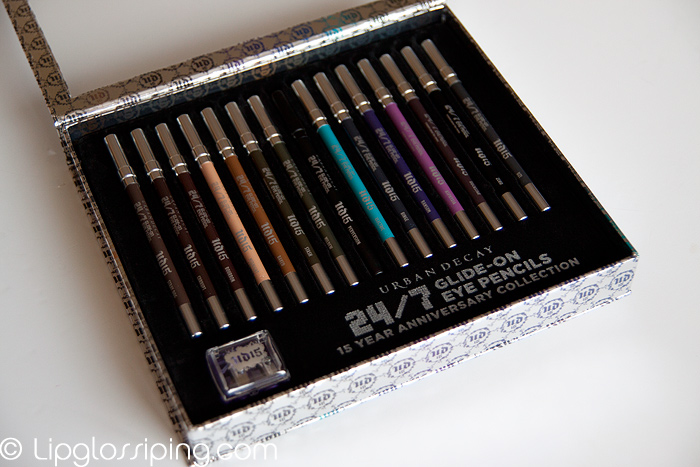 The Pencils…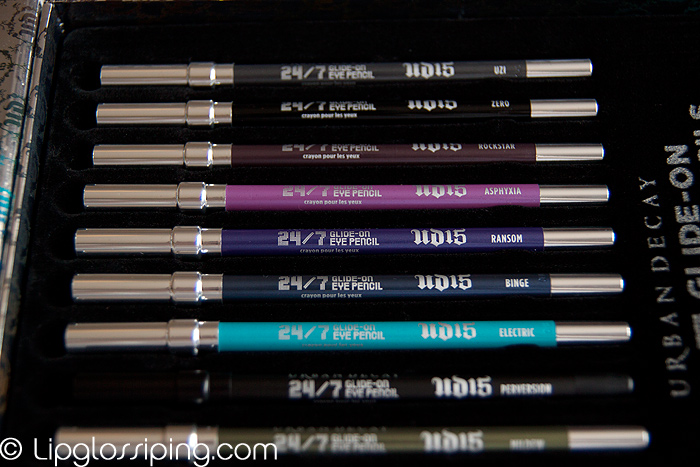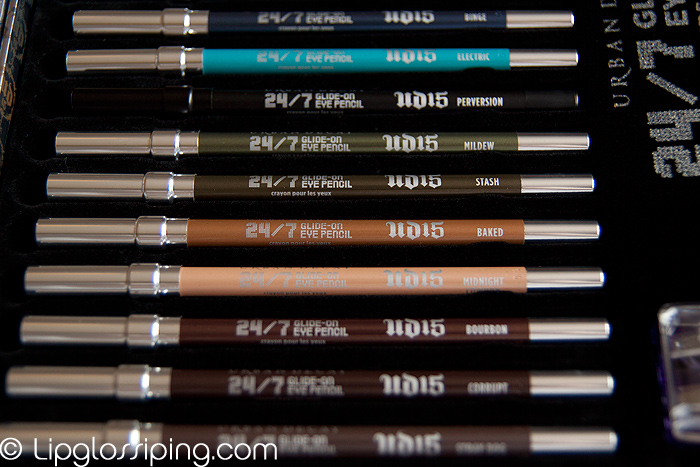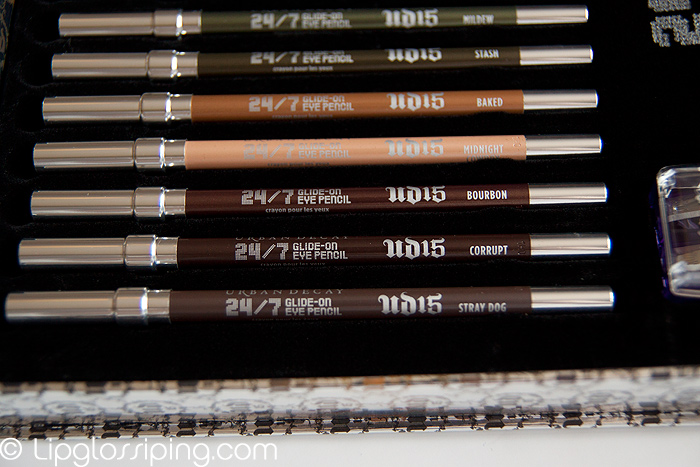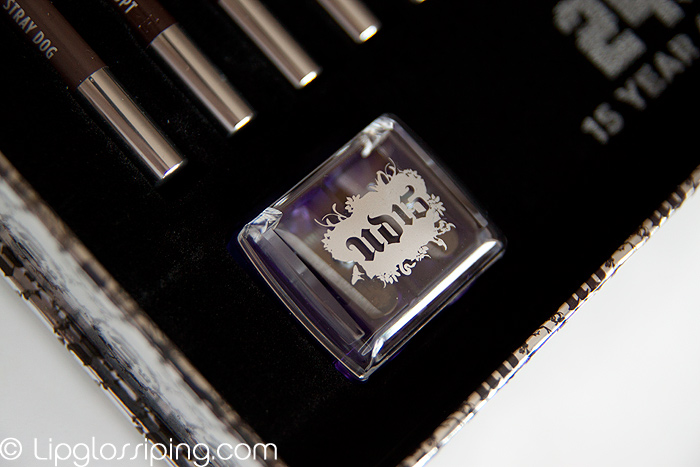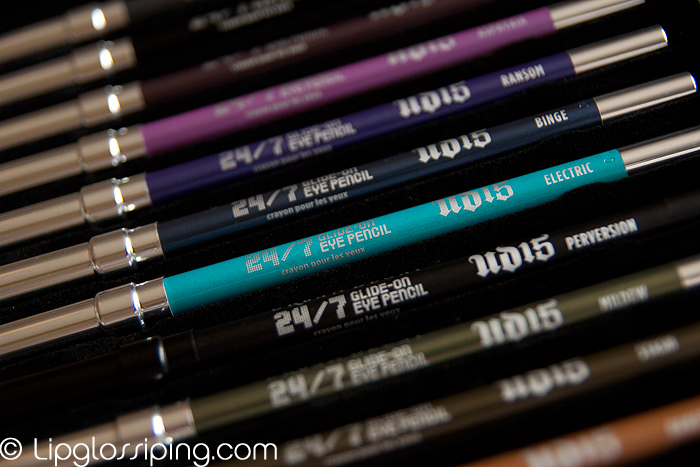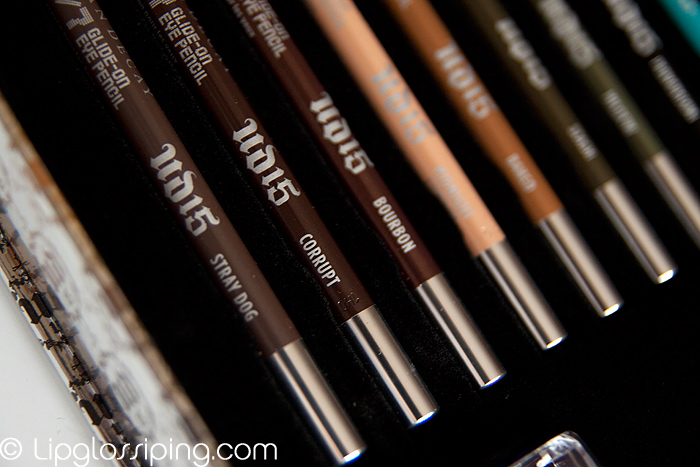 The Swatches…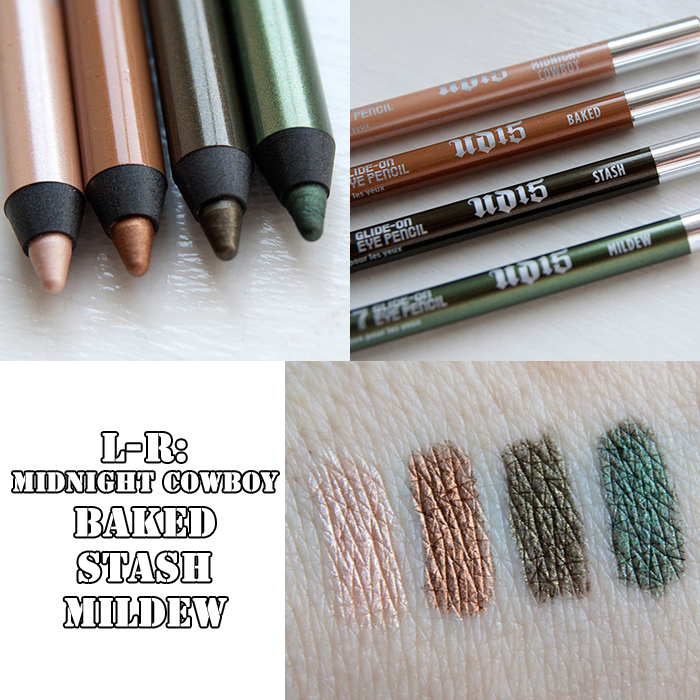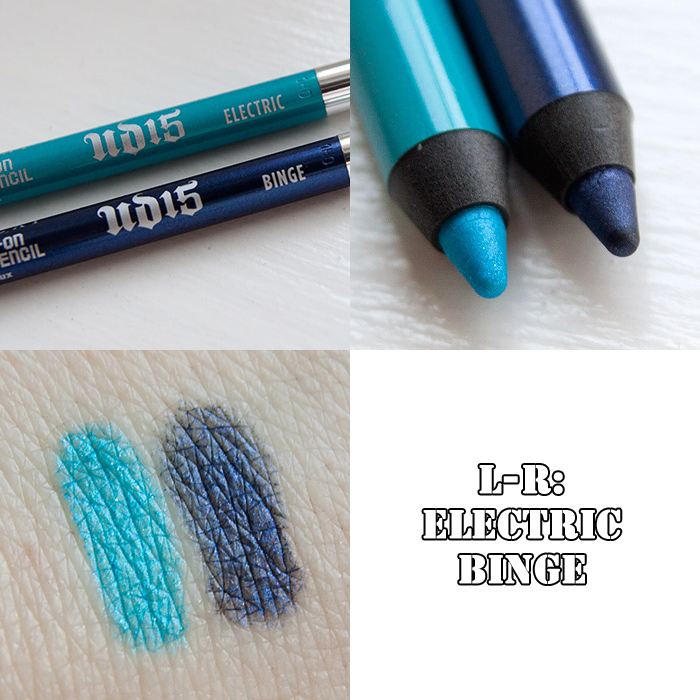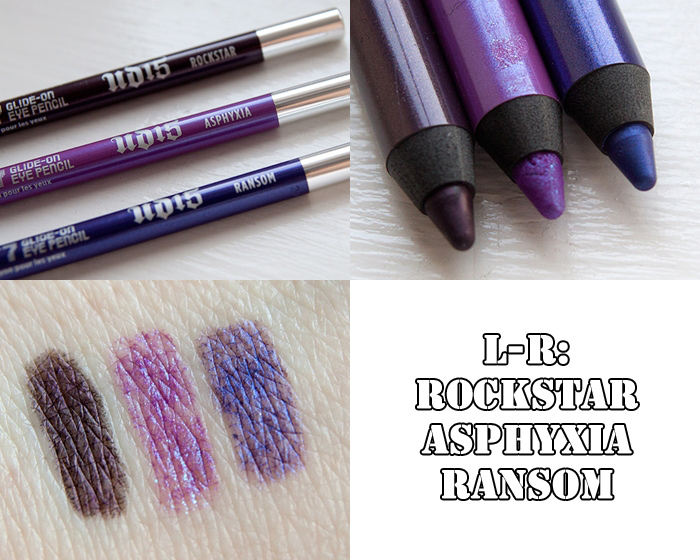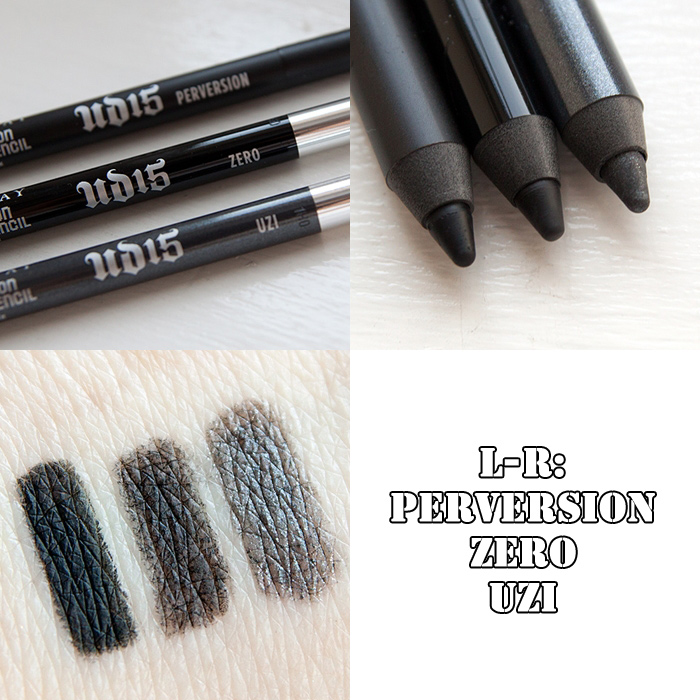 The Thoughts…
Urban Decay's 15-Year Anniversary 24/7 Glide-On Pencil Set* is a meaty limited edition installment to the brand's recent releases.  At £60, it's not a purchase that most will be making lightly.
Many of you will already have some of the colours that are included in this set and although at £4 each, the set represents excellent value compared to buying each liner individually – it's still a hefty price to lay down for a bunch of eyeliners.
As for the actual product, they're good… solid, dependable and colourful.  Exactly what you'd expect from the brand who are capitalising on their cult products.
Asphyxia, Ransom and Binge are all a little on the weak side in terms of pigmentation.  Beautiful shades, but they need layering to build up the intensity.  On the flip-side… the rest absolutely make up for what those three may lack.  Simply stunning.
The set includes some exclusive only-available-in-this-set shades, I've *'ed them below:
*Asphyxia – pinky iridescent purple
Baked – bold bronze
Binge – deep metallic navy blue
Bourbon – medium brown with gold sparkle
*Corrupt – dark metallic brown with silver glitter
Electric – bright aquamarine blue
*Midnight Cowboy –  beige with gold sparkle
Mildew – deep mossy green
*Perversion – blackest carbon black (blacker than Zero!)
Ransom – bright iridescent purple
Rockstar – darkest eggplant
Stash – dark olive with gold sparkle
*Stray Dog – shimmery brown taupe
*Uzi – gunmetal grey with sparkle
Zero – zealous black
I'm torn.  Whilst I can't criticise the set for what it is… I do wish that UD had made it available in a mini-size at a lower price point.  £60 prices a lot of fans out of the market and personally, I'd struggle to justify a £60 spend on this set when I wouldn't have hesitated dropping £30 on a mini-sized version.
Still, that's a little unfair because there's many of you who will happily part with the money for a delightful set of lovely eyeliners that do still represent excellent value for money.
The Urban Decay 15-Year Anniversary 24/7 Glide-On Eye Pencil Set is available online NOW at Debenhams.com and will be rolling out instore on the 15th Feb before becoming available to HoF and other online retailers from the 1st March.
Priced at £60.
If you do buy from Debenhams online, be aware that there is currently a 10% discount code available for online beauty purchases.  Click here for more details and to save a few pennies!
Will you be buying?
*Press Sample