Sometimes I get a little bit guilty looking at all the lovely things that I've bought and haven't gotten around to swatching for the blog and after a conversation on Twitter last night with @PinkSith, @LondonMUGirl and @Fauxlivia – it shamed me into grabbing my 'waiting' box and dragging the things out of it that I knew I should have gotten around to swatching a bazillion years ago.
7 lip tars (I didn't bother with the less wearable shades I own) and a pair of slightly sore lips later…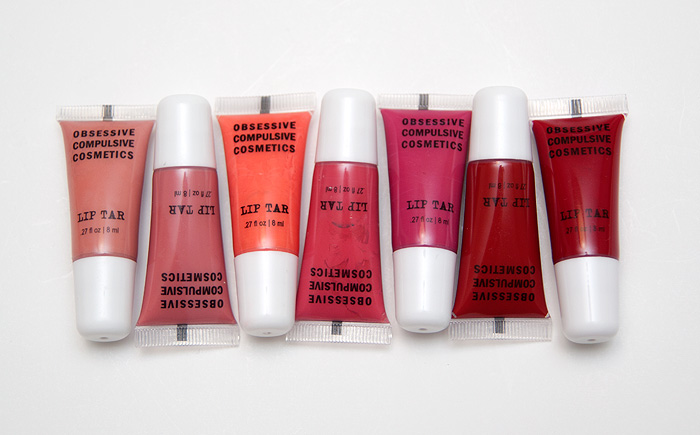 L-R: Hush / Memento / Grandma / Trollop / Pageant / NSFW / Stalker
They all need to be applied with a lip brush and each gives great coverage with just a small amount.  I tend to use a little more than I've read *should* be needed but I always end up blotting after because they transfer to my great big front teeth like a total bitch if I don't.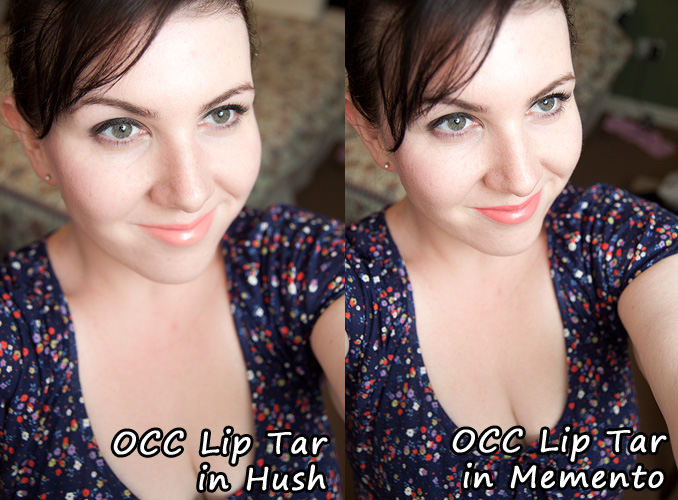 ~ HUSH is the palest shade I own… it's a beige nude which works well with a smokey eye and is *just* dark enough to avoid the corpse bride look.
~ MEMENTO is a darker, more wearable nude on my skintone thanks to a pinker hue than HUSH.
~ GRANDMA was a gamble for me when I bought it… I thought it would be far too warm for my skintone but it actually turns fairly neutral on my lips despite the tube colour.  One of my favourites for Summer and can be built up to a rich coral with a couple of coats.
~ TROLLOP was purchased purely on the basis of its awesome name so I'm really pleased that I love the colour too!  I'd describe TROLLOP as a warm pink… verging toward the guava territory but not as warm as GRANDMA gets after a couple of coats.
~ PAGEANT was my first Lip Tar… I wanted a hot pink that wasn't quite neon and found it in this shade.  If you want something a touch bolder than this, go for ANIME (which I don't have).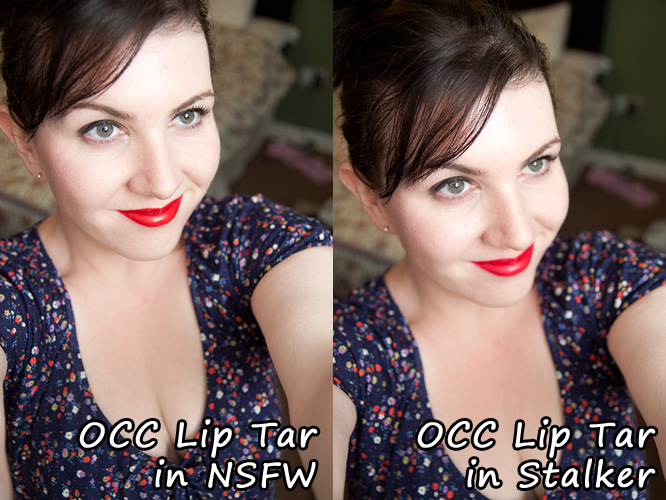 Ahhh… the reds…
~ NSFW is the classic neutral red and it really is one of the most bang-on reds I own.
~ Thinking that I didn't need another OCC red when I was already in love with NSFW, I almost didn't pick up STALKER.  But oh boy am I glad I did?  It's a true vampy cool-toned red that works verynicelythankyouverymuch on my skintone.
.
Now, I don't really wear these as often as I should… they need a brush to apply, don't be trying from the tube unless you have some serious skills.  They can also feather if you over-apply or generally suffer from this anyway… clear lip liners for the win!  I've also mentioned the transfer issue… a slight purse of my lips and my teeth get a nice coating too.
Does this mean that I regret buying them?  God, no.  I just regret being too lazy to take the extra little bit of time to ensure that I do these justice.   I hereby solemnly swear to break out my OCC pinks a little more this month!
OCC Lip Tars can be bought in the UK from sites: MakeupArtistBoutique, Cocktail Cosmetics, GenieCosmetics and LoveMakeup.
Do you own any OCC Lip Tars?  Which ones are on your wishlist?