What might I be talking about?
Brushing your teeth!  We all do it, well… at least I hope we do… some of us even remember to do it more than once a day – special gold star for us!
But it's kinda boring isn't it?  Dental hygiene… hell, I'm bored writing about it and I'm only 3 (very short) paragraphs in.
So without further ado, let me show you some lovely things to make your routine a little bit more interesting!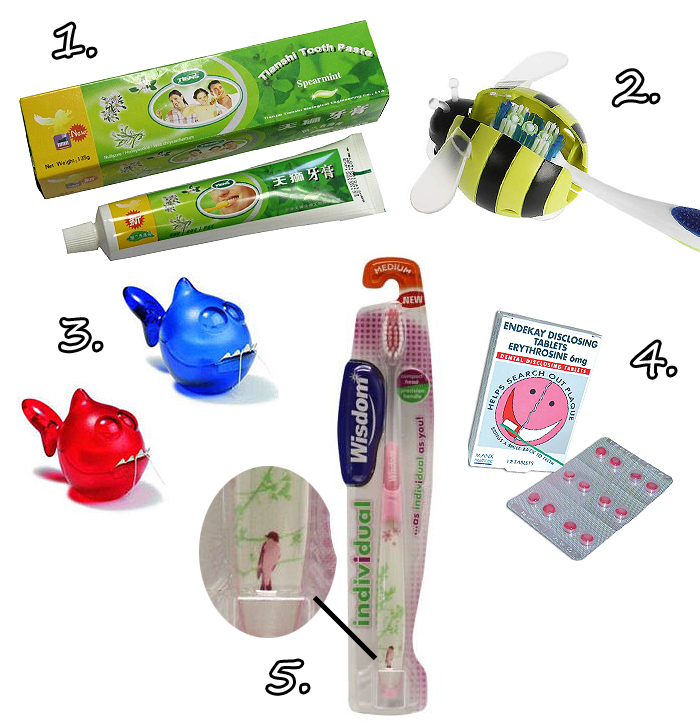 1. Tiens Herbal Toothpaste (£6.80)
If you like quirky things from the Asian market, you might like Tiens Tianshi toothpaste!  It's packed full of less conventional ingredients including nullipore, honeysuckle and wild chrysanthemum plant extracts whilst still maintaining a recognisable minty flavour.  It's pretty foamy too so makes your teeth feel squeaky clean!
2. Bumblebee Toothbrush Holder (£2.90)
Too cute, I have three of these… I think you can get ladybirds too!  Stick 'em to the tiles and they grip your (manual) toothbrushes tightly 'till you reach for them.  They stop that age old problem of water pooling in the bottom of toothbrush cups and going all manky.  Plus they look cute!
3. Koziol Kai Dental Floss Dispenser (£16.00)
Not cheap and Mr. L would kill me if I came home with one now I've told him how much they are… but who doesn't want a pirahna with razor sharp teeth in their bathroom right? RIGHT?
4. Endekay Plaque Disclosing Tablets (£1.95)
I'm not the only one that remembers these things from the school dentist am I?  My Mum used to buy me a pack a week before I was due to go sit in her little portacabin in the playground.  I used to use them religiously up until the morning of the fateful appointment to make sure that I had the least amount of plaque possible.  Oh, the shame!
It was either that or walk round school with tell tale red splotches all over my teeth that showed I was a lazy arse tooth brusher!
And yes, I do still buy a pack occassionally *blush*
5. Wisdom Individual Compact Toothbrush (£1.99)
I'm fussy about toothbrushes!  I don't own an electric one for no other reason than I've never looked into getting one.  I also refuse to spend over £3 on a manual which I know I'm gonna replace next month… these Wisdom Individual Toothbrushes come in some lovely designs with nice compact heads for ma petite 'gob' and they're cheap!
What more do you want?
.
Do you reside in the dark ages with a manual toothbrush like me or are you a proud owner of one of those all-singing, all-dancing mega pulse action vibrating doo-dahs (we're still talking toothbrushes right?).