Whilst in London last week, I trotted along to Gielly Green, a boutique hair and beauty salon located just off Baker Street hopeful that Shai Greenburg, co-founder and creative director would be the man to inject some life into my tired hair.
I'm finally past that awful 'growing out' stage and to get it there, I'd been dodging regular haircuts left, right and centre since Christmas.  I know you're not supposed to but we all know how tempting it is to eschew the snip in favour of growing length more quickly!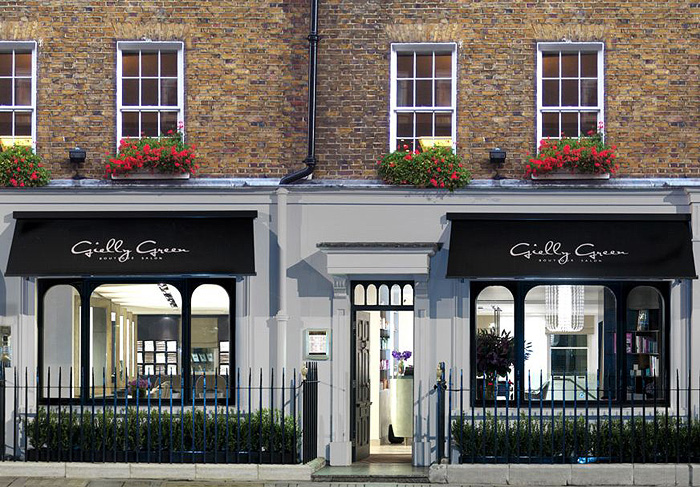 It also doesn't help that in general, I'm not the biggest fan of going to hair salons.  I'm not massively precious about my locks but I detest (in order of distaste):
1. Salon small-talk (going anywhere nice this Summer?)
2. Being made to feel like a reprobate for colouring my hair at home.
3. Having to coax recommendations out of nervous stylists about what they think I should do re: styling.  I'm paying them for their expertise right?  If a full fringe will make me look like a git, I want them to tell me!
Better tell you about Gielly Green then…
The salon is a chilled-out space with brown and cream accents, seating you could drift off in and one of the most comfortable hair-washing experiences (electric chairs sweetie!) I've ever had.
Prior to washing, Shai asked me to take my hair down from the bun I'd scraped it in and I momentarily panicked that he would admonish me for failing to remember to brush my hair that morning.  Passing no judgement (at least none that I could see), Shai felt my hair's texture before recommending which products should be used for the wash.  It was a good example of the personalisation I felt was key to the salon experience.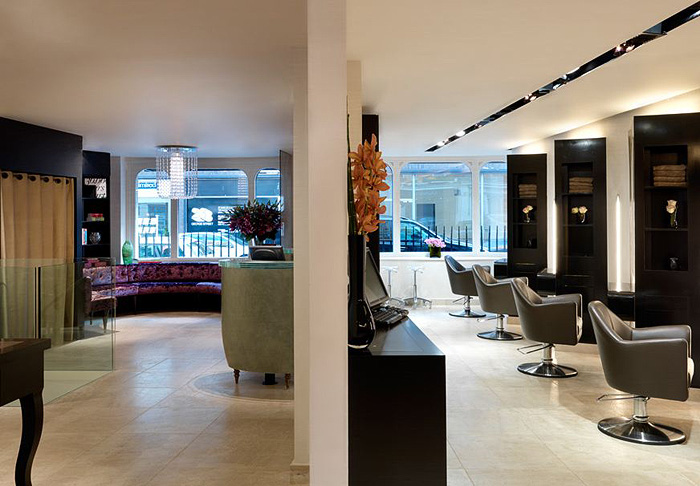 Once seated at the workstation, I explained to Shai that I didn't want to lose too much length because I like to wear my hair up but that my two main objectives were to restore health and incorporate some 'kind' of style without going too heavy on the layers.
Then came the dreaded moment as he lifted my slightly pathetic 4-stranded side fringe between his fingers.  I braced myself for the question that I still didn't have the answer to…
"This fringe, it's not really doing anything…" he said before continuing…
"Shall we make it a little thicker, more substantial?  I don't want to go too thick, your hair is quite fine… but a little more depth would suit your face shape."
"err yes, ok" I nodded.  OMG, that was easy – he *actually* considered what would suit both my hair AND face shape.  I heard birds singing and harps playing in the distance.
It made me bold… I pushed him a little on the thick fringe question.  Here stood a man, a professional who had just proven he had the cajones to TELL me, the customer what he would recommend.  I couldn't resist…
"I do like the look of a heavy, straight fringe though…"
He smiled a little wryly but not unkindly, like he knew I was being mischievous and gently motioned how far back he felt he'd have to cut the hair for the thickness of fringe I desired, explaining that I would lose a lot of volume in the process but was happy to do so if I wanted.  I quickly dispelled the thick fringe idea and settled back into the chair like a good girl, finally confident that I had a considered answer to a question that had plagued me for months.
Shai is quick, his scissors moved over my hair in a blur… he doesn't talk much, if at all when he's working.  It was momentarily awkward as I wondered whether I should initiate a conversation before giving in to the silence and simply enjoying watching him work.
30 minutes later and we were done, I had beautifully feminine, soft, flippy hair that looked healthy and shiny!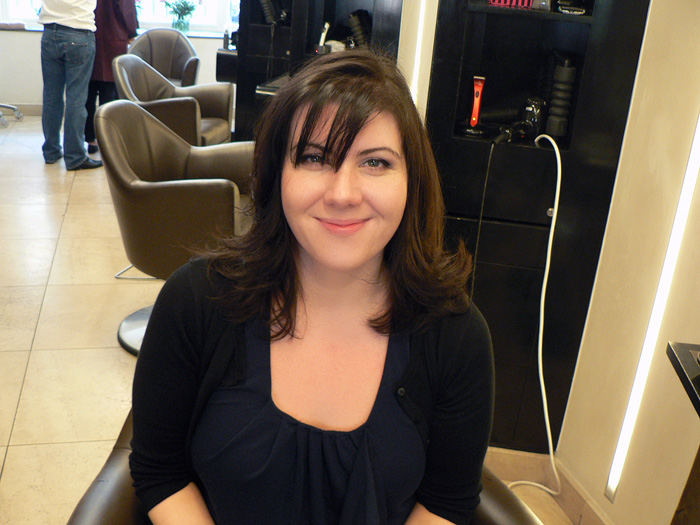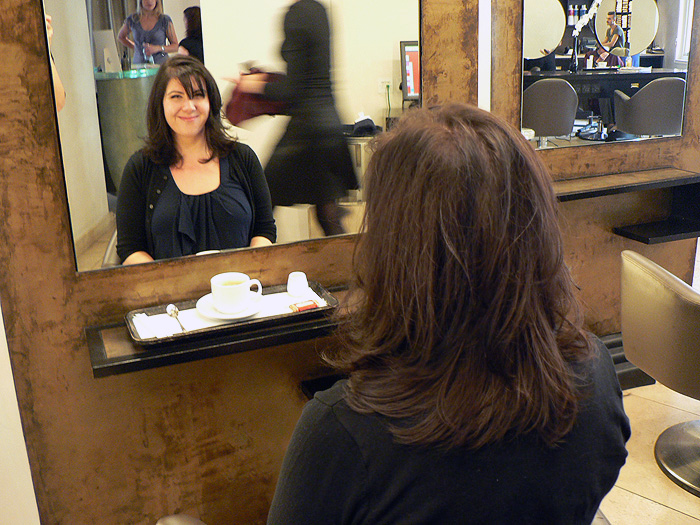 The layers are perfect, I can still scrape my hair back into a ponytail without the need for hairgrips.  The ends feel lighter, less weighty and my fringe… although still not that Zooey Deschanel dream, is definitely serving more purpose than its first non-commital attempt with my last stylist.  A good, uplifting experience… and best of all, he didn't mention my dodgy home-colouring once!
Prices start from £45 for a cut and finish with a junior stylist.  You can visit the Gielly Green website for more information, services and even book your appointment online.
* I was invited for a complimentary cut and finish as a guest of the salon