One of the most hyped products of the last decade has been given a long overdue update, YSL's Touche Eclat* is finally available to purchase in darker-skinned shades, why this has taken so long?  God only knows… it can't have been due to a lack of interest.
the un-numbered one on the left is #1
I've always had a love/hate relationship with this little clicky pen.  Many, many years ago I bought shade #1 and marvelled at its pinky paleness… delighted to discover a shade that would suit my skin so wonderfully.  Until I wore it and it made me look thoroughly lifeless.
Then a helpful MUA showed me where I was going wrong and drummed it into me that I was using a highlighter and NOT a concealer.  Huh?  First I'd heard of it… every woman and her cat had been shouting about how this was hiding their dark undereye circles!?  Confusion reigned…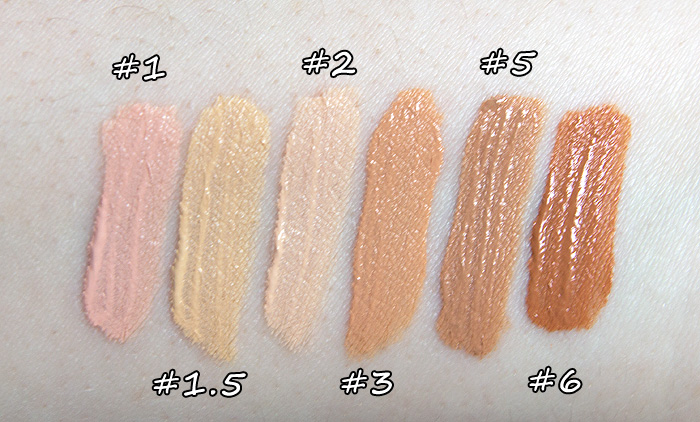 the shade range swatched in the same order as above
Well, turns out that for me… I was applying WAY too much, WAY too close to the lashline.  Nowadays, I only really use it in the area that extends from the inner corner where my eye meets my nose (kinda), along the socket line to about halfway across the eye.  It brightens but it doesn't really conceal… for me, Touche Eclat is a convenient everyday pick-me-up but no industrial strength fix for mega late nights!
You'll find so many people telling you where to use it and how to apply it, personally…  I think it's one of those products that you need to experiment with to find the best way to suit you.  I really don't think Touche Eclat is a one-size-fits-all number.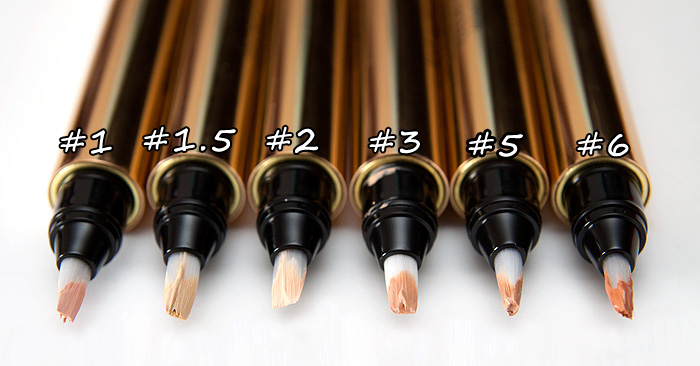 the OCD in me wants to CLEAN these badly
For more information on selecting the right shade from the newly available selection, the YSL website has one of those 'which shade are you' thingamajigs that you may find useful.
I thought I'd leave you with this official YSL video, you can find it on their website.  I'm just wondering if he could have fit MOAR product on her face?  He should have just filled a bucket and let her dunk herself.
YSL Touche Eclat in all its glorious, new shades can be purchased online from Selfridges or instore priced at £24.50

What's your take on this iconic beauty product from YSL?
* press samples