In line with my usual state of perma-disorganisation, I'd left things quite late when I decided to book a night away for mine and Mr. L's 10th wedding anniversary.  It felt like such a frivolous thing to do, I wasn't really sure whether we should be doing it at all, given our current state of finance (we're saving for a deposit) and the fact that Joe is only 20-weeks old.  But when my cousin offered to have Joe for the night, my resolve was tipped over the edge and I began to frantically google for something that would give us the little treat we felt that we wholeheartedly deserved!
Unfortunately, our anniversary coincided with the Southampton Boat Show, which sees thousands of visitors descend upon Hampshire.  Hotel rooms were at a premium.
The deal I *really* wanted to go for, which was a Balmer Lawn break in the New Forest from Travelzoo, wasn't available for booking on the date we needed!
In the end, I found something that looked very reasonable on Amazon Local, an overnighter at the Basingstoke Country Hotel which included a meal and a late checkout for £109, good value no?  Reading the reviews on Tripadvisor, people suggested that it was worth upgrading to a better room, so I gave them a ring and asked to upgrade.  I happily paid the extra to upgrade to one of their top rooms, a deluxe double.  I also enquired about the treatment menu at the spa and promptly booked two massages for us over the phone.  All at additional costs.  Mr. L was a bit of a reluctant spa-goer, having never had a massage before but I was excited to introduce him to the experience, and hoped it would be a good one!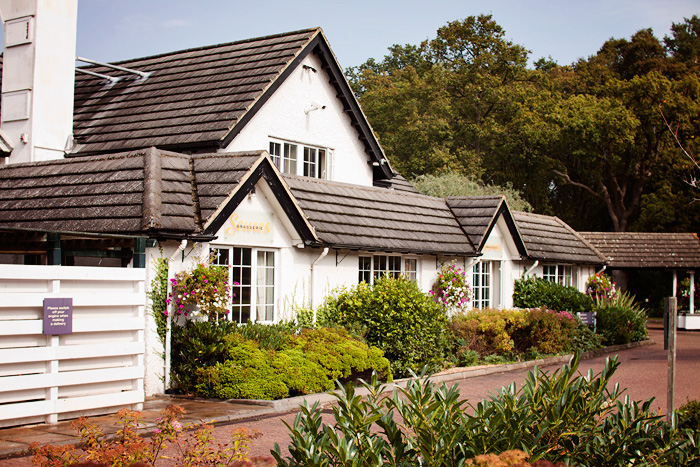 Upon arrival, we checked in and were given directions to our room, which we promptly headed for as we didn't have long before we were due to go for our spa treatments.  The deluxe room was large but sparse, with a large bed and a flat screen TV.  However, the furnishings are quite dated and things are looking tired.  The bathroom was lovely and big but again, pretty basic.  It had a bidet but to be honest, I would rather have had a clean (non foisty-smelling) shower curtain!
Overall, what became apparent, very quickly indeed, was that this hotel wasn't going to be a luxury experience.  It's aimed at the corporate market.  It feels like a Premier Inn.  There's nothing wrong with a Premier Inn, heck, I spent my honeymoon in one – I'm no hotel snob… but this just wasn't matching up to its star-rating and description.  There were stains on the carpet, the skirting boards and walls could have done with a good scrub to remove the tea stains, and despite there having not been a drop of rain all day, you couldn't see out of the window for the condensation and dirt.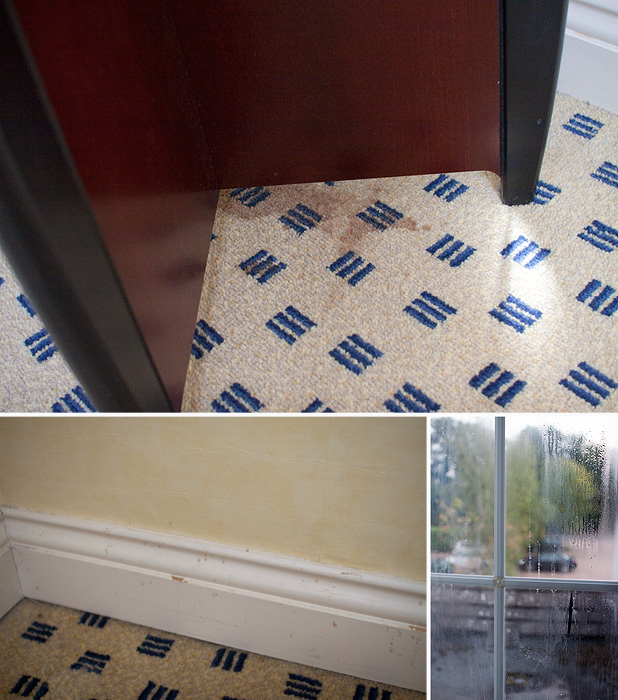 A quick peek through the leaflets on the sideboard revealed that had I not booked my spa-treatments in advance, I could have had 20% off by booking them on the day.  Leaving this information for all guests to access seems a little insensitive.  I understand the principle behind encouraging last-minute bookings in the spa but it's irksome for a customer who has had the foresight to pre-book only a few days earlier.  A better option would be to invite the receptionist to enquire upon check-in as to whether guests have pre-booked any treatments.  If they have, fine… if they haven't, perhaps at this point it would be wise to make them aware of the offer.  Rather than, "Hey, here's a discount YOU CAN'T HAVE".
We headed down to the spa area, which involved checking-in at the reception area of the gym before being led through to the waiting room.  There was a coffee machine, and we were told to help ourselves while we waited.  I made two teas but then realised that there was no milk available and no-one around to ask so I had to leave them on the side.  The "relaxation" area was pretty unrelaxing.  Hard chairs, too-loud "musak", and the room is in general need of repair.  The wall behind the coffee area (which I think was also a reception desk), had been boarded up for hopeful future repair?  Basically it just didn't feel like a retreat.  In any way, shape or form.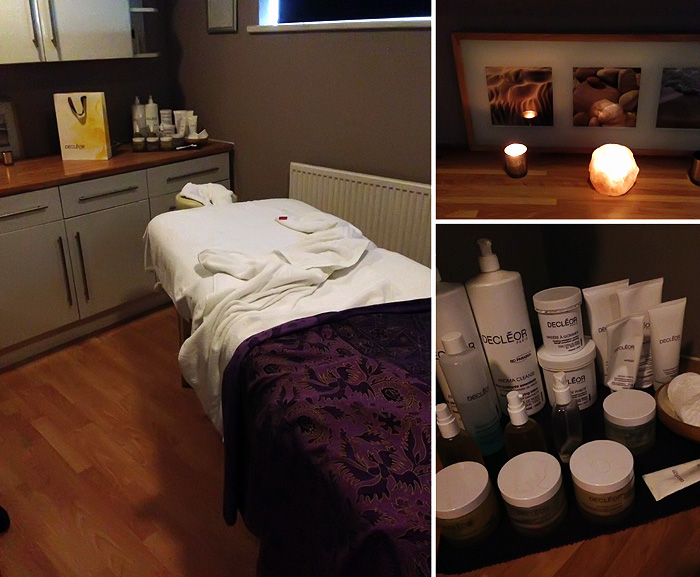 The treatments themselves were sadly pretty insipid.  I'd booked over the phone for two Hot Stone Massages but for some reason, we ended up with plain back massages instead.  I'm pretty easy-going and didn't mind this but it's a point to note that you should double-check before arrival.  During the massage, at no point was I asked what kind of pressure I liked, neither was my husband and the CD in his treatment room kept skipping throughout his massage.  The oils, if scented, were undetectable to my nose and although I could feel my therapist passing over various trigger points in my back, she didn't ask if I'd like her to work on them with a little more firmness.  Again, at the time, I didn't particularly mind because I was happy to opt for a more relaxing experience.  However, the offer of a little customization would have been nice and really sets one therapist apart from another.
Sadly, we walked out of the treatment rooms feeling quite indifferent about the experience.  I have since assured Mr. L that not all massages are equal and that it is completely possible to experience bliss and relaxation from a good therapist!  He's unconvinced and it will take some work getting him to try again!  Perhaps I've just been spoiled in some glorious spas over the years.  Overall, it certainly wasn't a terrible experience but I wouldn't book again.  I just don't feel that the treatment achieved anything… in terms of easing tension, inducing relaxation, or lifting mood.  It was… for want of a better word, all pretty "meh".
We headed back to the room to relax a little before dinner.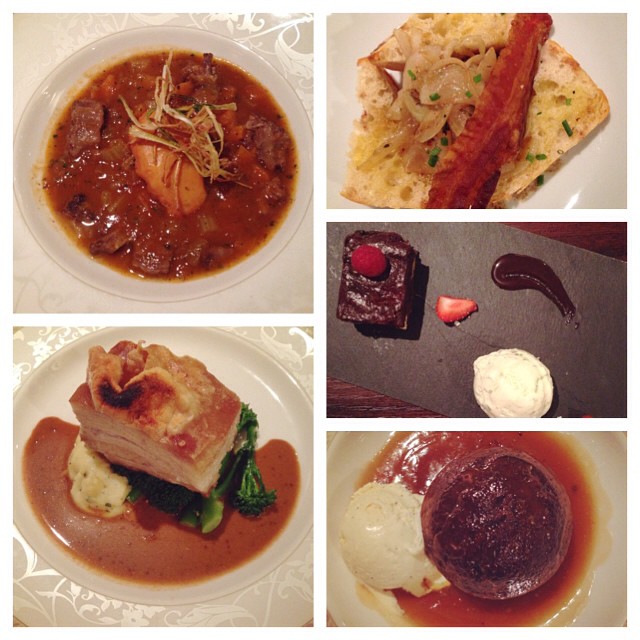 Dinner wasn't too bad, and our server (an older lady, I forget her name) was really lovely.  The fat on our belly pork hadn't rendered very well though and we could only eat about 30% of the meat… also a little more (well-flavoured) mash wouldn't have gone amiss!  My favourite was the chicken liver starter that I enjoyed, it was really very tasty indeed.
Sadly, my chocolate brownie dessert was ridiculously small, I would have been red-faced had I been serving that night, a quarter of a strawberry and a piece of brownie no bigger than a small scoop of ice-cream? Come on now!  Also… lose the slates-as-plates please, my ice-cream was melting quicker than I could chase it around the bumpy surface, I reckon I lost most of it either in the ridges or off the side!
We retired to bed feeling pretty dispassionate about the day but we were, at least, very much looking forward to an undisturbed, baby-free sleep!  Unfortunately, the bed was really uncomfortable… both of us found the mattress to be lumpy as hell and fidgeted all night because bits (springs?) were digging in to us.  At least a Premier Inn guarantees you a good nights sleep!  We actually laughed over the following weekend, as we took the kids to Pontins, and got a better night's sleep in what we had expected to be terrible beds there!
Upon checking out of the Basingstoke Country Hotel, the receptionist asked if we had enjoyed our stay.  In all honesty, I couldn't even bring myself to do the very British thing of moaning about it throughout before smiling and saying "Oh, yes… lovely" to the reception staff.  I just simply said:  "It was alright, thank you".
And it was.  But only just.
if you liked this post, please don't forget to check out my subscriber options, here