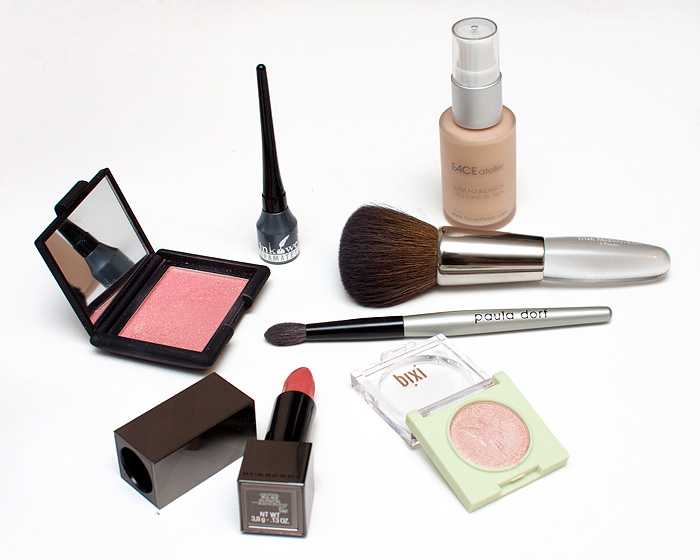 It's the lists… I can't escape them.  Once you start, it's very nearly impossible not to drown yourself in post-it notes.
1.  NARS Super Orgasm Blush. I feel like a leper loving this.  I'm sure there's some unwritten rule somewhere that if you love makeup, you're not allowed to like NARS Super Orgasm or Urban Decay MCRA.  I'm with you on the second… but I love the glitter in this!
I do give it a gentle tap against my arm to knock the bulk of the glitter away before applying but I like to see a couple of flecks of gold as I turn my cheek.  Go on, cast me from the blogging community.  Sniff.
2.  Lord & Berry Inkwell Liquid Liner in Slate. Everyone should own a good charcoal eyeliner… sometimes, you need something a little softer than harsh black and grey is your friend.  This one has got me wanting to investigate the Lord & Berry line in greater detail, it's a wonderful liquid liner with a good, firm tip.  Formula is long-wearing and well-pigmented.
3.  Face Atelier Ultra Foundation in #2 Ivory.  After the recent disappointment of Illamasqua's Skin Base… this, I'm swooning over.  I didn't think I'd like it… infact, with all the silicones I thought it might be similar to the Illamasqua one but this applies like a second (perfect) skin on my face.  I won't review any deeper because I'll do a proper post on it soon.  But seriously, this is lovely, lovely, lovely.
4.  Trish McEvoy Brush 5 Powder Brush. Is one I haven't talked about before but is the cream of the crop when it comes to my brush collection.  Beautifully shaped, soft enough to tickle but dense enough to mean business, there's not a powder brush like it in the world.
5.  Paula Dorf Sheer Crease Brush.  You can pretty much repeat the things I said about my Trish McEvoy brush, only substitute the word powder for eye.  It fits my socket perfectly, retains its shape as I blend and never scratches.  Lovely!
6.  Pixi Fairy Light Solo in #2 Champagne Glow*. This is a shimmering champagne that works beautifully over my entire lid area to brighten.  It reminds me quite a lot of my beloved Estee Lauder Pure Color Eyeshadow in Sugar Biscuit in terms of use.  A proper all-rounder, only this one leans more pink than the Lauder.
7.  Burberry Lipstick in Cameo #2. A pretty peachy nude that's not too peach against my pink skin tone.  Wonderfully creamy and super glossy without a hint of frost, this is a splendiforously luxe feeling lippie in an elegantly wearable shade to see you through every season.
Yeah… I been liking ALL this stuff this week!
* press sample