Small children and babies are often bestowed with the gift of incredible lashes.  Have you looked into a four year old's eyes recently?  Go find one and then come back and tell me that it's not ridiculously unfair that they get such beautiful lashes.  I don't know what happens to them over time but eventually, they too will spend their adulthoods trying to recapture the flutteryness of their youths.  Leila has some of the most awe-inspiring lashes I've ever seen – she has my curl and her Dad's length… it's a killer combination even if I do say so myself.  Me, well I need a little assistance in the lash department.  Not too much, but without a good mascara – they're pretty insignificant.
Today, I've got a really lovely mascara to show you.  Not only that, but I've got FIVE of them to give away to you, my lovely readers.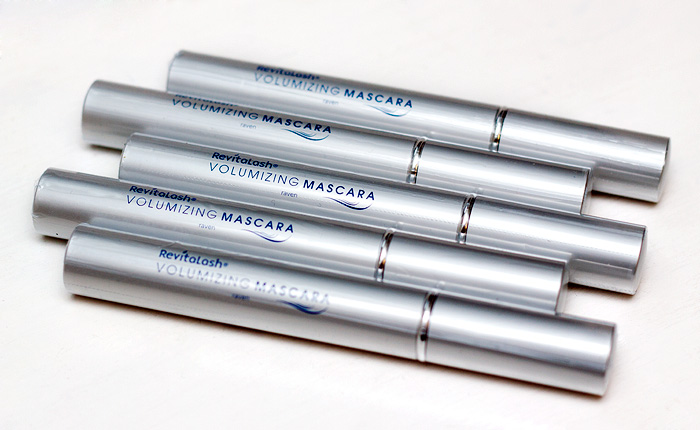 Revitalash, the brand perhaps better known for their length-inducing eyelash conditioner also make a rather nifty day-to-day mascara.  The Revitalash Volumizing Mascara (£19.50) promises both volume and definition, the holy grail for thin, weedy lashes.
The packaging is fairly unassuming and the brush… pretty unremarkable.  There's nothing about the product that gives you a buzz of anticipation, but they say it's always the quiet ones don't they?
The formula is quite, quite lovely… inky black with an almost rubbery texture.  It's wet but not runny and leaves my lashes super-soft regardless of how many coats I apply.  From the first coat through to the third, this didn't clump on me at all.  It pulled the lashes together at the base to create a greater emphasis on the drama but kept some really good definition right through to the tips.  One coat yields a distinctly natural result but from the 2nd coat onward, it was easily buildable into something more flutter-worthy.  Want to see?

No mascara on the left, three coats of Revitalash Volumizing Mascara on the right.  You can see the fullness at the lashline, when combined with some careful eyeliner application, the effect is dramatic.  I didn't experience any smudging or flaking though this isn't a waterproof product so perhaps not as suitable for those with particularly watery eyes.
Overall, I'd describe the Revitalash Volumizing Mascara as a solid all-rounder that ventures gallantly into the dramatic territory.  It's not quite false lash effect but will see you through from day to night without any clumpiness headaches.  For stockist details, visit www.skinbrands.co.uk or buy online from lookfantastic.com
Or…
Have a go at winning one for yourself in today's giveaway!
To enter and stand a chance of winning one of FIVE Revitalash Volumizing Mascaras, simply…
1.  Follow @Lipglossiping on Twitter
2.  Tweet: I've entered to win one of 5 @Revitalash Volumizing Mascaras in an exclusive competition with @lipglossiping http://bit.ly/xOMl1F
The competition closes on the 7th March at 23.59.  You have one week to enter!

T&C
1. Entry open to UK residents only.
2. One winner will be picked at random from all @Lipglossiping followers who have tweeted the required phrase.
3. Competition closes on 7th March 2012 at 23.59.
4. Winner will be notified over Twitter within 5 days of the competition's closing date.
5. If you don't have a twitter account you may still enter by sending me an email via the contact page using the subject line: "Revitalash Volumizing Mascara competition" and leaving your name and contact details.  If you win via this method, you will be notified by email.  No email details will be kept once this competition has closed.