There's no getting around the fact that our mutual addiction to all things 'beautiful' is an expensive one.  In an industry driven by fashion, technology and innovation, there will always be new products vying for space on our wishlists but never enough money to tick them all off.
The concept of group-buying has been growing in popularity over the last couple of years and there are many websites out there that offer deals on the basis that they will be supplying a single offer to a group collective at a lower than RRP price. Many of the beauty-related deals focus on experiences rather than material goods: haircuts, spa treatments and manicures (fishy or otherwise) and I've enjoyed many of the above at a lower price thanks to these websites.

BuyaPowa.com is a brand new site that enables shoppers like you and me to engage in 'collective-buying' and demand the same bulk-buy discounts that retailers enjoy. On initial inspection, these 'co-buys' appear to operate from the same starting-point as the other group-buying websites.  But there are some important differences…
1. The final price of any product drops as more people join the 'co-buys' and the person who brings the most people into any given co-buy receives their product for free.  A genuine opportunity to drive prices down with the help of those social-networking tools we all spend too much time on.

2. Alternative group-buying deals are generally focused on regional areas served by a particular salon or establishment but because BuyaPowa.com is product-centric, they offer deals to a national audience.

3. BuyaPowa.com have integrated a system into the site that encourages users to submit their requests for products they would like to purchase through a BuyaPowa.com 'co-buy'.  This request is visible to other members who can join in and offer support for your submission. If enough people give your request a virtual thumbs up, BuyaPowa will set the wheels in motion towards getting a co-buy together.
It's this 3rd difference that really has me interested in the BuyaPowa.com concept and is what sets them apart from other group-buying websites.  Something that utilises a community's shared opinion and buying power in a unique and more importantly, useful way strikes a chord with me and is what I want to focus on in the remainder of this post.
Watch this short video for more information on how the BuyaPowa.com concept works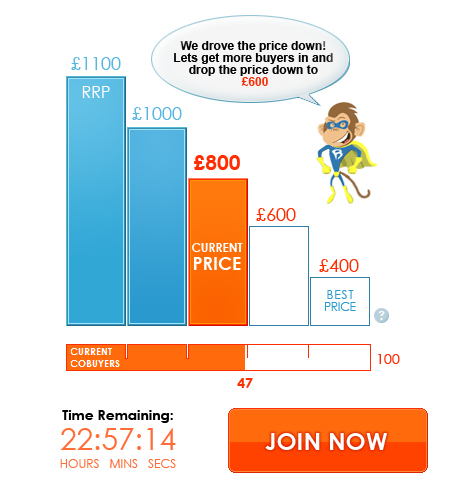 For a current example of a beauty 'co-buy', they've got a Burts Bees one live right now which is on its way to finishing at a discount of up to 53%.
.
Of course, it would be quite easy for them to go ahead and buy up a bunch of discontinued stock at a low price and flog it on like other online beauty discounters. Infact, I've quizzed them on how realistic it would be for them to approach high-end beauty brands and their response showed me that this is precisely the kind of feat they're trying to achieve.  Of course, they can't guarantee that every brand will be interested in our requests but to achieve this kind of shopping revolution, they're going to need our help to convince the brands that WE would buy from them in this way.
Infact, can you imagine how cool this could be for the beauty community online?  Example…
Brand X releases uber new 'multiple' at £30 and within hours, some brilliant reader/blogger/you-tuber/twitterer has set up a request on BuyaPowa nagging them to provide a 'co-buy'.  We all pile in (thanks to the power of social media) and within 24 hours the request receives enough support to elevate it to the attention of BuyaPowa who then approach Brand X to request 100 'uber multiples' before passing on their retailer discount to us.  Get in!
BuyaPowa.com would like to hear our opinions and would love if you could answer one, two or all three of the below questions.
1). What type of proucts would YOU like to buy this way for less?
2). Are there any specific beauty products you love that are over-priced and particularly ripe for bulk-buy discounting?
3). Do you own any products which you now realise you could have bought for less if only something like this had previously been available?
.
* this is a sponsored post