Estee Lauder's Autumn 2011 collection goes by the name Modern Mercury and includes three limited edition Pure Color Liquid Eyeliners in a trio of metallic shades.
I've got one of the three shades here to show you: Graphite.  A sparkling charcoal with multi-coloured shimmer that makes such a lovely change from black.  I'm already a big fan of charcoal eyeliner, it provides a softer look that still carries a bit of impact.  Infact, I'm wearing my Lord & Berry in this post on another item from the Modern Mercury collection!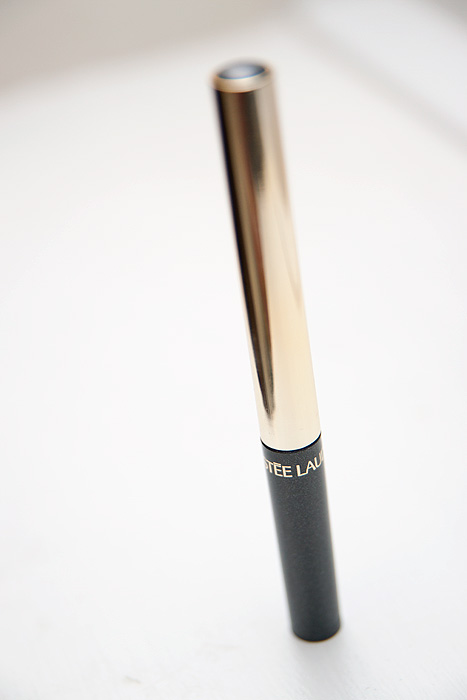 Long-handled, slender and well-designed with a flexible, soft nib for drawing precision lines, the Graphite liquid liner ticks most of the boxes.  I prefer this design to spindly brushes or chunky nibs as I find they offer the greatest compromise between control and precision.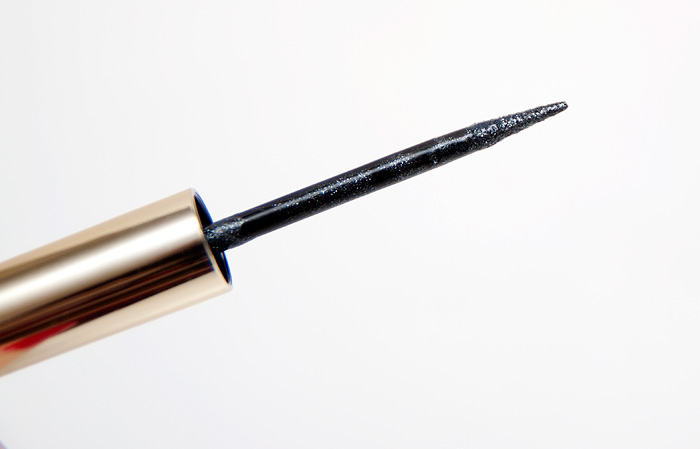 The inky formula is well pigmented and opaque within two strokes.  It dries very quickly to a smudge-proof, water-proof finish providing a metallic gleam that manages to avoid the 'wet-look'.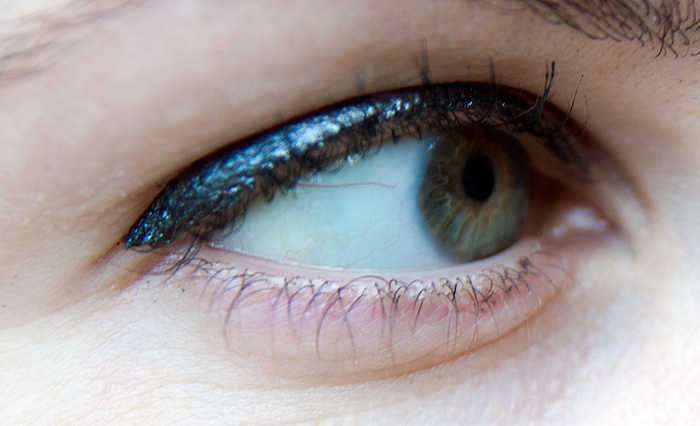 It's all great so far huh?  Except, there is one problem… it flakes.  You'll get to around 90% satisfaction before this bothers you but really?  It shouldn't flake at all and it's a bugbear for me.  It won't stop me wearing it but it will stop me wearing it with complete confidence.  The above photo was taken about 5 hours into my day and you can see that it's holding up pretty well but there is evidence of some flaking going on… a few specks around my eyes and a little caught in my eyelashes.
You can't see in the above photo but the top edge of the line is no longer perfect, this is the first area to show signs of wear.  I'm being pernickity (as always) but when I'm reviewing an eyeliner that costs £19.00 – it's only right that I am.
How about some comparisons?  I dug around in my eyeliner drawer (it's only a little drawer, I'm not completely mad) and pulled out a few that seemed fairly close (ok, the last one is MILES off!):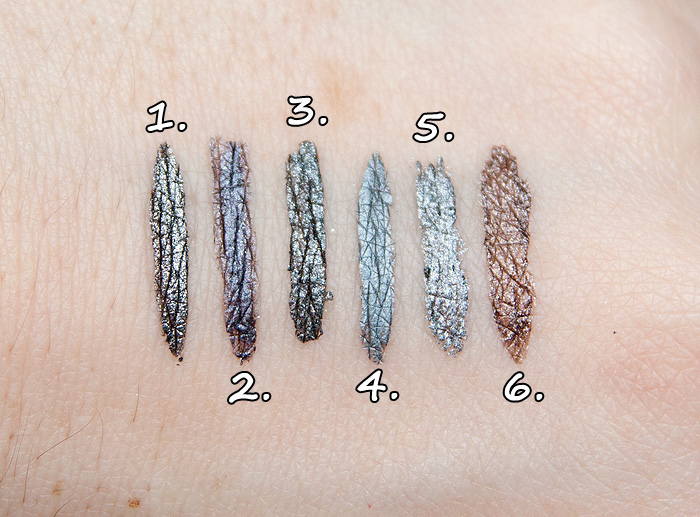 1.  Barry M Metallic Liquid Eyeliner #1
2.  Chantecaille Luminous Eye Liner in Pianissimo
3.  Estee Lauder Pure Color Liquid Eyeliner in Graphite
4.  Lord & Berry Liquid Eyeliner in Slate
5.  Chantecaille Luminous Eye Liner in Allegro
6.  NARS Liquid Eyeliner in Bullitt
Most of these are now discontinued but luckily, the one that bears the closest resemblance isn't!  Again, it's Barry M that's coming up to be the nearest in terms of shade duping so if you're on a budget, check it out!
Estee Lauder Pure Color Liquid Eyeliner in Graphite (£19.00) is available on counter now and online at Estee Lauder.
Do you wear grey eyeliner?  What's your favourite?