Ok, so um… this appeals to me a bit.  I'm honestly a bit ashamed to admit that.  I mean, I'm disgusted and intrigued by this product all at the same time.
Thoughts whizzing through my head include…
"How freakin' lazy would you need to be…."
"How stupid would you need to be…."
But then, there's this little gem weaving it's way around in there too…
"But… what if it works… you know, even just a little bit?"
Ladies and erm Ladies… I introduce you to…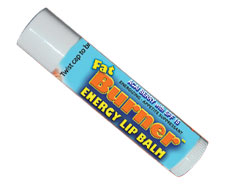 BURNER BALM!
Yeah, it could be a little more discreet about it couldn't it.
It makes me think of David Mitchell doing his Sky Sports parody voice… BURNER BALM… IT'S FOR FAT PEOPLE!
I first came across this product on the HQHair website back in late July/early August and sniggered to myself about how craptastic the packaging was and how fantastically gimmicky it sounded.  Fast forward a couple of weeks and I saw a tweet from PurePR linking to this article and wondering if it was "too much fuss?"  I responded saying that I didn't take the product's claims seriously enough to get all indignant over it.   I got a reply a few minutes later that simply said:  "In that case I must insist you try a sample!"
Consider that gauntlet well and truly thrown down!
I received my Fat Burner Balm a couple of days later and YES it really is as ugly and as inyourface as it looks in the picture.  Smells alright though.  I licked a bit… it doesn't really taste of anything.  The variety I received was Pomegranate, but being the cave dweller I am, I don't know how that is supposed to taste.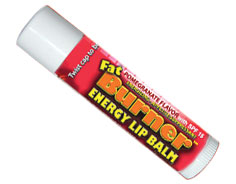 Let me categorically state that I am not gonna say whether or not I think this had any effect on my appetite or energy levels because honestly? I don't know whether it did or not.  And if I think it may have done? It could easily be placebo… and if I think it was a load of old rubbish – my GIMMICK! radar may be interfering with my impartiality.
What I will say is that I found the product moisturising on my dry lips and strangely refreshing in a minty (but non tingly way).  I liked the fact that it contains SPF15 (as all good lipbalms should).  I didn't like the gritty texture.  I found that I kept licking my lips in an attempt to lick the grittiness away… I wonder if the texture is part of the masterplan to get the ingredients into our systems by lip licking?  Either way it encouraged excellent and rather impressive chameleon impressions.
Do you know what I liked most about this product? It's a fabulous conversation piece!  Whisking it out at the dinner table and everyone is talking about it for the next 10 minutes!  Everyone wants to know if it works, what it tastes of and how many HobNobs I've scoffed that day.  They all want a sniff and a read of the ingredients (I would list them, but I can't be arsed – look on HQHair if you're interested).
It's one of those products that will generally polarise opinion.
Or alternatively, like me… you'll just remain bemused yet curious about it!
Available from HQHair in 4 flavour varieties and priced at £4.95.