Another from Leighton's Autumn collection is Meteor Match, possibly the most intriguing in the bottle but how does it translate onto the nails?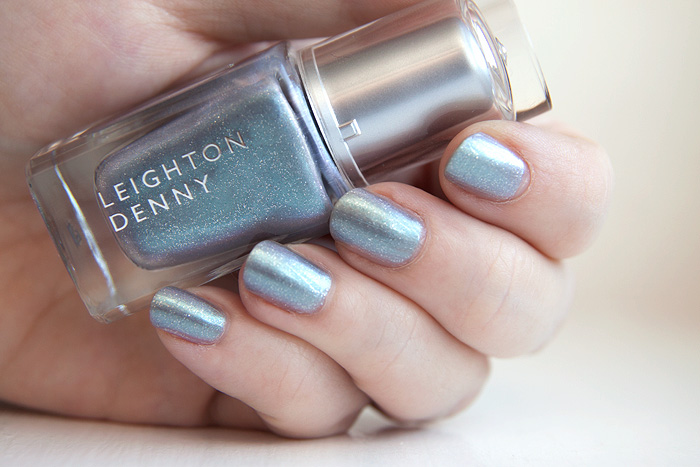 Meteor Match is an unusual silver-ed, icy blue with a hint of both purple and green.  Not quite strong enough to be described as a pure duochrome, though the tendencies are definitely clear to see.  As if those elements weren't enough to be getting on with, Meteor Match also contains a pretty scattering of silver glitter that compliments the icy blue tones beautifully.
A little on the sheer side, I needed four coats (some fingers were ok with three) to achieve the opacity that you see above.  The formula was on the watery side, though not difficult to work with… just reminiscent of other pale duochromes that lean similarly sheer.
I'm not 100% sure how I ultimately feel about Meteor Match.  I think I'd class it as a "nearly awesome" shade.  For me, I'd love that purple duochrome to have been a hair more apparent on the nail and the formula, a little more opaque.  Either way, it's still a very pretty, if non-commital shade and mega-props for being something a little different.
Leighton Denny Meteor Match is available to buy online priced at £11.00
* press sample