I bought another cauliflower this week in an attempt to get a new recipe under my belt in preparation for coming off the diet and back onto normal food.  I'll be going the low-carb route, not the Atkins route or anything as hardcore as that, I'll just be avoiding the "shovel as much starch, bread, pasta and rice into my mouth as possible" route.
Amanda from Beauty Blogging Blonde mentioned that she was making Cauliflower Fritters last week on Twitter and that was pretty much all the encouragement I needed.  She did send me a link to the recipe she was using but I've lost it, so ended up bodging something together from a few recipes I'd googled and whatever I had in the cupboards.
I need a posher name than 'fritters' really because 'fritters' rhymes with 'squitters' and where food is concerned, those two words should never be seen in the same sentence.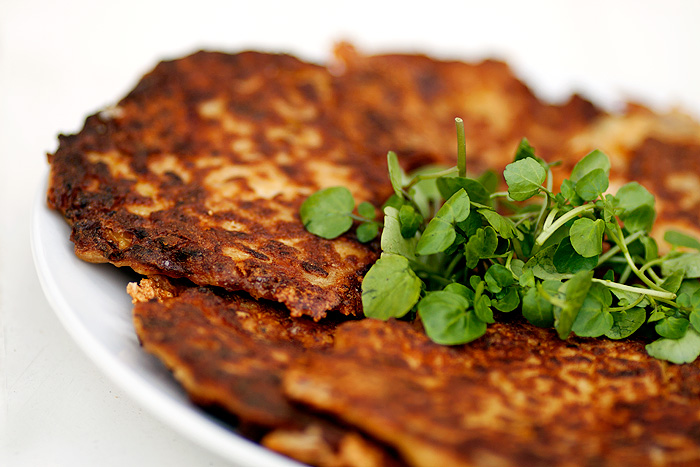 Cauliflower Fritters
1 head of Cauliflower
1 Onion, diced
2 cloves of Garlic, crushed
1 tsp Paprika
1 tsp Salt
1 tsp Black Pepper
1 tbsp Parmesan Cheese (don't judge me, I only had dried)
3 eggs, beaten
3 tbsp plain/wholemeal flour (more if needed)
200g Mozzarella, cubed
1 tbsp oil for frying
1).  Steam the Cauliflower until tender.  I do this in a cellophane-covered bowl in the microwave with a couple of tbsp of water in the bottom.  Takes around 10 minutes of cooking time on full power.
2).  Once tender, mash the cauliflower and add the diced onion, garlic and other dry ingredients.
3).  Combine the mixture with a fork before incorporating the beaten egg.
4).  Add the flour 1 tbsp at a time, mixing well until you get a firm consistency.  You want the mixture to hold together on a spoon (just about).  You may need more or less flour depending on how large your eggs are!
5).  Add the Mozzarella and incorporate gently.
6).  Heat the oil in a frying pan on a low/medium heat.  The worst thing you can do is have your heat too high.  We need to cook the flour which means not burning the outsides!  Start low and turn the heat up as you get used to the cooking times needed.
7).  Once your oil is hot, spoon the mixture into the pan in little patties and press down lightly to shape.
8).  Leave frying (don't be tempted to turn or peek) for a good 3/4 minutes.  If you smell burning, ignore that last instruction and remember to keep the heat LOW.
9).  Turn and cook the fritter for the same time on the other side.  You're looking for a dark golden brown and a crispy texture – the insides will be soft with melty Mozzarella.
10).  Drain on a piece of kitchen towel and serve as a side or on their own with a salsa and salad.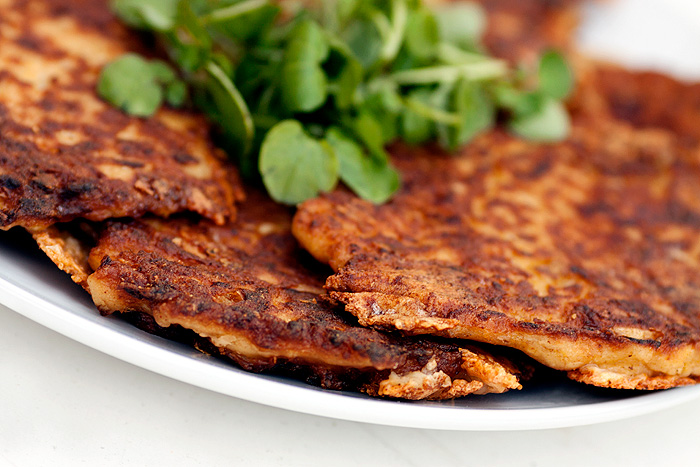 .
These cauliflower fritters are ridiculously delicious and even Leila was impressed enough to attempt one.  They're ideal eaten freshly cooked but lovely cold too (they go a bit chewy).  Best reheated from frozen in a v. hot oven.
Share your favourite cauliflower recipes with me!